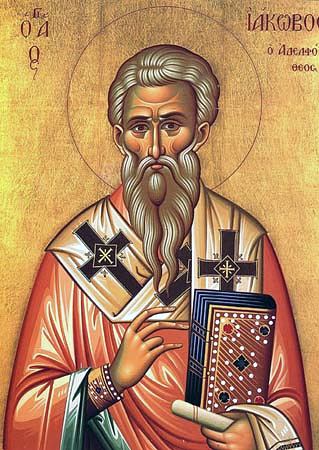 It seems hardly a month passes without somebody on Vridar bringing up Galatians 1:19, in which Paul refers to James as the "brother of the Lord." Recently I ran a search for the phrase here, and after reading each post, it struck me how much time we've spent wondering what it means and so little time asking why it's there in the first place.
What is the function of "brother of the Lord" in that sentence? Notice we can ask this question without raising the hackles of either the mythicists or historicists. Forget what it might mean. Forget (at least for the moment) who you think wrote it. It could have been Paul. It might have been the very first reader who added it as a marginal note or a scribe at some point along the transmission path. Instead, let's ask why.
It would appear on the surface, at least, that "brother of the Lord" is a kind of descriptor. In other words, it tells us which James Paul met. Since 1:19 is the first time Paul mentions James in Galatians, perhaps that's why we see it here. But then why didn't Paul do the same thing in 1 Corinthians, which he probably wrote in the same year?
1 Cor 15:7  Then he appeared to James, then to all the apostles. (ESV)
One could argue that since he'd already referred to "the twelve" in 1 Cor 15:5, Paul didn't need to explain which James he meant. In fact, he may have been reciting an early resurrection credo, and as such everyone would already have known who all the characters were — Cephas, the Twelve, the 500 brothers. They needed no introduction, so to speak.
Which James?
On the other hand, one could argue that in Galatians Paul could only have meant one James. He was, after all, starting an extended tirade against the Jerusalem pillars, and his Galatian audience would surely have known who he meant. He probably told that story all the time — "Then James sends a bunch of his thugs up to Antioch, and old Cephas is like, 'I'm not eating with those Gentiles. No way!'" Continue reading "The Function of "Brother of the Lord" in Galatians 1:19″