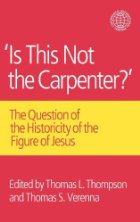 This concludes my recent post on chapter 2 of Is This Not the Carpenter?, "The German Pestilence: Re-assessing Feuerbach, Strauss and Bauer" by Roland Boer. That earlier post was an overview of Roland Boer's explanation for the emergence of radical biblical criticism in Germany in the early nineteenth century and surveyed the landmark roles of Ludwig Feuerbach and David Strauss.
This post begins with Boer's thoughts on the contributions and significance of Bruno Bauer and concludes with his observations on the significance of this nineteenth-century phenomenon in today's world. Recall that a crucial point Boer is stressing is that the discussions in Germany over democracy, individual rights, press freedom, republicanism, etc were debated through works of biblical and theological criticism. Bible criticism had widespread social and intellectual relevance.
.
Bauer, Scepticism and Atheism
Roland Boer introduces Bruno Bauer as
primarily a New Testament scholar
sometime theologian
sometime political commentator
Bauer appeared in the "first great wave" of critical Bible scholarship in Germany and always remained at its cutting edge "and beyond". He was for a time widely regarded as the leader of the Young Hegelians (see previous post).
His assiduous attention to the details of the biblical texts and their wider cultural contexts led him to conclude that
Christianity was a product of the second century
The Gospels are creative theological literature and as such contain virtually no history, and certainly no evidence for an historical Jesus
The Gospels are very largely Hellenistic literature, drawing upon the ideas of Stoicism, Philo and neo-Platonism.
The religious theme found in the Gospels was the struggle between "free self-consciousness" and "religious dogmatism".
This latter point was intertwined in Bauer's thought with his savage attacks on the leaden and repressive institutions of church and state in his own day. His book, Christianity Exposed (Das Endeckte Christenthum) was banned and not to be reprinted until 1927.
.
How Bauer approached the Gospels (What Karl Marx learned about the Bible) Continue reading "Bruno Bauer and Today ("Is This Not the Carpenter?" — chapter 2)"