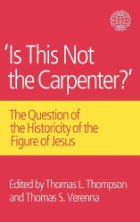 Page 11 of the Introduction to 'Is This Not the Carpenter?' explains that one of hopes of its collection of essays
is to open a direct discussion of the question of historicity [of Jesus] much in the spirit of the more than decade-long discourse and debate by the European Seminar on Methodology in Israel's History, which has been so profitably engaged in regard to the historicity of figures and narratives of the Hebrew Bible and the related construction of a history of ancient Palestine.
I understand that to mean that the book will introduce readers to a discussion of the question of the historicity of Jesus and a related construction of a history of Christian origins. All chapters till now have addressed this question from a range of perspectives.
So it is with disappointment that I finish reading chapter 9 without any further insights into the question of Jesus' historicity or any further introduction to discussions of methods and interpretations that impinge upon the historicity of Jesus. James Crossley at no point raises the question of Jesus' historicity (except in passing to mention the names of Thomas Thompson, Robert Price and Richard Carrier as the raising their voices through the Jesus Project to this effect.)
Crossley's chapter belongs with a publication that takes the historicity of Jesus for granted and that lacks any interest in challenging that assumption. It is entirely about the value of the Gospel of John as a source — compared with the Synoptic Gospels — for scholars who are seeking to reconstruct the historical Jesus.
The Introduction to this volume in fact gives a most adequate synopsis of Crossley's argument. This is available online at The Bible and Interpretation site. Scroll down to the subheading "The Rewritten Bible" to locate it. But if you're too lazy to do that here is a copy of the relevant section, but I have broken the single paragraph up for easier reading: Continue reading "The Gospel of John as a Source for the Historical Jesus: 'Is This Not the Carpenter?' chapter 9"