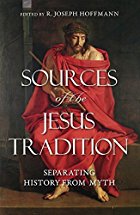 Thanks to Richard Carrier for his review of Sources of the Jesus Tradition, and for his earlier coverage of the conference that preceded this book. Having read most of the book I can concur with many of Carrier's assessments of its (very mixed) quality. R. Joseph Hoffmann, the editor of the book, has written a response, and Carrier has in return replied to this. Ah, the refined art of academic throat-slitting and knife twisting!
In the course of his review Carrier discusses conference papers that he deeply regrets were not included and that led me to catch up with his earlier blog post on the conference presentations themselves.
So I copy here excerpts of Carrier's review highlighting the best of what appears in Sources, and collate additional information from his earlier post on contributions that I personally find the most interesting. The Trobisch and MacDonald reviews at the end of this post are my personal favourites. So the following will be redundant for those already familiar with Carrier's blog and views.
But there is much I omit. I only include my favourite bits here. Do read the very extensive book review and the details of the conference papers as they were delivered.
Note the overlap between Gerd Lüdemann's and Earl Doherty's arguments about Paul's writings, too. Continue reading "Scholars addressing Jesus Myth studies: Richard Carrier's reviews"