Scholarship motivated by confessional interests
Most of us are familiar with the confessional reflections that so many biblical scholars drop in at the close of their scholarly works on Jesus. Sometimes this confessional is found in the prologue or preface as well. It is like a little prayer uttered by the devout believer thanking and praising the Lord for the academic study he has produced. It is particularly obnoxious when found in the dedication of a formal higher degree thesis. "Obnoxious" because it betrays an interest and motivation that is not entirely scholarly: it is scholarship motivated by confessional interests.
Examples (my bold emphasis throughout):
"Indeed, for Christians, the unending conversation about Jesus is the most important conversation there is. He is for us the decisive revelation of God. . . ." (last paragraph of Borg's Jesus)
"And yet, despite everything, for those who have ears to hear, Jesus, the millenarian herald of judgment and salvation, says the only things worth saying, for his dream is the only one worth dreaming. . . ." (Allison, last paragraph of Jesus of Nazareth)
"Jesus will always be for me the way to God. . . ." (Spong, last paragraph of Liberating the Gospels)
"For a believing Christian both the life of the Word of God and the text of the Word of God are alike a graded process of historical reconstruction. . . . If you cannot believe in something produced by reconstruction, you may have nothing left to believe in." (Crossan, final words in The Historical Jesus)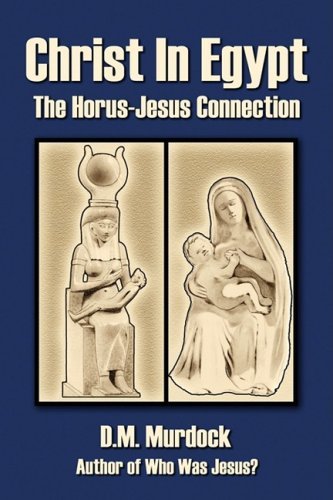 And so on.
Confessional statements and astrotheology
So it occurred to me that if I am correct in coming to realize that D.M. Murdock (Acharya S) is just as devoted to a religious view of Christian origins and writes with a view to sharing her belief system in the same way, then in her more neutral and "academically" minded books I should find the same confessional statements, most probably in the epilogue.
I have read sections of Christ in Egypt before but this time I turned to conclusion and here is what I found: