And when He had opened the third seal, I heard the third living being say, "Come and see!" And I beheld, and lo, a black horse; and he that sat on him had a pair of balances in his hand.
And I heard something like a voice from among the four living creatures saying, "A measure of wheat for a penny, and three measures of barley for a penny; and see thou hurt not the oil and the wine!"  — Revelation 6:5-6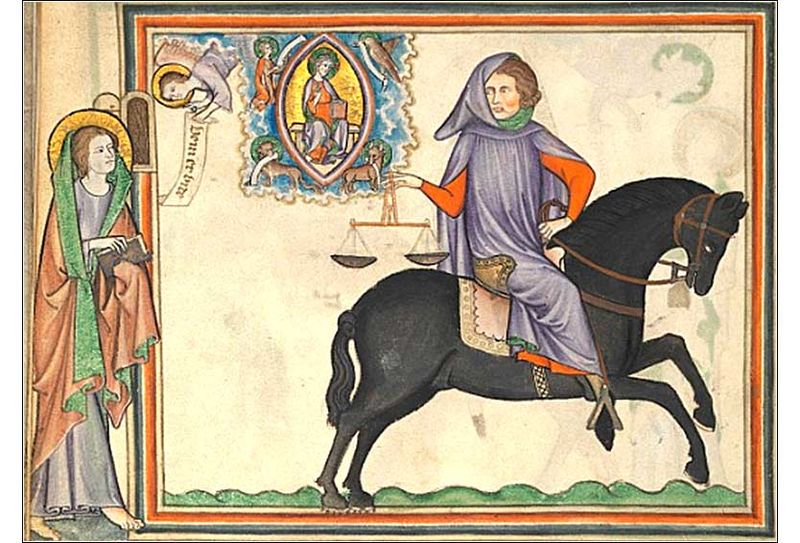 A pair of balances in his hand
Many commentators interpret the image of scales and the weighing of grain as a representation of famine that often follows in the destruction of croplands during a time of warfare. Two Old Testament verses are commonly referenced:
Leviticus 26:26 When I afflict you with famine of bread, then ten women shall bake your loaves in one oven, and they shall render your loaves by weight; and ye shall eat, and not be satisfied. (LXX)
Ezekiel 4:16-17 And he said to me, Son of man, behold, I break the support of bread in Jerusalem: and they shall eat bread by weight and in want; and shall drink water by measure, and in a state of ruin: that they may want bread and water; and a man and his brother shall be brought to ruin, and they shall pine away in their iniquities. (LXX)
Thomas Witulski (whose arguments for a Hadrianic date for the book of Revelation I have been outlining) identifies the following problems with attempting to link those verses in Leviticus and Ezekiel with the third horseman of the apocalypse:
— the term for "scales" or "balances" does not appear in either Lev 26 or Ez 4;
— Lev 26 and Ez 4 speak of "bread" but "bread" is not the subject of Revelation 6:5-6;
— the scales are used to measure by weight, but what follows is not a weight measure but a volume measure; the scales are therefore not directly related to what follows – and in the words of Aune (Rev 6-16, 396), "the presence of the scales is not illuminated by what follows";
— as we saw in the vision of the first horseman, the bow is mentioned without the accompanying reference to arrows, thus suggesting that the bow was introduced as a symbol rather than a weapon to be used, so here, scales are mentioned without the expected accompanying reference to weights. It follows that the scales, like the sword, are a symbol rather than a tool for use;
— no Old Testament reference to scales speaks of them being held in one hand as we find in Revelation 6:5.
The image of scales being held in hand appears frequently in Roman imperial coinage from the later part of the first century and throughout the second. The goddess Aequitas represents equal justice, equal decisions made in comparable cases, and stands for Roman jurisprudence in general or more specifically to the person entrusted to administer justice.

Something like a voice in the midst of the living creatures
Continue reading "The Black Horse of the Apocalypse and its Rider"