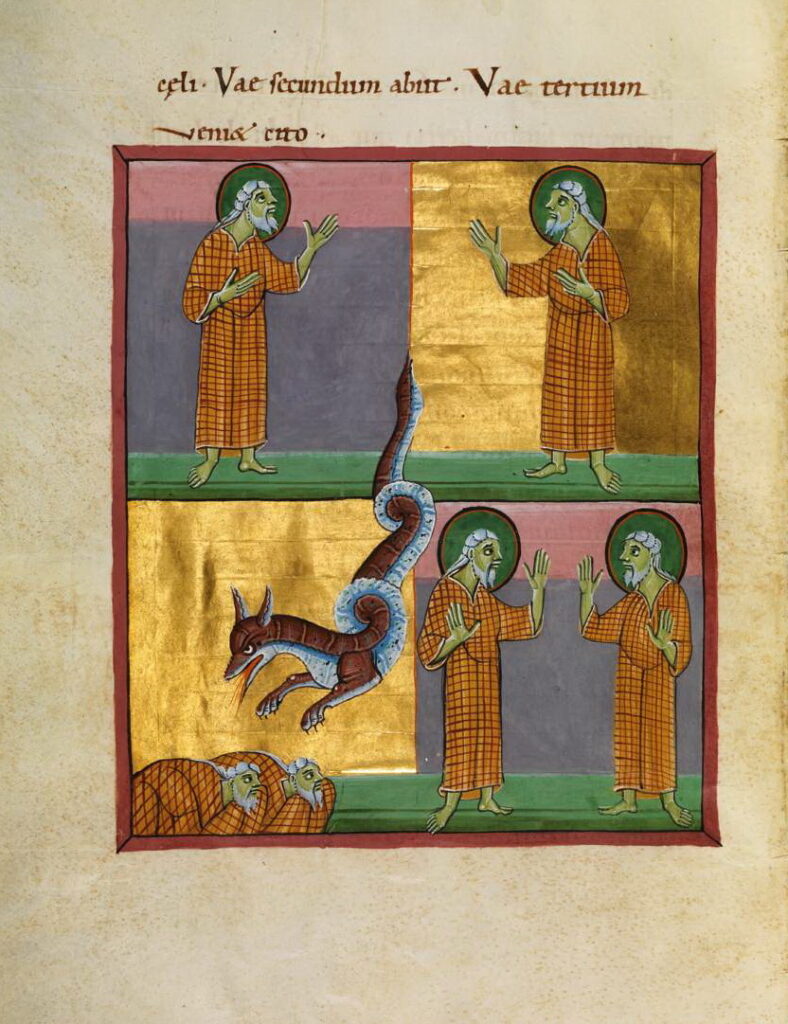 This post picks up from Measuring the Temple where we set out various interpretations of the first two verses of Revelation 11 (where John is commanded to measure the temple) as they are discussed by Bielefeld University's Professor Thomas Witulski in  Apk 11 und der Bar Kokhba-Aufstand. Here we do the same for the two witnesses in Rev 11:3-13.
There have been two approaches to the scholarly work on the two witnesses: one search has attempted to find the models from Jewish traditions upon which the two witnesses are based; the other has focussed on identifying the figures "in reality": are they historical persons who embody ancient prophetic characters, or are they two ancient prophets returned at the moment of crisis, or are they meant to be symbols?
The early Jewish templates
Enoch and Elijah come to mind on the basis that both are said to have ascended to heaven without first dying. There was apparently a widespread belief that one or both of them would return one day to complete the work they had begun before being taken to heaven. One has to wonder how such a model fits Rev 11:6 which reads much more like the works of Moses, though:
and they have power to turn the waters into blood and to strike the earth with every kind of plague . . .
Victorinus of Pettau wrote one of the earliest commentaries on Revelation in which he proposed that the models for the two witnesses were Elijah and Jeremiah. Victorinus relied upon a tradition that Jeremiah, like Elijah, had been translated to heaven without seeing death. W. notes, however, that the same kind of problem applies to Jeremiah: the two witnesses perform the works of Elijah (calling fire down from heaven and proclaiming the end to rainfall for an extended period) and Moses (turning waters to blood and striking the earth with plagues) — none of which can be related to anything we know of Jeremiah.
Since Elijah eliminated his enemies by calling down fire from heaven and punishing Israel with a drought, and Moses turned waters to blood and ordered plague after plague, most exegetes have settled on Elijah and Moses being the templates for the two witnesses. They perform the same miracles, after all. Christian tradition, according to the canonical gospels, further links Elijah and Moses at the time they appeared together at Christ's transfiguration.
Nonetheless, the notion that Moses had ascended to heaven in the past as Elijah had done is "only very rarely attested in Jewish and Christian tradition, if at all." (Witulski p. 9 – citing Aune)
Witulski concludes that while it cannot be denied that the author of Revelation used traditional material form Jewish and Christian sources, his interest was not to equate the two witnesses with those traditional figures but only to use traditional motifs to shape a particular profile for them.
Who/What are they? 
Are they symbolic figures?
Continue reading "The Two Witnesses in Revelation 11: the theories"