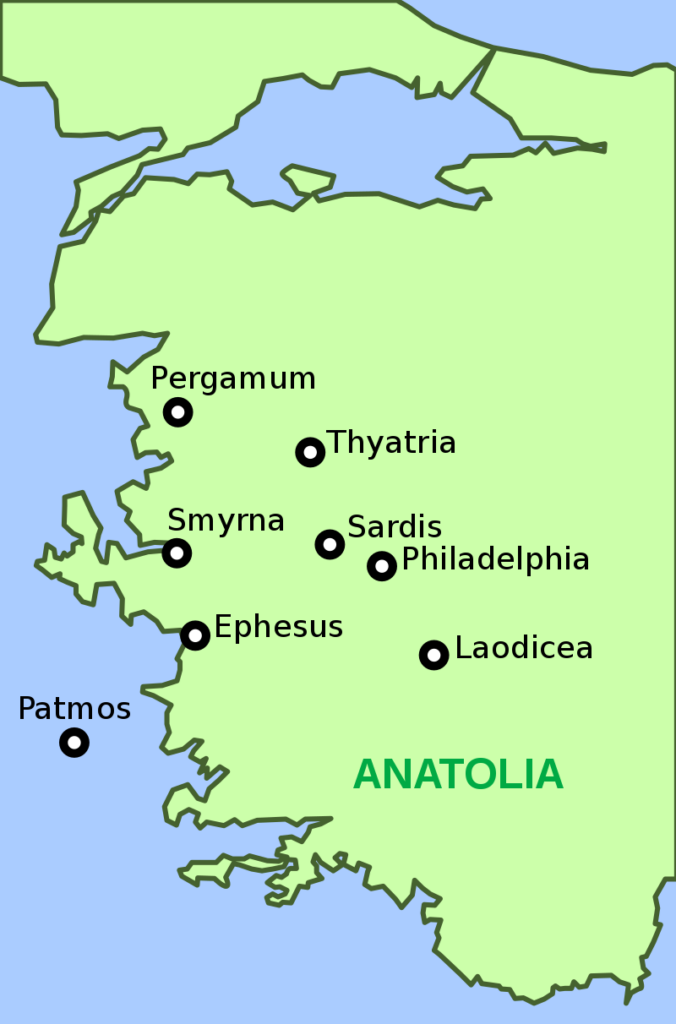 In Thyatira the woman Jezebel, a "so-called prophetess", teaches the same message that was identified as the "doctrine of Balaam and the Nicolaitans" in the church at Pergamon: sexual immorality and the worship of idols. If we accept Thomas Witulski's [W.] analysis (see The Doctrine of Balaam and the Nicolaitans) it follows that the same pressures arising from unprecedented innovations in emperor worship in the Roman province of Asia lie behind the "false teachings" in Thyatira.
Revelation 2:20 . . . . thou sufferest that woman Jezebel, who calleth herself a prophetess, to teach and to seduce My servants to commit fornication, and to eat things sacrificed unto idols.

21 And I gave her space to repent of her fornication, and she repented not.

22 Behold, I will cast her into a bed, and them that commit adultery with her into great tribulation, unless they repent of their deeds.

23 And I will kill her children with death, and all the churches shall know that I am He that searcheth the reins and hearts; and I will give unto every one of you according to your works.

24 But unto you I say, and unto the rest in Thyatira, as many as have not this doctrine and who have not known the depths of Satan (as they say) I will put upon you no other burden.
Jezebel was infamous for introducing the worship of pagan deities, in particular Baal, to Israel: 1 Kings 16:31-34; 21:25-26; 2 Kings 9:22; Josephus Ant. VIII 316-318. As we saw in the post on the teachings of Balaam and the Nicolaitans, fornication is a metaphor for being enticed into participation in the cult meals and festivities of deities other than the "true God".
The "depths of Satan" surely here means the teaching that it is permissible to participate in idolatrous feasts and to eat things sacrificed to idols. Through Paul's first letter to the Corinthians we can understand the likely reasoning. Idols are nothing and since there is only one God there can be no harm in participating in feasts prepared for "make-believe" gods. The "as they say" phrase may be an ironic dig at their claim to have grasped "the depths of God" (cf. 1 Cor 2:10) or, as others have suggested, it may be the label given by the faithful members to their wayward brethren.
I have not yet covered the details of the evidence that the inhabitants of the Roman province of Asia were required to set up altars dedicated to Hadrian in their houses (usually near the entrances) and would like to do so soon. Meanwhile, W. argues that this requirement explains the situations that are implied in the respective letters to the seven churches in Revelation 2-3.
Since W. has identified Satan with Zeus (see the Throne of Satan post) it follows that Zeus probably held a significant place in the teaching of "Jezebel". Recall that the emperor Hadrian was even assimilated into Zeus in this new level of emperor-worship in the Greek world. The remains of two of these household shrines have been recovered from the ruins of ancient Thyatira: see TAM V 908 and 909: they translate as "Emperor Hadrian, Divine Olympios [= the title of Zeus], saviour and founder".
To get some idea of how these household shrines came into play:
The involvement of the whole community was also expressed by the regulation that householders should sacrifice on altars outside their houses as the procession passed. This practice, which was followed in the Hellenistic period for cults both of gods and of rulers, may also be detected in the imperial cult. Long series of small imperial altars have been found at Athens, Sparta, Miletus, Mytilene and Pergamum. In any given city the series of altars is relatively uniform in its dedication, but diverse in its actual details of design and execution, and this is only explicable on the assumption that the city passed a decree instructing all citizens to provide their own altars. (Price, p. 112)
Now that Pergamon and Thyatira have been reviewed, I'll briefly touch on the other five churches:
Ephesus (2:1-7): they were once confronted by the "false" apostles and rejected their teachings so that they can be said to hate the idea of yielding to pressure to participate in the worship of Zeus/Hadrian.
Smyrna (2:8-11): they experience slander of those who claim falsely to be Jews. Smyrna was the city of Hadrian's close friend and advisor, Polemon, who appears to have been responsible for winning the unusual honour of Smyrna hosting a second cult centre for the worship of the emperor. Without going into details in this post, I can say for now that the evidence indicates that the pressure to be awarded this second imperial cult establishment (it required new constructions and priests and related services) came from the community itself, not from the emperor. There is also an inscription boasting of a special gift by the Jewish community of 1000 denarii for a palm grove to go with the new temple. If Jews were part of the community's enthusiasm to establish this second cult centre for Hadrian one can begin to imagine how they might have responded to those in their ranks who did not approve. Were the "faithful" in Smyrna being slandered, denounced, as disloyal to the emperor?
Sardis (3:1-6): only a few members in this church had not "stained their garments". Sardis became a member of the Panhellenion — the primary function of the Panhellenion being emperor-worship — in 132 CE. The image of "staining" is another metaphor for idolatry:
Whereas the majority of the people in the church at Sardis had compromised by not bearing witness to their faith, there were still a few who had been faithful in the task. The fact that they had "not stained their garments," as had the rest, reveals that the manner in which most of the Sardian Christians were suppressing their witness was by assuming a low profile in idolatrous contexts of the pagan culture in which they had daily interaction. That a context of idolatry is in mind is apparent from the use of μολύνω ("stain"), which is used elsewhere of the threat of being "stained" with the pollution of idolatry: cf. 14:4 with 14:6–9, where "those not stained with women" is a metaphor of abstinence from sexual immorality, which most likely refers to believers' separation from idolatrous involvement (Ethiopic and Bohairic have "did not defile their garments with a woman" in 3:4, which explicitly identifies this verse with 14:4). "Fornicate" (πορνεύω) is used in similar metaphorical manner in 2:14, 20–21 (cf. likewise 1 Cor. 8:7 and μολυσμός ["defilement"] in 2 Cor. 7:1 [cf. 6:1418]; Isa. 65:4 LXX uses μολύνω of defilement from idols). (Beale, 276)
Philadelphia (3:7-13): As with Smyrna, they were faced with "false Jews".
Laodicea (3:14-21): The author finds nothing to praise in Laodicea. They apparently had become indistinguishable from the world around them as a result of thinking they were rich in being able both to worship God and to safely participate in idolatrous festivals or ceremonies.
---
Beale, G. K. The Book of Revelation. Grand Rapids, Mich. : Carlisle, Cumbria: Eerdmans, 1998.
Price, S. R. F. Rituals and Power: The Roman Imperial Cult in Asia Minor. Revised ed. Cambridge Cambridgeshire; New York: Cambridge University Press, 1985.
Witulski, Thomas. Die Johannesoffenbarung Und Kaiser Hadrian: Studien Zur Datierung Der Neutestamentlichen Apokalypse. Göttingen: Vandenhoeck & Ruprecht, 2007.
---