In the preceding post I copied extracts from Demetrios Kritsotakis's thesis Hadrian and the Greek East that illustrated the unprecedented level to which the Roman emperor Hadrian was exalted as a divinity — all in the context of Thomas Witulski's thesis that the Book of Revelation is best dated to the time of Hadrian (117-138 CE). Here I continue quoting Kritsotakis (and works he cites) insofar as they arguably support the interpretation that Hadrian best represents the principal "beast" figure in Revelation.
Who can make war with the beast?
Who is like unto the beast? who is able to make war with him?
(Rev 13:4)
.
Hadrian followed a non-expansion policy and his reign was marked by a general lack of major military conflicts, apart from the Second Roman-Jewish War.

The peace policy was further strengthened by the erection of permanent fortifications along the empire's borders, such as the British Wall and the fortifications along the Rhine frontier. (pp 1f)

Hadrian abandoned his predecessor Trajan's newly conquered territories of Mesopotamia, Armenia and Assyria, an unpopular decision with many Roman senators, but he "made up" for those withdrawals by establishing secure and clearly visible boundaries and introducing an era of "peace and prosperity":
However, Hadrian insisted on holding the Empire within its limits, on the one hand by ceasing further expansion, on the other by marking the limits of the Empire. Beginning in 121, a continuous palisade was to mark the empire's limits on the Rhine frontier. Besides its military value, to the barbarians it marked off the Empire more clearly than ever before. In Britain he began, in 122, the great Wall and in North Africa he organized the southern frontier of the Empire. (p. 32)
After he was declared emperor in 117 . . .  the strengthening of the empire's frontiers became a priority for Hadrian. Accordingly, during his first trip from 121 to 125 Hadrian paid special attention to the borders of the empire. It was in this period that he inaugurated the construction of the British wall (122) as well as of a palisade on the Rhine frontier (121), and there is evidence that he attempted to construct a similar border in Northern Africa153. To further secure the borders of the empire, Hadrian improved military discipline by example. According to Dio, the emperor so trained and disciplined the army both by his example and his precepts that even in Dio's own days "the methods then introduced by him (Hadrian) are the soldier's law of campaigning."

153 . . . A passage in [Historia Augusta] may allude to it.  The author claims that "in many regions where the barbarians are [held] back not by rivers but by artificial barriers, Hadrian shut them off by means of high stakes planted deep in the ground and fastened together in the manner of a palisade" (pp. 68f.)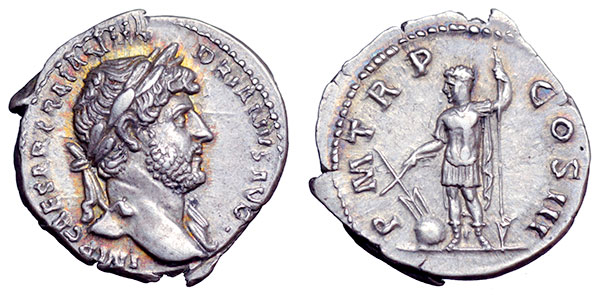 Another allusion to Hadrian's domination of the world, this time emphasizing his military skills, is found on a silver denarius from Rome. The obverse depicts a laureate bust of Hadrian while another image of the emperor is seen on the reverse. Here the emperor is presented bare-headed, in military dress, holding a rudder on a globe in his right hand and a spear reversed in his left. The image of the emperor who seems to rest rather than being in preparation for a battle, and the symbol of leadership, the rudder, resting on the globe, speak of his rule over the world, achieved by military skill. (140)
Hadrian as a New Nero
Continue reading "Hadrian — Man, Program and Impact in the Context of Revelation"