Here is another snippet from the same transcript that produced the elephants and dugongs post a few days ago. I follow with a snippet from Nicholas Wade's The Faith Instinct where he rebuts Richard Dawkins shallow understanding of religion.
What is the only type of behaviour that will always be identical in both twins, regardless of whether they have been adopted into different environments or not?
Roger Short: But there has been a very exciting development within the last few weeks actually and it goes back a few years. I was sitting at Imperial College in London next to Lord Robert Winston, who you know, and we were at an international twins conference. There were 600 of us. The last speaker was Thomas Bouchard from Minnesota. Thomas stood up and said, 'I've spent the whole of my life working on the behaviour of identical twins reared apart. Today is my last lecture because tomorrow I retire, and I've saved my most important discovery until this moment. Here you are, 600 of you, experts on twins, and you will not know the answer to the question I am just going to pose to you, which I have solved. The question is this: what is the only type of behaviour that will always be identical in both twins, regardless of whether they have been adopted into different environments or not? There is only one of all the types of behaviour that you can think of in which both twins always behave identically. What is it?' I remember turning to Robert Winston and saying, 'I haven't a clue, have you?' and Robert said, 'No. I don't know what he's on about.' There was absolute silence, and Thomas Bouchard said, 'Well, I'll tell you. It's religiosity.' I nearly fell through the floor. I thought, my God, how amazing that there's a God gene.
I was talking to Nick Martin at the Academy and he said, 'Yes, they now think they've got it mapped on chromosome 9.' It is a gene or a group of genes that control faith. And as Nicholas Wade, the brilliant British-American New York Times writer, has shown in his latest book called The Faith Instinct, which came out just before Christmas, a must-read for you, he has looked at all human societies and he has shown how it absolutely was essential to live as a society with this common belief system which united you. Okay, the gene has passed me by, but it has given me a new respect for the Church.
I was talking to Richard Dawkins last year and I have been corresponding with him recently saying, 'Richard, you got it wrong. You wrote The God Delusion. Actually, it's 'the Dawkins delusion' because you have totally dismissed God,' whereas the concept of faith in something (it doesn't have to be a God but it's a uniting spiritual belief) is deep within our genes and has been responsible for social cohesion of communities. And if you want to take it one stage further, how tragic…and maybe I should, if he would speak to me again, get back to George Pell and say, 'Isn't it tragic that the Catholic Church has chosen to prevent those who are most likely to have the God gene from reproducing.'
 'Don't use Vatican condoms – they're holy.'
—
See the transcript for Roger Short's use of this logo in a reply to censure by Cardinal Pell
Robyn Williams: Okay, a gene for God, I don't really go along with that, because people like Robin Dunbar, who is now in Oxford, have written about the evolution of the brain, saying that it is more a case of there being not a particular gene and therefore a protein that has some sort of God effect but there being in human beings a feeling for the wider community. In other words, what you are looking at with your sophisticated brain is something far more cultural and widespread rather than God-like. Could that be it?
Roger Short: Yes, I would agree with that completely. For example, Nicholas Wade has a lovely chapter on the Australian Aboriginal belief systems. Okay, they don't have a God, but they have a real spiritual concept that is a unifying theme and it differs a bit between differing communities. It would be fascinating to study that. If I was starting life again, I think I would like to go and look at that.
–o–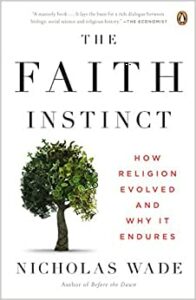 From Nicholas Wade's The Faith Instinct — part of his response to Richard Dawkins and Steven Pinker:
[Richard Dawkins] then notes that people die and kill for their religious beliefs, behavior which he compares to the misfiring of a moth's navigational system when it flies into a candle flame. Since the moth's behavior is nonadaptive, so too is religion, Dawkins argues. So what, he asks, "is the primitively advantageous trait that sometimes misfires to generate religion?" His hypothesis is that "There will he a selective advantage to child brains that possess the rule of thumb: believe, without question, whatever your grown-ups tell you." Religious belief, in his view, spreads like a virus from parents to impressionable children, a cycle that is repeated every generation. Religion, therefore, is the accidental by-product of children's propensity to believe what their parents tell them.
This argument seems a little stretched because nonsensical information is not of great help in the struggle for survival and seems unlikely to have been passed on tor 2,000 generations in every known human society since the dispersal from Africa. Religion can impose enormous costs, just in the amount of time it takes up. as ises ident from the rites of Australian Aborigines. Had religion no benefit, tribes that devoted most ot their time to religious ceremonies would have been at a severe disadvantage against tribes that spent all day on military preparations.
Dawkins does not seem highly confident in his gullible child theory because he stresses it is "only an example of the kind of thing that might be the analogue of moths nas igating by the moon or the stars." But without offering any more plausible explanation he insists that "the general theory of religion as an accidental by-product—a misfiring ot something useful—is the one I wish to advocate."
Dawkins's gullible child conjecture, like Pinker's manipulative priest proposal, seems to be driven less by any particular evidence than by the implicit premise that religion is bad, and therefore must be nonadaptive. 
That "belonging" and finding identity through belonging to social group is a common factor brought out in studies of radicalization to extremist groups — whether Islamic or white supremacist. So often it is those who feel alienated from society, that society is somehow going in the wrong direction for them, and those who are lonely — they are prime candidates as recruits into such groups. Like those political radicals, persons coming into religious cults will also speak of finding a sense of belonging, of family.
---
Short, Roger. 2021. The Science Show: Professor Roger Short, reproductive biologist Interview by Robyn Williams. Australian Broadcasting Corporation. https://www.abc.net.au/radionational/programs/scienceshow/professor-roger-short,-reproductive-biologist/13342638.
Wade, Nicholas. The Faith Instinct: How Religion Evolved and Why It Endures. New York: Penguin, 2010. pp. 66-67
---