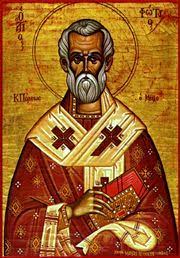 If the previous post was a repeat at least let me try to say something new with this one. I concluded the previous post with Joshua Efron's final words on his case for the James passage being an interpolation:
External evidence thus complements and strengthens the findings of internal criticism. This passage is an insertion, and by its contents and style can only be a Christian interpolation. (336)
I did not quote the footnote Efron appends to that conclusion. Here it is:
Josephus obviously totally disregarded the young Christian congregations in their first stages of development, despite his extensive detailed descriptions of the period before the destruction of Jerusalem and the Great Revolt. As a historian and writer addressing non-Jewish readers, defending Judaism and aspiring to gain appreciation for it, he preferred to delete sensitive, inconvenient manifestations likely to arouse a negative reaction and controversy. The three "Christian" passages — the crucifixion of Jesus, the death of his brother James and John the Baptist's death — are exceptional in spirit as well as in their artificial contextual interpolation. Similarly Josephus' contemporary and rival, Justus of Tiberias, author of a Jewish history in Greek, who did not however renounce his people, made not the slightest mention of Jesus or the miracles he wrought, as noted in Byzantine Christian testimony of Photius, Bibliotheca, Codex 33, PG 103; Photius, Bibliothèque, ed. R. Henry, vol. 1 (Collection Bude-Paris 1959), p. 18f: τής Χρίστου παρουσίας και των περί αυτόν τελεσβέντων καί τών ύπ' αύτοΰ τερατουργηθέντων ούδέν δλως μνήμην έποιήσατο. See also Τ. Rajak, "Justus of Tiberias," CIQ 23 (1973): 345 ff. Philo's complete silence is equally significant. (336f)
In Efron's earlier outline of the gospel narratives about Jesus (319-324) it is very clear that he considers the entire story an ahistorical, anti-semitic theological drama through and through. In that context one's eyebrow might be felt to raise just a little at the above footnote. I might be quite wrong, of course, so am very willing to retract this post if necessary.
---
Efron, Joshua. Studies on the Hasmonean Period. Leiden; New York: Brill, 1987.
---