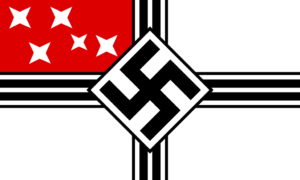 They're recruiting. Superficially relatively innocuous-looking groups like the Lads Society are their first ports of call. But their conversations have been infiltrated so we can be alerted to the threat:
The Base Tapes – Part 1 From the Background Briefing program (42 minutes)
Transcript page: The Base Tapes
AdvocateCannibalism: I got more enjoyment watching Saint Tarrant do his thing, but I've eaten several meals watching that.

Will T Power: It was harder and harder to speak out about it for fear of losing my political career.

Sherman: Well National Socialism is the world view of the eternal truth.

Rooreich88: I've seen and experienced and talked to enough Muslims to just know I f**king hate them.

Nazzaro: So what's your ethnicity?

AdvocateCannibalism: Master race.
Other information online related to the above podcasts:
"Jason Wilson on The Base (Again)." 3CR Community Radio, 25 Mar. 2021, https://www.3cr.org.au/yeahnahpasaran/episode-202104011630/jason-wilson-base-again.
McNeill, Nick McKenzie, Joel Tozer, Heather. "From One Nation to Neo-Nazism: Australians Being Drawn into Extremism." The Sydney Morning Herald, 26 Mar. 2021, https://www.smh.com.au/national/from-one-nation-to-neo-nazism-australians-being-drawn-into-extremism-20210324-p57dr9.html.
"Revealed: The True Identity of the Leader of an American Neo-Nazi Terror Group." The Guardian, 24 Jan. 2020, http://www.theguardian.com/world/2020/jan/23/revealed-the-true-identity-of-the-leader-of-americas-neo-nazi-terror-group.
"The Base: Exporting Accelerationist Terror." Southern Poverty Law Center, https://www.splcenter.org/hatewatch/2020/08/12/base-exporting-accelerationist-terror.
US Neo-Nazi Group "The Base" Is Recruiting Members in Australia. https://www.vice.com/en/article/7k9gja/neo-nazi-group-the-base-recruiting-in-australia.