I do care about bad history.
— O'Neill (13 min 50 sec)
Bad history is carelessly getting basic facts wrong. It is also failing to acknowledge and engage honestly with other points of view concerning the sources.
Two instances of "bad history"
At about 27 minutes we are told that "mythers" say there is no contemporary reference to Jesus therefore he didn't exist. That, we are told, is "a terrible argument" because, even if the historical Jesus really walked on water etc, etc, the gospels say that he was famous only in the back sticks of Galilee.  That's like being famous in the "north-east corner of Kentucky". That's "not famous". So why would anyone in Rome or Athens or Alexandria write about "a dirty peasant" teaching "Jewish crap to peasants"! Also, when we look at other figures like Jesus, first-century Jewish preachers and prophets, we have NO contemporary references to any of them. We have more references to Jesus than any other analogous figure of the time.
Response 1 — not famous by gospel standards?
No, the gospels say the fame of Jesus brought crowds flocking to him from Syria, Lebanon, south of Judea and Jordan. Mark 3:8 tells us Jesus' fame was such that people flocked to him from "Judea, Jerusalem, Idumea, and the regions across the Jordan and around Tyre and Sidon." That's more than Galilee. Even if, as O'Neill is suggesting, the biblical account of Jesus is historical, then "multitudes" travelling from so far and wide to Galilee would most certainly attract the attention of the upper classes. Herod, we read, was so alarmed and thought Jesus was John the Baptist risen from the dead and fearfully went so far to plot to kill him. The first-century Galilean historian of Justus would have had his works preserved for us to read today.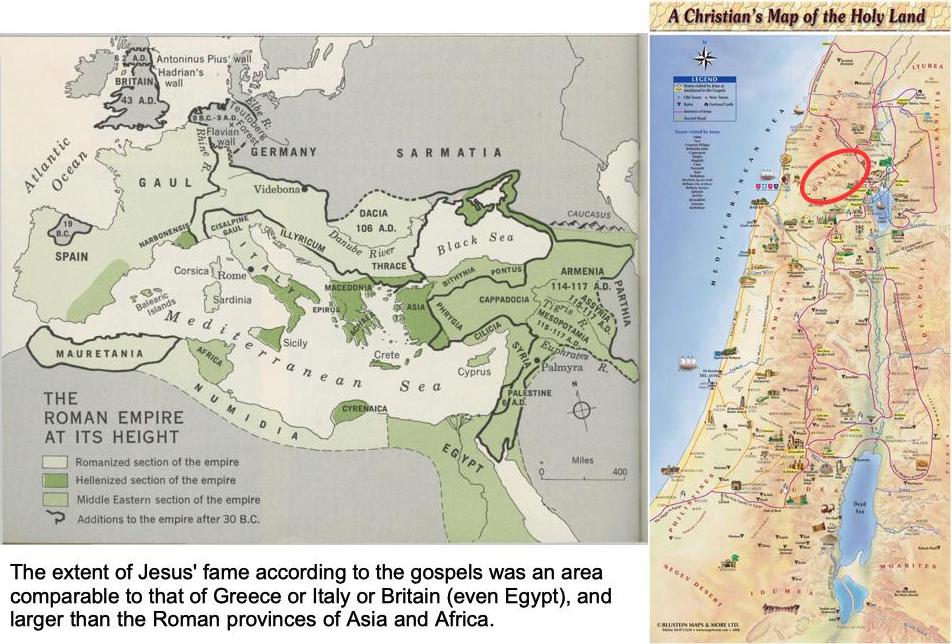 Response 2 — No contemporary record of any comparable figure?
Continue reading "Bad History for Atheists (2) — Troubles Reading the Sources and Engaging with Different Viewpoints"