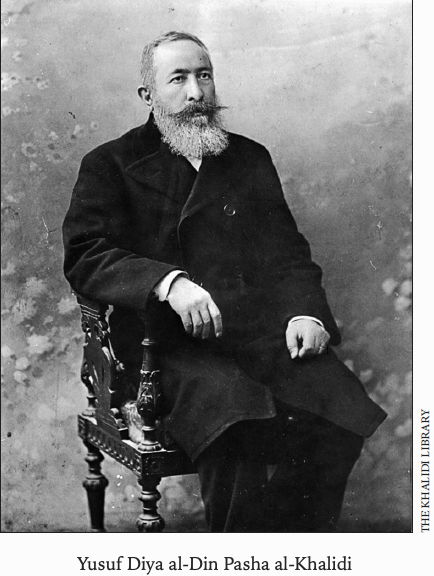 March 1, 1899, Yusuf Diya, scholar, mayor and diplomat, wrote a letter to Theodor Herzl, leader of the Zionist movement.
Background to that letter:
As a result of his wide reading, as well as his time in Vienna and other European countries, and from his encounters with Christian missionaries, Yusuf Diya was fully conscious of the pervasiveness of Western anti-Semitism. He had also gained impressive knowledge of the intellectual origins of Zionism, specifically its nature as a response to Christian Europe's virulent anti-Semitism. He was undoubtedly familiar with Der Judenstaat by the Viennese journalist Theodor Herzl, published in 1896, and was aware of the first two Zionist congresses in Basel, Switzerland, in 1897 and 1898. (Indeed, it seems clear that Yusuf Diya knew of Herzl from his own time in Vienna.) He knew of the debates and the views of the different Zionist leaders and tendencies, including Herzl's explicit call for a state for the Jews, with the "sovereign right" to control immigration. Moreover, as mayor of Jerusalem he had witnessed the friction with the local population prompted by the first years of proto-Zionist activity, starting with the arrival of the earliest European Jewish settlers in the late 1870s and early 1880s.
Herzl, the acknowledged leader of the growing movement he had founded, had paid his sole visit to Palestine in 1898, timing it to coincide with that of the German kaiser Wilhelm II. He had already begun to give thought to some of the issues involved in the colonization of Palestine, writing in his diary in 1895:
We must expropriate gently the private property on the estates assigned to us. We shall try to spirit the penniless population across the border by procuring employment for it in the transit countries, while denying it employment in our own country. The property owners will come over to our side. Both the process of expropriation and the removal of the poor must be carried out discreetly and circumspectly.
Yusuf Diya would have been more aware than most of his compatriots in Palestine of the ambition of the nascent Zionist movement, as well as its strength, resources, and appeal. He knew perfectly well that there was no way to reconcile Zionism's claims on Palestine and its explicit aim of Jewish statehood and sovereignty there with the rights and well-being of the country's indigenous inhabitants. It is for these reasons, presumably, that on March 1, 1899, Yusuf Diya sent a prescient seven-page letter to the French chief rabbi, Zadoc Kahn, with the intention that it be passed on to the founder of modern Zionism.
The letter:
The letter began with an expression of Yusuf Diya's admiration for Herzl, whom he esteemed "as a man, as a writer of talent, and as a true Jewish patriot," and of his respect for Judaism and for Jews, who he said were "our cousins," referring to the Patriarch Abraham, revered as their common forefather by both Jews and Muslims. He understood the motivations for Zionism, just as he deplored the persecution to which Jews were subject in Europe. In light of this, he wrote, Zionism in principle was "natural, beautiful and just," and, "who could contest the rights of the Jews in Palestine? My God, historically it is your country!"

This sentence is sometimes cited, in isolation from the rest of the letter, to represent Yusuf Diya's enthusiastic acceptance of the entire Zionist program in Palestine. However, the former mayor and deputy of Jerusalem went on to warn of the dangers he foresaw as a consequence of the implementation of the Zionist project for a sovereign Jewish state in Palestine. The Zionist idea would sow dissension among Christians, Muslims, and Jews there. It would imperil the status and security that Jews had always enjoyed throughout the Ottoman domains. Coming to his main purpose, Yusuf Diya said soberly that whatever the merits of Zionism, the "brutal force of circumstances had to be taken into account." The most important of them were that "Palestine is an integral part of the Ottoman Empire, and more gravely, it is inhabited by others." Palestine already had an indigenous population that would never accept being superseded. Yusuf Diya spoke "with full knowledge of the facts," asserting that it was "pure folly" for Zionism to plan to take over Palestine. "Nothing could be more just and equitable," than for "the unhappy Jewish nation" to find a refuge elsewhere. But, he concluded with a heartfelt plea, "in the name of God, let Palestine be left alone."
Herzl's reply: Continue reading ""In the name of God, let Palestine be left alone.""