Dr. Bandy X. Lee is a forensic psychiatrist at the Yale School of Medicine, president of the World Mental Health Coalition and editor of The Dangerous Case of Donald Trump: 37 Psychiatrists and Mental Health Experts Assess a President.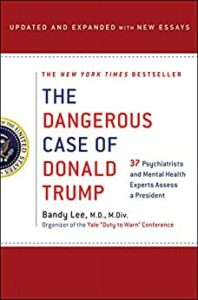 "What is wrong with 68 million Americans?" is a question many are asking the day after the election. Why should the race even be close? Why did 48% of voting adults choose to remain with a president who leaves a trail of hundreds of thousands✎ EditSign of unnecessary deaths, the nation bankrupt, children in cages, and our natural habitat under existential threat?
It makes no rational sense—unless we correctly identify the problem. For almost four years, mental health professionals have been urging the nation to bring a mental health perspective to a mental health problem, instead of assuming that everything is political. All substitute approaches have failed, just as the best pandemic control comes from infectious disease specialists, not from a radiologist or economists. We have also anticipated the current situation as a product of having mental pathology in power for a prolonged period.
. . . .
Psychological Manipulation
For months, Donald Trump has been emotionally calibrating his words and actions, like a delicate seismograph capable of sensing the exact mood of the country and how to respond in order to mobilize his followers. That led to ambiguous results on election night. While it may seem to defy rationality, it was very closely and accurately anticipated by many colleagues in the mental health field. This is why we repeatedly recommended that mental health experts be consulted to help prevent election theft, which would be attempted largely through psychological manipulation and symptom contagion.
. . . .
Pathological Bond
Many of his followers will equally experience his downfall as a life-or-death matter, since he has conditioned this into them. Their bond is pathological to start, based on developmental wounds or regression to an earlier stage of development under stress, which led them to seeking a parental figure. They are thus vulnerable to someone manipulative and exploitative enough to say he will take care of them and protect them in unrealistic ways that defy reality. And once they do, they often give up their agency and rationality. Recent footage of his followers chanting, "Fire Fauci!" is disturbing in its depiction of their conformity, loss of personality, and alignment with Donald Trump's thinking—to suggest proactively that he remove the reminder of his unwanted reality: the pandemic. Delusions, paranoia, and violence-proneness are among the most contagious symptoms, and we see all these tendencies in his followers.
Under these emotional bonds, his followers will likely experience any threat to his position as an existential threat to themselves . . . .
Coming Danger
"Shared psychosis" or "folie à millions" (madness by the millions) has been well-documented by renowned mental health experts such as Carl Jung and Erich Fromm. This contagion of symptoms dissipates when exposure to the primary person is reduced, which is why Donald Trump holds rallies as if his life depended on them—psychically, it does. It is also the reason why he cannot leave the presidency—in addition to the possibility of prosecution.
However, these are also the very reasons why he is extremely dangerous. . . .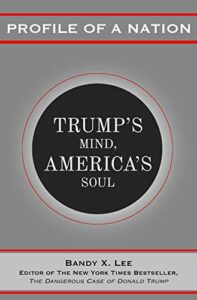 The particular traits that Mr. Trump has, furthermore, can be confusing: a lack of control can be seen as honesty, tendencies to go into attack mode can be seen as strength (whereas they more often arise from profound feelings of weakness and inadequacy), and the intense desire to 'sense' others in order to overpower them by deceiving and manipulating them can be mistaken for empathy (whereas in fact it is the opposite of empathy, since the goal is to cheat, or to promise one thing and then bring the opposite).
Those who are most subject to this kind of luring and predation are often the most vulnerable, who have been victimized in the past—'the forgotten men and women'—and the magnitude of the deception may conspire with psychological protection mechanisms against pain to avoid seeing the truth, sometimes at all cost."
Does this explain how Trump 'feeds' his base?
"Yes, this explains the undying devotion of some members of his 'base', regardless of the policies that are revealed (for example, his billionaire cabinet that is greater than any "swamp" in history, a tax reform that essentially steals from the poor to give to the rich, or repeated attempts at healthcare reform that would only take away from those who have little).
All Mr. Trump needs to do is to give out the most meager evidence—crumbs—that he is "working for them," and they will desperately gather them as proof that they were correct about him.
The following two tabs change content below.
Neil Godfrey
Neil is the author of this post. To read more about Neil, see our
About page.
Latest posts by Neil Godfrey (see all)
---
If you enjoyed this post, please consider donating to Vridar. Thanks!
---