Religions can fuel humane ideals, transform and support individuals performing good deeds, and stimulate creative urges and artistic expressions. At the same time, throughout history people have initiated unspeakable human suffering in the name of religion. Religion per se, then, is neutral. Religions can heal or poison individuals, depending upon specific psychological make-up and group influence. . . . . 

*

Winnicott

[link is to pdf]

saw the foundations of religious feeling as present in the normal emotional development process of the child, of which he understood the "transitional object" — the blanket that the "Peanuts" cartoon character Linus carries everywhere is an example of a transitional object — to be a universal element. (p. 128)

If the child's development is normal, he or she eventually develops an acceptance of the "not-me" world, the indifference of the universe, and, accordingly, to logical thinking. However, people also need "moments of rest," if you will, during which they do not need to differentiate between what is real and what is illusion, in which logical thinking need not be maintained, and it is in these moments that the relation to the transitional object* echoes throughout a lifetime. At moments of "rest," then, a Christian might know that it is biologically impossible for a woman to have a baby without the semen of a man, but also believe in the virgin birth. Rationally, we might know that no one really sees angels, but we may behave as if they exist. In other words, the function of the transitional object remains available to us for the rest of our lives, in support of the religious beliefs given to the growing child by family members and other adults in the child's environment. The need for what I am calling "moments of rest" varies from individual to individual, and from social subgroup to subgroup. Some people declare that they do not require such religious moments of rest, but perhaps they refer to the same function by different names. For example, they may "play" the game of linking magical and real in astrology, or paint abstract paintings that represent a mixture of illusion and reality. 

Volkan, Vamik. 2004. Blind Trust: Large Groups and Their Leaders in Times of Crisis and Terror. Charlottesville, Va: Pitchstone Publishing. pp. 124, 129 (my highlighting)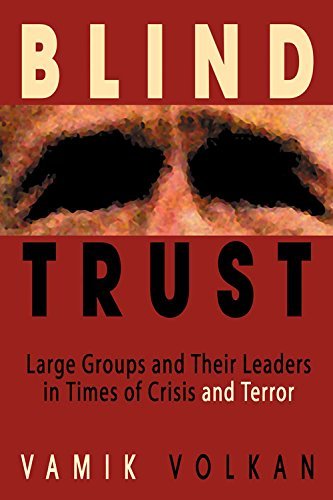 The following two tabs change content below.
Neil Godfrey
Neil is the author of this post. To read more about Neil, see our
About page.
Latest posts by Neil Godfrey (see all)
---
If you enjoyed this post, please consider donating to Vridar. Thanks!
---