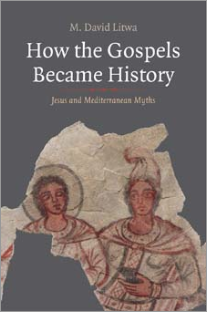 Chapter Thirteen, "Disappearance and Recognition", continues with an exploration of the little devices used by the author of the Gospel of Luke to build a sense of realism (or "historicity") into the narrative of the two travellers on the Emmaus Road after the death of Jesus. These literary devices make the account seem very natural, acceptable as "reportage" of "what happened". But then we come to the strange failure to recognize Jesus when he walks and talks alongside them and even after entering their home — until he breaks bread when he simply vanishes into thin air. Soon afterwards Jesus appears to his disciples by passing through a solid wall, after which he attempts to prove he is not a ghost but flesh just like them. M. David Litwa shows how such strange happenings were known and believed to have happened to Greek mythical characters. The point is that just as Greek myths could be told in a manner that lent them verisimilitude, placing the supernatural within a narrative of natural psychological reactions and settings, so the gospels do the same with the resurrection accounts of Jesus. One of the myths Litwa uses for comparison have also been discussed on Vridar, though not always in relation to the gospel: Baucis and Philemon. Another, one about hospitality given to an unrecognized Dionysus, you can read on archive.org's poem by Silius Italicus. The motif of the gods preventing some people from seeing or recognizing them while allowing others to do so at certain times goes back to Homer. Walls did not prevent gods like Dionysus or Hermes from entering rooms, either.
Litwa covers other instances of humans dying only to have their bodies disappear and then reappear alive at some other time and place, as found in histories and biographies by Herodotus, Iamblichus and Philostratus. Sometimes the reappearing person even commands incredulous witnesses to touch him to see that he is real. Playwrights portrayed those returned from the dead as ghosts continued to bear the physical wounds they had suffered in the flesh so that they could be recognized by former acquaintances.
It would be a mistake to think that early Christians could see no comparison between their stories of Jesus and Greek myths. Justin Martyr, a mid-second century "Church Father", addressed non-Christians thus:
The early Christian Justin Martyr even used these myihoi as a measuring rod of historical plausibility: "When we [Christians] say also that the Logos [i.e., Christ] … was crucified and died and rose again and ascended into heaven [aneleluthenai eis ton ouranon\, we propound nothing new [ou . . . kainon ti] beyond [what you believe] concerning those whom you call sons of Zeus." Justin's argument only works if the Greeks and Romans understood their ascent mythoi as records of real events.

(Litwa, 187 – Chapter 14)
In chapter fourteen (Ascent) Litwa addresses in detail the ancient belief in ascent to heaven in a cloud by one who at death is deified. Both the historian Livy and the biographer Plutarch write of what was believed to have been Romulus's ascent and subsequent appearance on earth to a reputable eyewitness. The authors themselves may have been sceptical, as Litwa points out the Jewish philosopher was sceptical of Moses' bodily ascent to heaven, but belief in the bodily ascent did persist among many.
And so forth. The gospel stories would not have been believed literally by sophisticated authors such as Cicero and Plutarch but it is evident that comparable stories, told with similar "naturalizing" techniques and contexts, were believed by others. The same techniques to create plausibility (see two earlier posts for the details) have led to millions ever since believing in the historicity of the gospel narratives. Litwa would be appalled, though, to take this point any further. His point is that the events in Jesus' life were "remembered" through a cultural context that allowed the imagination to shape them in the direction of Greek myths.
---
Litwa, M. David. 2019. How the Gospels Became History: Jesus and Mediterranean Myths. New Haven, CT: Yale University Press.
---
To order a copy of How the Gospels Became History: Jesus and Mediterranean Myths at the Footprint Books Website with a 15% discount click here or visit www.footprint.com.au

Please use discount voucher code BCLUB19 at the checkout to apply the discount.
The following two tabs change content below.
Neil Godfrey
Neil is the author of this post. To read more about Neil, see our
About page.
Latest posts by Neil Godfrey (see all)
---
If you enjoyed this post, please consider donating to Vridar. Thanks!
---