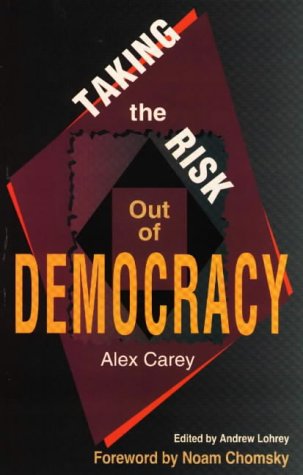 What if the following had been part of the core curriculum for every junior high school or equivalent in western industrial democracies:
The twentieth century has been characterized by three developments of great political importance:

the growth of democracy,

the growth of corporate power,

and the growth of corporate propaganda as a means of protecting corporate power against democracy.

There have been two principal aspects to the growth of democracy in this century:

the extension of popular franchise (i.e. the right to vote)

and the growth of the union movement.

These developments have presented corporations with potential threats to their power from the people at large (i.e. from public opinion) and from organized labour. American corporations have met this threat by learning to use propaganda, both inside and outside the corporation, as an effective weapon for managing governments and public opinion. They have thereby been able to subordinate the expression of democratic aspirations and the interests of larger public purposes to their own narrow corporate purposes.

Corporate propaganda directed outwards, that is, to the public at large, has two main objectives:

to identify the free-enterprise system in popular consciousness with every cherished value,

and to identify interventionist governments and strong unions (the only agencies capable of checking the complete domination of society by the corporations) with tyranny, oppression and even subversion.

The techniques used to achieve these results are variously called 'public relations', 'corporate communications' and 'economic education'.

Corporate propaganda directed inwards, that is, to employees of the corporation itself, has the purpose of weakening the links between union members and their unions. Techniques employed in the United States for this purpose come under the broad disguise of 'human relations', 'employee participation' and 'employee communications'.

From the beginning of the century large-scale, professionally organized propaganda campaigns have been a key feature of the political activities of American business.

Carey, Alex. 1997. Taking the Risk out of Democracy : Corporate Propaganda versus Freedom and Liberty. p. 18 (my formatting)
The following two tabs change content below.
Neil Godfrey
Neil is the author of this post. To read more about Neil, see our
About page.
Latest posts by Neil Godfrey (see all)
---
If you enjoyed this post, please consider donating to Vridar. Thanks!
---