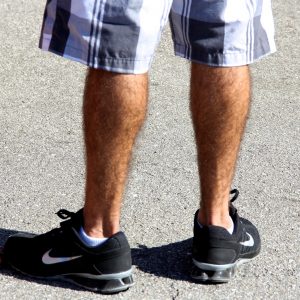 My RSS feeds tell me that there's a scandal in the U.S. right now over a prominent personality tweeting a comparison of an African American advisor to Obama with an ape.
I had my own small taste of what it is like to be on the receiving end of such a comparison a few years back when I was visiting China. It happened when I was somewhere in the middle of the mainland (certainly away from coastal regions like Shanghai and Beijing where foreigners were not an uncommon sight), in Wuhan province I think. I was sitting with my Chinese friend in a large and crowded cafeteria and was slightly amused to notice that so many of the other diners appeared to be focusing their eyes on me. I assumed the reason was that I was the only white Caucasian in the room. I could not help wondering how often any of these people had ever seen a non-Chinese person "in the flesh" before. I mentioned my thoughts to my Chinese friend whose reply took me aback: I was told they were staring at my hairy legs and arms; I was told that they were thinking that I looked like a monkey.
I confess that that comparison took me aback for a moment. I laughed, but something deep down inside me was not laughing. Did I not belong to a race that historically compared others to subhuman species? That's what "we" did to "them" — what was the real source of the ugly feelings I was feeling deep down inside at that moment?
That was the first time I had been in a country where I was the racial minority figure and being compared with a wild animal. In Australia I had become accustomed to hearing of certain ignorant whites comparing other races, including Asians, to a species less than human. Here I was in China getting a small taste of the tables being turned.
I was able to laugh it off, though, because I had no reason to suspect there was anything more than innocent curiosity and analogy in the minds of my Chinese neighbours. I can't imagine how I would have felt if I suspected they all thought I was literally a less evolved animal.