Well that's what I was taught by the creationist men of God when I was part of their world. Wings had to work perfectly the first time or what use were they? So went the rhetorical question and we were all shook our heads in disbelief at how foolish people of the world were for thinking otherwise.
But a couple of nights ago I could not resist following the build up to watching David Attenborough's new program, The Empire of the Ants. The catch line that intrigued me was the promise to show how some ants had learned to cooperate with others who were not genetically related to them. (Others, true to expected form, fought unrelated groups to the death for territorial control.) The whole program was absolutely fascinating (as most of Attenborough's docos are) but one episode in particular thoroughly amused me. . . .
Queen ants about to fly away to establish a new colony are heavy with fat reserves and swollen ovaries and have sprouted wings just for the new occasion — their maiden flight to mate then start a new colony. They climb to the top of a plant to get some height for a take-off, but often times they make complete fools of themselves trying to make respectable use of their wings. We are shown footage of queen ants starting lift off but quickly tilting backwards or sideways and falling back down to the ground. Why didn't God give them wings (and the instinctual know-how using them) that worked and got their heavier bodies up and away the first time?
It's not as if they would need the wings afterwards. Once they had found their new space they had no need for the wings anymore and naturally wanted to get rid of the encumbrances. Again amusing footage showing the poor things struggling to dislodge their "back-packs" with nothing but legs! God lacked the forethought to arrange at least two of those six legs for that purpose. Those queens were obviously struggling with even more difficulty than a child trying to figure out how to dry its back after a bath.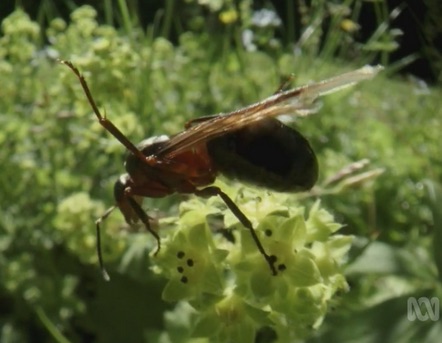 The following two tabs change content below.
Neil Godfrey
Neil is the author of this post. To read more about Neil, see our
About page.
Latest posts by Neil Godfrey (see all)
---
If you enjoyed this post, please consider donating to Vridar. Thanks!
---