The following outline of ways the Gospel of Luke appears to rewrite the Gospel of Matthew is taken from a chapter by Vadim Wittkowsky, "Luke Uses/Rewrites Matthew: A Survey of the Nineteenth-Century Research" in Luke's Literary Creativity (ed by Mogens Müller and Jesper Tan Nielsen, 2016). I focus here on just one of the authors discussed by Wittkowsky, Christian Adolf Hasert (1795-1864), who published a detailed analysis of the relationship between the Gospels of Luke and Matthew.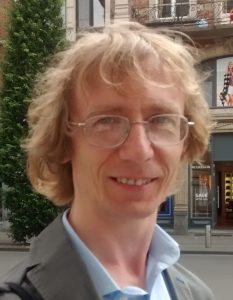 Luke's Literary Creativity
is a collection of essays from a 2014 conference on Luke's creativity held in Roskilde, Denmark; Wittkowsky (photo) is listed there as based at Humboldt University, Berlin.
Hasert's analysis indicates that the author of Luke's Gospel was a "Paulinist" who objected to Matthew's anti-Pauline views.
Every change, every omission or adding of details in parables, sayings and stories are of pure Pauline character (Wittkowsky, p. 11 – presenting Hasert's summary of his research)
On the futility, impossibility, of seeking salvation by good works
Note, for example, 2 Corinthians 3:5,
By ourselves we are not qualified in any way to claim that we can do anything. Rather, God makes us qualified. (God's Word translation)
That's not what we see being taught by Jesus in Matthew 5:48,
Be perfect (τέλειοι), therefore, as your heavenly Father is perfect. (NIV)
Luke changes "perfect" to "merciful" in Luke 6:36,
Be merciful (οἰκτίρμονες), just as your Father is merciful. (NIV)
For Luke one can only be like God insofar as one is merciful; perfection is out of the question. Notice also the concluding thought Luke adds to the parable of the dutiful servants in Luke 17:7-10,
7 "Suppose one of you has a servant plowing or looking after the sheep. Will he say to the servant when he comes in from the field, 'Come along now and sit down to eat'? 8 Won't he rather say, 'Prepare my supper, get yourself ready and wait on me while I eat and drink; after that you may eat and drink'? 9 Will he thank the servant because he did what he was told to do? 10 So you also, when you have done everything you were told to do, should say, 'We are unworthy servants; we have only done our duty.'"
Recall the parable of the Great Banquet in Matthew that concludes with the king ordering the poorly dressed guest to be cast out into outer darkness where there is weeping and gnashing of teeth (Matthew 22:11-13); Luke's version of the same parable (14:16-24) drops that miserable ending.
Recall further Luke 16:15,
He said to them, "You are the ones who justify yourselves in the eyes of others, but God knows your hearts. What people value highly is detestable in God's sight.
— a saying that might be interpreted as a snub to the teaching of Matthew's gospel.
Matthew's Jesus instructs the disciples to search out for someone "worthy" with whom they might stay in a town they are visiting:
"And whatever city or village you enter, inquire who is worthy (ἄξιός) in it, and stay at his house until you leave that city. (Matthew 10:11, NASB)
Luke, on the other hand, has Jesus merely require that his disciples stay put in the one place wherever they visit (Luke 9:4).
Other passages in Luke's gospel that stress the need to look only to the grace or mercy of God and not to merits: Luke 18:9-14; 7:29-30; 7:36-50; 21:1-4, etc.
On salvation by grace or mercy and the requirement of love and faith in response
Notice how in Luke we read some of the same miracles and teachings as in Matthew, but with addition of an emphasis on the importance of faith.
So of the raising of the daughter of Jairus, Matthew writes (9:18-19),
As Jesus was saying this, the leader of a synagogue came and knelt before him. "My daughter has just died," he said, "but you can bring her back to life again if you just come and lay your hand on her." So Jesus and his disciples got up and went with him. (NLT)
But in Luke Jesus speaks immediately to Jairus with the following words (8:50),
But when Jesus heard what had happened, he said to Jairus, "Don't be afraid. Just have faith, and she will be healed." (NLT)
Compare and contrast Matthew's and Luke's explanation of the parable of the Sower, Matthew 13:19-23,
19 The seed that fell on the footpath represents those who hear the message about the Kingdom and don't understand it. Then the evil one comes and snatches away the seed that was planted in their hearts. 20 The seed on the rocky soil represents those who hear the message and immediately receive it with joy. 21 But since they don't have deep roots, they don't last long. They fall away as soon as they have problems or are persecuted for believing God's word. 22 The seed that fell among the thorns represents those who hear God's word, but all too quickly the message is crowded out by the worries of this life and the lure of wealth, so no fruit is produced. 23 The seed that fell on good soil represents those who truly hear and understand God's word and produce a harvest of thirty, sixty, or even a hundred times as much as had been planted!" (NLT)
But Luke 8:12-15 adds the importance of faith,
12 The seeds that fell on the footpath represent those who hear the message, only to have the devil come and take it away from their hearts and prevent them from believing and being saved. 13 The seeds on the rocky soil represent those who hear the message and receive it with joy. But since they don't have deep roots, they believe for a while, then they fall away when they face temptation. 14 The seeds that fell among the thorns represent those who hear the message, but all too quickly the message is crowded out by the cares and riches and pleasures of this life. And so they never grow into maturity. 15 And the seeds that fell on the good soil represent honest, good-hearted people who hear God's word, cling to it, and patiently produce a huge harvest. (NLT)
The theme of salvation through God's grace and mercy with the faithful responding with love and faith are central themes in Luke's gospel, as we see in the story of the sinful woman (Luke 7), the parable of the prodigal son (Luke 15) and of the Pharisee and the Publican (Luke 18), and more.
Luke omits all requirements to perform or exceed the Law of Moses  and works of righteousness in general
Matthew's gospel goes to great lengths to drive home the importance of exceeding the works of the Law of Moses and producing works of righteousness:
Matthew 5:17, 19; 23:3
"Do not think that I have come to abolish the Law or the Prophets; I have not come to abolish them but to fulfill them. (NIV)

Therefore anyone who sets aside one of the least of these commands and teaches others accordingly will be called least in the kingdom of heaven, but whoever practices and teaches these commands will be called great in the kingdom of heaven. (NIV)

So practice and obey whatever they [those in Moses' seat] tell you, but don't follow their example. For they don't practice what they teach. (NIV)
Luke omits all of that.
Matthew 5:20-6:4 see Jesus setting out strict requirements requiring highly disciplined cognitive behaviour therapy to suppress normal human emotions and to adopt the posture of an hapless submissive determined to suffer joyfully.
Luke omits all of that, too.
In Matthew 24:20 Jesus warns his disciples not to flee on the sabbath day. Luke leaves that out.
In Matthew 19:17 Jesus replies to the man who asked what he needed to do to inherit eternal life by instructing him to keep the commandments. Luke changed that. Jesus simply tells the fellow that he knows the commandments (or possibly asks him if he knows commandments) — Luke 18:20.
Similarly we find no trace in Luke of Matthew's other discourses on righteousness, marriage laws, works: Matthew 15:1-11; 19:3-9.
On the enthusiasm to damn the Jews
Luke's hostility towards Jews' blindness and rejection of the gospel emerge "much earlier, more angrily and more consistently" than in Matthew:
On the patent favouritism shown towards Gentiles
Gentiles, on the other hand, are the focus of Luke's praise. If Matthew's Jesus went only to Israel and explicitly avoided the gentiles, Luke's Jesus makes a point of going to gentiles, even Samaritans.
Matthew liked to use expressions like "King of the Jews" (2:2) and "God of Israel" (15:31). Luke avoided such terms.
In Luke's parable of the rich man and Lazarus (16:19-31) "Lazarus is clearly associated with the Gentiles, and the Rich Man with the Jews."
Luke's Jesus is compared with Elijah, but with a half-twist. Jesus does not believe in calling down fire from heaven on his enemies (9:54-56) but he does compare himself with the prophet commissioned to go to Serapta of Sidon (4:25).
The reader of Luke's Gospel comes away more impressed by the Roman centurion, the Samaritans and even by Pilate than by Jewish high priests, priests, Levites and elders. Gentile worshipers of Jesus are even more impressive than Luke's depiction of the twelve disciples.
All of this makes sense of one difference in the genealogies in Matthew and Luke. Matthew takes Jesus' lineage back to Abraham; Luke, however, extends it to the father of all humanity, Adam — and God himself. Wittkowsky quotes Hasert on this point:
All this is very characteristic of Romans 11 and 2 Corinthians 3. 
—oo0oo—
A number of questions come to mind as I type the above. But I leave the first part at that for all of us to see what's being said and discussed of late about the Gospel of Luke by some academics. Keep in mind that I am outlining the summary (by Wittkowsky) of a summary (Hasert's summary of his research).
There is a second part of Hasert's summary which examines the different treatments of the Twelve and the followers of Paul, with apparent allusions in Luke's Gospel to the facets of Paul's letters.
That's for a future post.
The following two tabs change content below.
Neil Godfrey
Neil is the author of this post. To read more about Neil, see our
About page.
Latest posts by Neil Godfrey (see all)
---
If you enjoyed this post, please consider donating to Vridar. Thanks!
---