Continuing from Qumran Not a Sectarian Community #1 . . . .
Industrial activities
There was no lack of raw materials suitable for industrial uses in the region and we even have evidence for production of commercial resources but scholars have generally tended to downplay such activities as being only minor side-pursuits of otherwise occupied scribes. We pick up from the previous post by noting the kinds of industrial activities that one might reasonably have expected to see at Qumran as an integral extension of the Jericho royal estate and subsequently under Herod.
Keep in mind what such a list would mean for any scribe or monastic sectarian wanting to lodge there.
Leather and parchment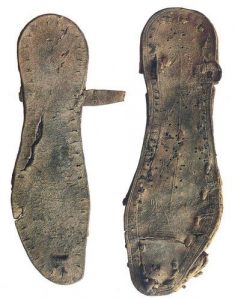 Qumran would have helped meet the high demand for leather sandals and aprons generated by the "intensive building programme of the Hasmoneans and, in particular, Herod." Winter saw flocks brought into the area where aged animals and surplus male lambs and kids would have been slaughtered for their skins.
The production of leather was a malodorous and fly-ridden process. Not only was there the blood from the butchered beasts but the hair was removed from the hides by being soaked in dung and urine. The mid-second century CE author Artemidorus, a native of Ephesus, wrote:

'The tannery is an irritant to everyone. Since the tanner has to handle animal corpses, he has to live far out of town, and the vile odour points him out even when hiding… The vultures are companion to the potters and the tanners since they live far from towns and the latter  handle dead bodies' (Interpretation of Dreams I: 54; 2:20).

In the Mishnah it was written that both pottery kilns and tanneries should be at least 50 cubits from a town (Baba Bathra 1:10, 2:9); Qumran was considerably further than that from the Palaces of Jericho! Although the tanner was viewed negatively because his handling of dead animals, and the use of urine and dung in the preparation of hides, would cause him to be ritually unclean (Jeremias 1969: 301-12), nevertheless his products, from water skins to sandals and phylacteries, were in demand and the specialist preparation of parchment on which sacred texts could be written was regarded as an honourable profession. (pp. 53-4)
Early archaeologists conducted scientific tests on at nearby Eini Feshka for the possibility of a tanning operation for the production of parchment but apparently with negative results. No-one bothered with similar tests at Qumran, however, because . . . .
Analyses looking for residues from tanning were carried out at Ein Feshka but not at Qumran itself because, it was assumed, 'the community would have been too strict to permit' tanning there (Poole and Reed 1972: 151– 152; de Vaux 1973: 78-82). (p. 71)
Firm belief that a scribal sectarian community occupied Qumran has blinded scholars to the evidence, according to Stacey:
Although Poole and Reed contended that 'in neither of the two "industrial" quarters has a tannery been  recognised', they accepted that 'many of the constituent rooms have pits, vats or cobbled floors (suggesting that wet work was carried out there)'. They recognized that water was a 'valuable commodity', but concluded that it  could not 'have been spared for tanning purposes' and that 'the community would have been too strict to permit' (Poole and Reed 1972: 151 –2) tanning, a conclusion clearly reached not by scientific investigation, as they only did tests in Ein Feshka, but by accepting the prevailing theory of a permanent sectarian community. Perhaps they should have stuck to their scientific guns and concluded that the limited water supply and the nature of the tanning process meant that it was unlikely that any 'sectarian community' ever lived at the site, and insisted that analyses were carried out on sediments at Qumran. (p. 54)
Glue  Continue reading "Qumran Not a Sectarian Community – #2"