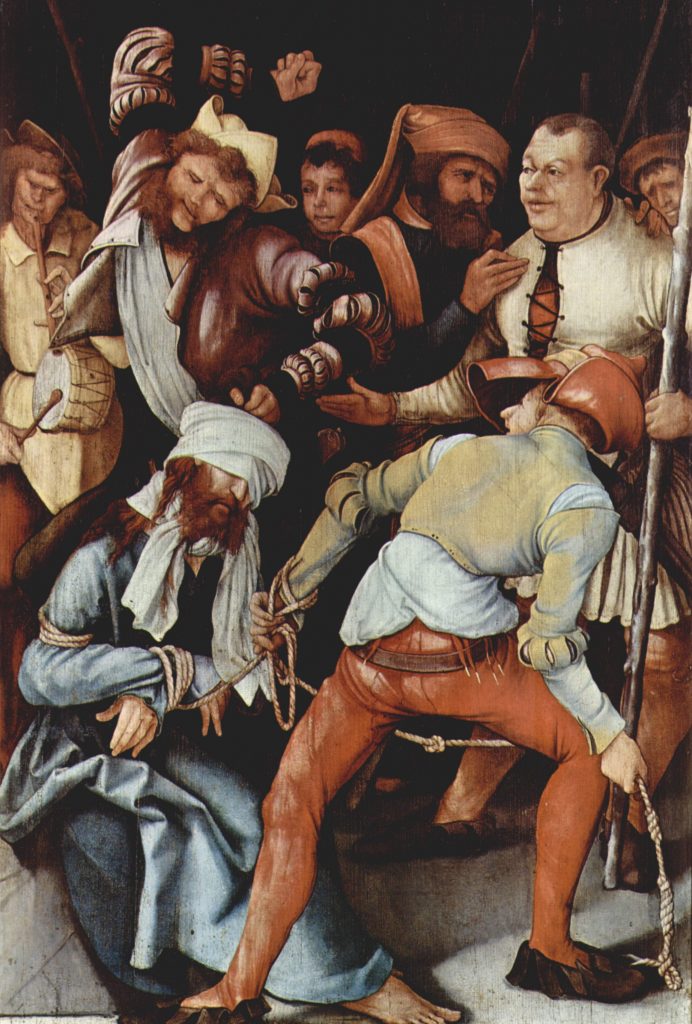 In the late 1990s, I worked as a consultant at a technology company based in the midwestern United States. At one point, our team was rolling out a new version of a help desk solution. They needed to send someone to Europe to train new users, and, as luck would have it, they picked me.
When I landed in Milan, I discovered that the group I was supposed to train had gone out on strike. My contact, a mid-level manager for the branch in Italy, couldn't hide his exasperation. He apologized many times that day, and I had to keep telling him it was all right. He felt so guilty about the whole thing that he took me on a tour of the city. There wasn't much else to do; in countries that respect the rights of labor, you don't cross picket lines.
No matter where you dig
Something he said that day as we were driving around Milan has stuck in my head ever since. We had to take a detour at one point, because a construction zone had recently become an archaeological site. He said, essentially, "You can't dig anywhere in the city without finding artifacts from the past." In fact, he said they tried not to move any earth if at all possible, because they know it's going to happen — and it'll throw off the schedule by months. In this case, the builders had gambled. They needed more parking within a densely populated section, and so they started in.
I often think about what he said when I start digging into the New Testament. No matter where you plant your shovel, you're bound to find tons of material, layer after layer of articles, lectures, theses, commentaries, and books. The density of material is probably greater in the gospels than elsewhere, and though I have no hard data to back it up, I strongly suspect the volume of information in the passion narratives is greater still.
Any time I start to imagine that a superficial reading of a verse or a pericope will suffice, I have to remind myself that my opinion will surely change once I start digging. It will never be as simple as I expected, and my first impressions are often completely wrong.
Irresolvable rumps
Consider, for example, the supposed slam-dunk argument from Q (Q for Qwelle) skeptics that the minor agreements in Matthew and Luke represent intractable issues that advocates of the Two Source Theory cannot answer. They point to synoptic stories of Jesus' mistreatment before being sent to Pilate a the prime example.
Mark Goodacre puts it this way:
There are many, many Minor Agreements between Matthew and Luke against Mark. A good number of them can easily be explained on the assumption that Matthew and Luke are independently redacting Mark, coinciding in their attempts to polish up his literary style, to alter his harsh view of the disciples, his less reverential view of Jesus and so on. However, there is an irresolvable rump of arguments that simply will not go away. One of the most interesting occurs . . . when Jesus is being mocked:

Matthew 26.67-68
Mark 14.65
Luke 22.64
Then they spat
into his
face, and struck him; and
some slapped him, saying,
'Prophesy to us, you
Christ! 

Who is it that




struck you?

'
And some began to spit
on him, and to cover his
face, and to strike him,
saying to him,
'Prophesy!

' 

And the guards received
him with blows.
Now the men who were
holding Jesus mocked him
and beat him; they also blind-
folded him and asked him,
'Prophesy!
Who is it that
struck you?'

(Goodacre 2001, p. 146)
On other occasions, Goodacre has emphasized the fact that these are five consecutive words (τίς ἐστιν ὁ παίσας σε) found in both Luke and Matthew but not in Mark. Moreover, they appear in the passion narrative, which the great majority of scholars believe Q did not have. Initially, on the surface at least, this argument seems quite sound. But what happens when we start digging?
Pronunciation Tip
The noun, prophecy, is pronounced:
PRAH-fuh-see
The verb, prophesy, is pronounced:
PRAH-fuh-sigh
Don't embarrass yourself in public.
The order of things
If you read synopses and harmonies of the synoptic gospels, you'll see that the story goes something like this:
A group of soldiers arrests Jesus. The arresting squad takes him to the high priest for the Sanhedrin trial.
At the end of the trial, the high priest charges Jesus with blasphemy.
The people holding Jesus abuse him . . .
by beating and blindfolding him.
They mockingly ask him to prophesy . . .
and tell them who is striking him (because he can't see).
Here it is, schematically:
Synoptic Harmony:
Arrest –> Trial –> Blasphemy –> Abuse –> Blindfold –> Prophesy! –> Who?
Oddly enough, even though that's probably how most of us remember the story, none of the three gospels tell it exactly like that. For instance, Mark has it this way:
Mark (1):
Arrest –> Trial –> Blasphemy –> Abuse –> Blindfold –> Prophesy! –> ____
Mark doesn't have the mocking question at the end, and I would argue that Goodacre's translation of περικαλύπτειν αὐτοῦ τὸ πρόσωπον as "to cover his face" is spot on. It comes closer to the true sense than "to blindfold." So, we could express it:
Mark (2):
Arrest –> Trial –> Blasphemy –> Abuse –> Cover face –> Prophesy! –> ____
Matthew's gospel follows Mark, but it omits the covering of the face. On the other hand, it also adds the taunting question.
Matthew:
Arrest –> Trial –> Blasphemy –> Abuse –> ____ –> Prophesy! –> Who?
With Matthew, then, we have an oddity. They haven't blindfolded Jesus, but they're asking him to guess who hit him.
Luke is actually the only gospel that contains all three elements: the blindfolding, the command to prophesy, and the mocking question. But take a look at how he changed the order of Mark:
Luke:
Arrest –> Abuse –> Blasphemy* –> Blindfold –> Prophesy! –> Who? –> Trial
This schematic sequence requires some explanation. The trial occurs at the end of the series of events. In fact, according to Luke, nothing happens at the end of the Sanhedrin trial other than sending Jesus off to see Pilate. Strangely enough, in the third gospel, the high priest does not explicitly accuse Jesus of blasphemy. Instead, Luke uses the word to describe what they did to Jesus.
And they said many other things against him, blaspheming him. (Luke 22:65, ESV)
This shifting and re-purposing of language in Luke is convincing evidence of Markan priority. In a curious twist, he salvages and re-uses some of Mark's vocabulary to say something entirely different. On the other hand, Matthew keeps the verdict intact and doubles up on the accusation.
Then the high priest tore his robes and said, "He has uttered blasphemy. What further witnesses do we need? You have now heard his blasphemy. (Matt. 26:65, ESV, emphasis mine)
Oddities in narrative logic
Luke's order of events presents us with a kind of plot hole. Mark provides two reasons for the Sanhedrin to suspect blasphemy. First, they counted violence or even the threat of violence against the Temple as blasphemy, because it was the dwelling place of God's name. Second, they apparently viewed the "Son of the Blessed" as some kind of divine being. So they saw Jesus as a blasphemer and messianic pretender. He predicted the destruction of the Temple and that he would rebuild it, which makes him a false prophet in their eyes, as well. (I am discussing narrative logic for the original readers, not historical logic.)
The men holding Jesus before the trial in Luke are thus acting on their own without obvious provocation. They've heard no accusations, so far as we know, let alone a verdict. Not only that, but Luke deliberately uses the imperfect form of the verb to ask. Goodacre misses this important nuance, as do many of the more popular English translations. The NET translation is closer to the actual meaning here:
They blindfolded him and asked him repeatedly, "Prophesy! Who hit you?" (Luke 22:64, NET, emphasis mine)
In the table above Goodacre incorrectly puts the verbs to mock and to beat in verse 64. They actually appear in verse 63. As with the verb form of to ask, Luke used the imperfect form. Hence, we should not understand that the men beat him and mocked him but rather, the men were beating him and were mocking him. In this case, the NASB gets it almost exactly right:
Now the men who were holding Jesus in custody were mocking Him and beating Him (Luke 22:63, NASB, emphasis mine)

We need to make this distinction, because in Luke's conception, the ruffians are playing a cruel game with him. The men have blindfolded him, and they hit him again and again asking, "Who hit you?" This is how they passed the time, waiting to be called in to see the Sanhedrin: playing a game of Blind Man's Buff.
I normally have nothing good to say about the NLT, but I think this is an interesting way to put it:
They blindfolded him and said, "Prophesy to us! Who hit you that time?" (Luke 22:64, NLT, emphasis mine)
How do we explain Matthew?
Goodacre is partially correct when he says that Q theorists find the taunting question in Matthew distressing. He writes:
On the whole, they are troubled by it since they realize that it challenges the notion of Luke's independence from Matthew, the premise behind the Q theory. The leading defence here is that Matthew did not contain the words Who is it that struck you? The theory is that these words were added by Luke and that scribes of Matthew then interpolated them into their versions of Matthew. This is a process known as 'conjectural emendation', where a scholar proposes an emendation to the text with no warrant anywhere in the textual tradition — no known text of Matthew is without these words. Conjectural emendation is usually practised sparingly by Gospel scholars, and it is particularly problematic here, where the primary reason for practising it is to defend an already troubled synoptic theory, the Q hypothesis. (Goodacre 2001, p. 146)
But he glosses over the undeniable fact that the Matthean account has oddities that require explanation. We've already mentioned the fact that the blindfolding of Jesus appears to be missing, which renders problematic the command to guess who hit him. Note well, too, that Matthew has not so much omitted Mark's "cover his face" as converted it to "spit in his face."
Matthew wishes to remind us of Isaiah 50:6, in which the obedient servant of God endures similar abuse.
I gave My back to those who strike Me,
And My cheeks to those who pluck out the beard;
I did not cover My face from humiliation and spitting.
(NAS, 1977)
(Notice that since the translators of the New American Standard (1977 edition) were absolutely certain that this passage is a prophecy concerning Jesus, they capitalized the personal possessive pronouns.)
The suffering servant leans into the beating. He presents his cheeks gladly as they pull out his beard by the roots. He refuses to cover his face, despite the ultimate indignity — being spat on in the face. Matthew has thus taken a passage in Mark in which Jesus is spat upon, hooded, and beaten, and has modified it into an echo of the prophecy in Isaiah. They are fulfilling prophecy while at the same time asking him to, "Play the prophet, you so-called Christ!"
Now that we understand the context, the question — "Who is it that struck you?" — seems odd indeed. In fact, the sharp irony of "Prophesy, you Christ!" is blunted by the non sequitur question that follows.
Luke, as we see in chapter 18, did not specifically think of spitting in the face as essential to the prophecy. Moreover, he expected it to happen after the Jews turned him over to Pilate.
31. And taking the twelve, he said to them, "See, we are going up to Jerusalem, and everything that is written about the Son of Man by the prophets will be accomplished.
32. For he will be delivered over to the Gentiles and will be mocked and shamefully treated and spit upon.
33. And after flogging him, they will kill him, and on the third day he will rise."

(ESV, emphasis mine)
The cohort holding Jesus before the trial in Luke were the hired muscle working for "the chief priests and officers of the temple and elders who had come against Him" (22:52, NASB), not Gentiles.
Luke's innovations
Only in Luke's gospel do we get the unmistakably clear picture of the captors taunting Jesus in a mocking game — which, along with the substantially different order of events, has led some scholars to infer that the third evangelist was following a secondary source. In fact, B.H. Streeter believed that both the veiling of the face and the taunting question (tis estin . . .?) were originally present only in Luke.
In Mark the mockers spit on His face and slap Him and cry, "Play the prophet now!" In Luke they veil His eyes and then, striking Him, say, "Use your prophetic gift of second sight to tell the striker's name." Each version paints a consistent picture; but, if one half of Luke's picture is pieced on to Mark and the other half to Matthew (as in the ℵ B text), both are blurred, with the result that in the accepted text Matthew's version dulls the edge of the taunt in Mark, but does not succeed in substituting the quite differently pointed taunt in Luke. (Streeter 1924, p. 327)
Streeter continues by arguing that the passage in Matthew represents one of the extremely rare cases in which the text of one gospel has influenced another, with no extant copies left to prove it.
Assimilation of parallels is a form of corruption which can result, and, as I have shown, has often actually resulted, in producing an identical corruption along more than one independent line of transmission. I suggest that for once this has happened along all lines. (Streeter 1924, p. 327)
In other words, we know that a great deal of variation exists among all manuscripts. It would seem likely that in at least some rare cases, every copy we have of a gospel is "wrong" at some point, and that the original reading is lost forever. Streeter reminds us that the NT manuscripts abound with variations.
The minor agreements which I have examined above include all that are sufficiently striking to be worth discussing in detail. The residue are agreements still more minute. Of these textual assimilation is the probable explanation. Indeed, it would perhaps be a better explanation of some of those which in the earlier part of this chapter I have attributed to the coincident editorial activity of Matthew and Luke. Very few of the scholars who have treated of this aspect of the Synoptic Problem appear to me to have an adequate appreciation of the immense amount of variation that exists, even between MSS. of the same family, in regard to just the kind of small points that are here involved, such as the order of words, interchange of prepositions especially in composition, substitution of one conjunction for another, the use of the article with proper names, and the like. (Streeter 1924, p. 328, emphasis mine)
According to Streeter, scribes who were writing well before the first manuscripts we possess "corrected" their versions of Matthew so that "Who is it that struck you?" appears after "Prophesy, you Christ."
Word choice in Luke
In his 1987 paper, "ΤΙΣ ΕΣΤΙΝ ΟΠΑΙΣΑΣ ΣΕ [TIS ESTIN HO PAISAS SE]," Frans Neirynck concludes:
The originality of the question in the text of Luke is supported by presence of the veiling, the use of ἐπερωτάω and the construction τίσ ἐστιν ὁ + participle. None of these reasons apply to the Gospel of Matthew. On the contrary, the normal antecedent of the question (περικαλύπτειν) is lacking in Matthew, and if we remove the words τίσ ἐστιν ὁ παίσας σε, the text of Mt 26,67-68 can be explained as a consistent editorial rewriting of Mk 14.65. (Neirynck 1991, p. 121)
Neirynck cites three bits of evidence that support the notion that the question originated with Luke. We've discussed the first, but what about the other two?
By "the use of ἐπερωτάω [eperōtaō]," he's referring to the fact that unlike Matthew, the third evangelist doesn't just use the verb to say.
Mark
". . . to say to him, 'Prophesy!' . . ."
Matthew
". . . saying, 'Prophesy to us, you Christ! Who is it . . .'"
Luke
". . . were asking, saying, 'Prophesy! Who is it . . .'"
Luke's rewrite of the Markan story signals to us beforehand that Jesus' tormentors are going to ask him something. And as we noticed before, Luke used the imperfective aspect of the verb "to ask," meaning that it occurs repeatedly over time. Matthew lacks both of these features. Instead, he says they "slapped [him], saying, 'Prophesy to us . . .'"
By "the construction τίσ ἐστιν ὁ + participle," he is referring to the fact that Luke is using a participle as a noun. Imagine for a moment that in English you could say "the having-struck you" as an alternate way of saying "the person who struck you." As I understand his argument, Neirynck thinks this construction, while not unknown in Matthew (see, for example, Matt. 5:28), is far more congenial to Luke.
Scratching the surface
This particular minor agreement is not the slam-dunk argument that some anti-Q people would lead you to believe.
For anyone reading this post who might be interested in learning more about the arguments and counterarguments surrounding this minor agreement, I highly recommend Neirynck's paper, which you can find in Evangelica II: 1982-1991: Collected Essays. I've barely scratched the surface here. Neirynck's treatment covers several different theories that try to explain it, from a now-lost version of Mark that contained the question to oral traditions that Matthew and Luke supposedly drew upon. It's a massive undertaking, containing 234 footnotes and hundreds of citations of other works.
As I said at the beginning, no matter where you plant your shovel in the gospels, you'll find a seemingly limitless supply of works dealing with all aspects of the subject. It's often overwhelming. But to get the real point of this post, I wanted to show that the answer is not cut and dried. In fact, when it comes to NT studies, it seems no consensus is ever definitively put to rest. What was certain in 1950 may be considered wholly discredited three decades later, only to be resurrected in the 21st century.
As I've said before, I have no ax to grind here. In general, I think the Two Source Theory makes sense. On the other hand, I'm open to idea that Luke used Matthew. What I want to make clear is that this particular minor agreement — which, by the way, is the only one Streeter couldn't explain using ordinary redactional methods — is not the slam-dunk argument that some anti-Q people would lead you to believe. Anyone who tells you otherwise is either unaware of the underlying complexity or they're glossing over it to make their argument seem stronger than it really is.
---
Goodacre, Mark
The Synoptic Problem: A Way Through the Maze (The Biblical Seminar, 80), Sheffield Academic Press, 2001
Neirynck, Frans
Evangelica II: 1982-1991: Collected Essays, Peeters Publishers, 1991
Streeter, B.H.
The Four Gospels: A Study of Origins, Treating of the Manuscript Tradition, Sources, Authorship, & Dates, St. Martin's Press, 1956 (orig. 1924)
The following two tabs change content below.
Tim Widowfield
Tim is a retired vagabond who lives with his wife and multiple cats in a 20-year-old motor home. To read more about Tim, see our
About page.
Latest posts by Tim Widowfield (see all)
---
If you enjoyed this post, please consider donating to Vridar. Thanks!
---