Richard J. Bauckham, FBA, FRSE (born 22 September 1946) is an English scholar in theology, historical theology and New Testament studies, specialising in New Testament Christology and the Gospel of John. He is a senior scholar at Ridley Hall, Cambridge. — Wikipedia (4th Oct 2015).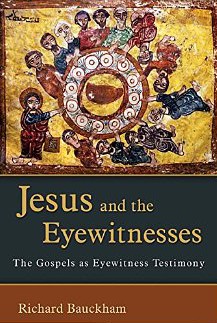 Richard Bauckham is probably best known to the wider public for his book Jesus and the Eyewitnesses: The Gospels as Eyewitness Testimony in which he argues that the gospel narratives about Jesus were derived from reports of eyewitnesses. Is it reasonable to ask if Bauckham's thesis was the product of disinterested historical inquiry?
Anyone who has read the first chapter of Jesus and the Eyewitnesses will know that my overall concern in the book was to help Christians recover the confidence that the Jesus they find in the Gospels (rather than in some dubiously reconstructed history behind the Gospels) is the real Jesus. 

(2015-09-01). I (Still) Believe: Leading Bible Scholars Share Their Stories of Faith and Scholarship (p. 27). Zondervan. Kindle Edition.
Does this entitle us to be suspicious that the arguments might have been tendentious?
I did not think this prejudiced the purely historical argument that followed because I am accustomed to making sure that my historical arguments stand up as historical arguments.
I have covered in depth what his "historical arguments" look like in a detailed series of chapter by chapter posts now available in the archives. One of the more bizarre of Bauckham's "historical arguments" is to compare the gospel narratives of the crucifixion and resurrection of Jesus with testimony of another "unique" event, the Holocaust of the 1940s. To approach the testimony of survivors/eyewitnesses with a hermeneutic of "radical suspicion" is "epistemological suicide". Normative approaches of critical analysis of the evidence, of testing the evidence, are set aside in preference for a choice between either believing or rejecting the testimony, for either cynically rejecting the "astonishing testimony" of something unspeakably unique or charitably trusting the words of a privileged eyewitness report. Ad hoc rationalisations dominate: if passages such as the crucifixion narratives are replete with biblical (Old Testament) allusions it is because the eyewitnesses were overawed by their memories of the events; yet if passages such as the resurrection narratives contain no biblical allusions it is because the eyewitnesses were even more overawed by their memories of something that "defied reality".
What about Bauckham's personal faith interest? Does that shape his work in any way?
Maybe (but how could I ever know?) I would still love God if I came to the conclusion that there was no shred of real history in the New Testament. But, to say the least, I would find it more difficult to believe in God if I did not believe that God became incarnate as the man Jesus, who died and rose bodily from death and is alive eternally with God. (Here I differ profoundly from people who find it easier to believe in God than in the incarnation and the resurrection.) This gives my love of God an indispensable stake in the historical credibility of the Gospels. For as long as I have thought about it, it has always been clear to me that, for Christian faith to be true, the Jesus Christians find in the Gospels must be the real Jesus . . . 

(2015-09-01). I (Still) Believe: Leading Bible Scholars Share Their Stories of Faith and Scholarship (p. 24). Zondervan. Kindle Edition.
Does this mean that Bauckham invariably knows that he expects to find his faith confirmed in all of his studies? He does at least permit himself to change his mind on a number of issues so no-one can say he does not courageously follow wherever the evidence leads . . . Coincidentally the three changes of mind that he admits to having arisen out of his studies have all been in the direction of establishing the "truth" of a more conservative and traditional view of his faith:
Of course, over the years I have changed my mind about many issues in the study of the New Testament. Often this has happened when, after long accepting a mainstream scholarly view, I have thought harder about it and come to a different conclusion.

Some of the best examples are in Gospels studies, where much of my work has converged in recent years.

For a long time I accepted without much thought the usual view that each Gospel was written for the Christian community in which it was written. Then one day I asked myself why virtually everyone seemed to assume this in preference to the obvious (but rarely mentioned) alternative: that each Gospel was written with a view to its circulation widely around early Christian communities. I was surprised to find very little in the way of arguments for the consensus view. It began to look like a view that everyone treats as obvious because everyone else treats it as obvious.
So Bauckham's departure from orthodoxy was to argue that the Gospels were written with a far more ecumenical or catholic purpose in mind than traditionally assumed. How they are understood today was the intention of their authors all along.
Two other points on which Bauckham has changed his mind through his historical researches are likewise moves towards the veracity of conservative Christian tradition: Peter really was the apostle behind the narrative in the Gospel of Mark and the Beloved Disciple really was the author behind the Gospel of John.
At one time I would have been much more hesitant about associating Peter closely with Mark's Gospel than I am now, while in the case of John I would at one time have said cautiously that the Beloved Disciple must have played a role in the origins of the Gospel but did not actually write it. So it was not the case that in that book I was defending "conservative" positions that I had always held. Much of the book was unanticipated but came about as I wrote it, as I followed where the arguments and the evidence were leading me.

(2015-09-01). I (Still) Believe: Leading Bible Scholars Share Their Stories of Faith and Scholarship (p. 26). Zondervan. Kindle Edition.
Bauckham's idea of testing the received wisdom sounds admirably professional:
One might have expected that, in a field like New Testament studies, the dynamics of research would lead to rigorous questioning of any accepted position, but in fact there are some assumptions that rarely get questioned.

I guess this has to do with the way people are inculturated into the discipline, and I may be more ready than others to question dominant assumptions because I did not become a New Testament scholar through the usual process of undergraduate and postgraduate study. I have had no revered teachers in whose footsteps I piously follow.
Is Bauckham implying that scholars-following-revered-teachers is the norm?
Nor have I ever bought into the conception of New Testament studies as a process of incremental advance, in which at each stage assured conclusions are reached, on which further study must then build. I think the work always needs to be done again, and I have come increasingly to the conclusion that in fact grave mistakes have been made that have set major lines of research going in quite misleading directions. We often need to retrace our predecessors' steps and look for a path they overlooked or neglected for insufficient reasons. Then one thing leads to another.

(2015-09-01). I (Still) Believe: Leading Bible Scholars Share Their Stories of Faith and Scholarship (pp. 24-25). Zondervan. Kindle Edition.
No doubt such a radical revision of existing work is in principle well and good, but notice that for Bauckham radical critique really means leading biblical studies back into the service of theological orthodoxy:
There is a prejudice around for which any historical conclusion that accords with traditional Christian faith must be considered, ipso facto, suspicious. This is quite obviously a prejudice that makes no sense at all within the discipline of history but only as a theological or anti-theological judgment. As such it has no more validity than the opposite pre-judgment that any historical conclusion that does not accord with traditional Christian faith must be considered, ipso facto, suspicious.

(2015-09-01). I (Still) Believe: Leading Bible Scholars Share Their Stories of Faith and Scholarship (p. 27). Zondervan. Kindle Edition.
It would be more accurate to say, surely, that this "prejudice" (not "professional suspension of judgement") "makes no sense at all within the guild of Christian believers doing historical inquiry in the service of their faith".
The fallacy of the false dilemma. Or perhaps what we are reading is the suspicion of the believer. To doubt the Word of God is to be against the "word of God" and the only conceivable alternative is to love God and follow the hermeneutic of charity.
The possibility of assuming a disinterested stance towards the evidence, or even of being aware of one's natural biases and professionally making the effort to counter them, such alternatives do not appear on Bauckham's intellectual horizon. Indeed, his biases lead him to discovering new things that happen to support his biases. The following from Bauckham informs us that he is well aware that other scholars do criticize him for his convenient and self-interested ability to find theologically conservative conclusions in his studies but that at the same time he is not bothered by such criticism because he is, in his own judgement, doing "good history":
The role of presuppositions and ideological leanings in historical work is too often assumed to be one that distorts understanding, whereas it can function positively to open a historian's eyes to features of the evidence others have neglected. In the end it is evidence and arguments that need to be assessed. The verdict "Well, he would think that, wouldn't he?" is applicable, if at all, only after serious engagement with the arguments presented, not before. . . . 

Hardly anyone who works in the field of New Testament studies is immune from the influence of both of these pre-judgments in their various complex interactions. I have never been much bothered by them, perhaps partly because, as a well-trained historian, I think I know what good historical argument looks like. . . .

(2015-09-01). I (Still) Believe: Leading Bible Scholars Share Their Stories of Faith and Scholarship (p. 27). Zondervan. Kindle Edition.
The following two tabs change content below.
Neil Godfrey
Neil is the author of this post. To read more about Neil, see our
About page.
Latest posts by Neil Godfrey (see all)
---
If you enjoyed this post, please consider donating to Vridar. Thanks!
---