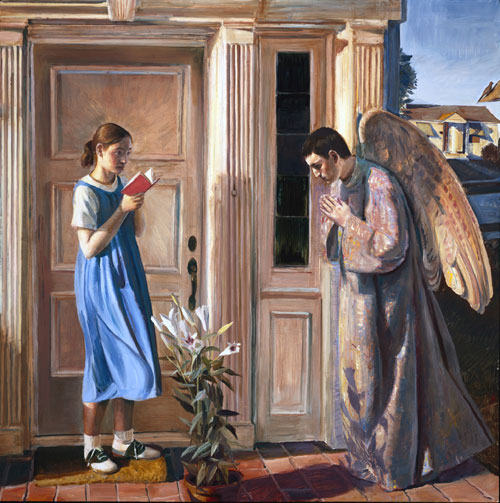 Familiarity with the stories of Jesus' birth can blind us to recognizing just how bizarre are some of their details. Okay, maybe the virgin birth itself is bizarre but I recently read one reasonably well-known scholar opining that even that may not be so bizarre when we stop and recollect the ability of certain animals such as Komodo Dragons to reproduce by parthenogenesis. The scholar stopped short of speculating how it was that Mary came to be born human-like yet presumably with reptilian internal organs or the nature of the children she later bore to Joseph.
The Gospel of Luke opens with the angel Gabriel dropping in on two earthlings without the courtesy of advance notice. The first was the very elderly priest, Zechariah. Gabriel interrupted him during work hours in the Temple causing a religious ceremony to be unceremoniously held up in midstream, told Zechariah that he and his equally elderly wife were going to have a child and then cursed him with the inability to speak for daring to ask how any couple well beyond menopause could possibly bear children.
Six months later the same Gabriel dropped in on Mary. Now Mary, Luke tells us, was a virgin engaged to be married to Joseph. We are not told when they were planning to marry but no doubt Mary spent a lot of time thinking about that day and what married life with Joseph would be like.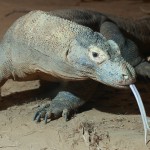 Gabriel told Mary that she was going to have a baby boy and that she was to name him Jesus.
Mary immediately forgot she was engaged to be married and so asked Gabriel how that was possible since she was, well, not married. Mary's question was as dumb as Zechariah's was smart.
Mary's question is very puzzling: why should a woman about to marry wonder at the notion that she will soon conceive? (Randel Helms, Gospel Fictions, p. 51)
So what's going on here? Why does Luke make Mary look so absurdly naive? 
Randel Helms suggests that Luke was working with an existing story in which Joseph was the literal father of Jesus; Luke was trying to subvert that story by rewriting it to serve another church doctrine.
In the third chapter of the gospel is a lengthy genealogy tracing the family tree of Jesus back to King David and then even further as far as Adam and God himself. It begins by saying that Jesus was the son (as was supposed) of Joseph. That "as was supposed" line makes the entire genealogy pointless, of course, in any literal sense. It means Jesus was not the actual "son of David" after all.
Yet in chapter 1 it certainly appears that the original author was leading up to a genealogical register which proved decisively that Jesus was indeed from the line of David.
Luke 1:26-27
In the sixth month of Elizabeth's pregnancy, God sent the angel Gabriel to Nazareth, a town in Galilee, to a virgin pledged to be married to a man named Joseph, a descendant of David. The virgin's name was Mary.
Luke 1:29-33
Mary was greatly troubled at his words and wondered what kind of greeting this might be. But the angel said to her, "Do not be afraid, Mary; you have found favor with God. You will conceive and give birth to a son, and you are to call him Jesus. He will be great and will be called the Son of the Most High. The Lord God will give him the throne of his father David,  and he will reign over Jacob's descendants forever; his kingdom will never end."
Later again, in 1:69, Zechariah breaks out into spirit inspired prophecy declaring that all of these events are focussed on the House of David.
But Luke appears to have mangled the whole thing so that Jesus is evidently NOT born to the house of David at all. Mary was Elizabeth's cousin and part of the tribe of Levi that had the responsibility of providing priests like Zechariah for the work of the Temple.
Randel Helms offers a reasonable explanation for why this nativity narrative contains these incoherent details:
Embarrassed by the story's clear implicit denial of the Virgin Birth notion, Luke or a later Christian inserted Mary's odd question, but the clumsy interpolation makes hash of Jesus' royal ancestry. (p. 51)
Noncanonical writings (e.g. Justin Martyr) tell us that Mary herself was a direct descendant of David. Why didn't Luke come up with this idea or use it if he knew of it? That question brings us back to the strong apologetic theme of the work of Luke-Acts that ties the origins of Christianity to Judaism. The beginning of the story of Jesus in Luke is with the Temple. We know about Zechariah, father of John the Baptist, and this episode is followed up by the circumcision and blessing of Jesus in the Temple, then by Jesus as a twelve year old boy astonishing the priests in the Temple, and then by his driving out the money changers from the Temple. There are many indications that Luke-Acts was written (or finally rewritten) to counter Christian groups who rejected the Jewish scriptures and the teachings attributed to the Twelve disciples. Luke binds Christianity's birth and its founder (and his own brand of "proto-orthodox" Christianity) with the ancient authority of the Jewish prophecies, scriptures and temple worship.
The following two tabs change content below.
Neil Godfrey
Neil is the author of this post. To read more about Neil, see our
About page.
Latest posts by Neil Godfrey (see all)
---
If you enjoyed this post, please consider donating to Vridar. Thanks!
---