Romans 1:1-7 (YLT)
1 Paul, a servant of Jesus Christ, a called apostle,
having been separated to the good news of God —

2 which He announced before through His prophets in holy writings —

3 concerning His Son,

(who is come of the seed of David according to the flesh,

4 who is marked out Son of God in power, according to the Spirit of sanctification [=Holy Spirit], by the rising again from the dead,)

Jesus Christ our Lord;

5 through whom we did receive grace and apostleship, for obedience of faith among all the nations,
in behalf of his name;
6 among whom are also ye, the called of Jesus Christ;
7 to all who are in Rome, beloved of God, called saints; Grace to you, and peace, from God our Father, and [from] the Lord Jesus Christ!
Interpolation is a four letter word for some scholars: it can only be justified under extreme provocation such as when all the earliest witnesses leave not a shadow of doubt.
Such a standard flies in the face of what we know about the transmission of ancient manuscripts, especially the canonical ones. See Forgery in the ancient world and List of scholars believing Paul's letters were interpolated. Nonetheless I can understand why some authors play it safe by being very reluctant to treat any passage in Paul's letters as an interpolation unless supported by widely acknowledged arguments. I'm not so conservative. If only one scholar produces very sound arguments that his or her peers fail to address then I'm willing to take the possibility of interpolation seriously.
So much for the preamble.
Sparks have flown between Christ Myth advocates and their opponents over the opening passage in Paul's epistle to the Romans that declares Jesus Christ to be "of the seed of David according to the flesh" but these verses may have another significance for our understanding of how early Christian ideas evolved. So forget the mythicist debate for a moment.
Many of us are aware of Hermann Detering's arguments for Romans 1:2-6 being an interpolation laden with anti-Marcionite innuendo. I won't repeat those here. Consider this a related post.
I have also posted the 1942 argument of A. D. Howell-Smith for Romans 1:3 (who is come of the seed of David) being an interpolation. Again, consider this post related.
Alfred Loisy (1935) makes a passing reference to Romans 1:3-4 (see the bolded passage in the side box) being a likely interpolation in Remarques sur la littérature épistolaire du Nouveau Testament, p. 9. These lines are anomalous padding within a standard introduction.
J. C. O'Neill in Paul's Letter to the Romans (1975) published a detailed argument for why we should consider all of verses 1b to 5a as an interpolation. (See the indented lines in the side-box. He also found the words I have italicized intrusive.) It is O'Neill's discussion pages 25 to 28 that I set out below.
Normal Letter Introductions
Normal introductions were as simple as possible. Example:
Demophon to Ptolemaeus, greeting.
Affectionate and official letters could be elaborated a little:
Apion to Epimarchus his father and Lord, heartiest greetings. 

Polycrates to his father, greeting.

Claudius Lysias to his Excellency the governor Felix, greeting. (Acts 23:26)

James, a servant of God and of the Lord Jesus Christ, to the twelve tribes in the Dispersion, greeting. (James 1:1)
Paul's Introductions
Paul's letters replace the third part of the standard introduction, the greeting, with a divine blessing. J.C. O'Neill sees here a trait commonly found in the Middle East. Example:
Baruch the son of Neriah says to the brothers carried into captivity: Mercy and peace be with you. (2 Baruch 78:2)
O'Neill thinks that since Paul always ends his salutations with a blessing, he further decided in the earlier part of his introduction to assure his recipients that he had the authority to pronounce such a blessing from God. Hence he opened with a statement of his apostolic credentials. His introductions could thus be quite long.
Two Exceptionally Long Introductions
But there are two letters attributed to Paul that have exceptionally long introductions that require some further explanation: Titus and Romans.
Dodd has already suggested in the case of Romans that in vv. 3 and 4 (down to 'by his resurrection from the dead') 'it is probable that Paul is citing more or less exactly a common confession of faith which would be known and recognized at Rome'. Bultmann has followed up this idea and attempted a reconstruction of the confession: 

[Jesus Christ] the Son of God,
Come from the seed of David,
Designated Son of God with power by his resurrection from the dead. (Theology, i.49)
O'Neill points out the weakness of this view (that Paul is citing a pre-existing creed here) is that it has no follow-up in the letter. Why introduce a creed that has no relevance to the argument that follows?
This section completely overloads the salutation and makes it a grammatical monstrosity, which no one writer would have perpetrated, and it looks very like a later insertion. (p. 26)
I believe this point about the creed is supported by other arguments that have been raised on this blog, by myself ("Son of David" as an anachronism (or metaphor?) in the Gospels, Paul and Acts?) and Roger Parvus citing Robert M. Price. (See A Simonian Origin for Christianity, Part 4: Excursus on Marcion, Valentinians, and the Pauline Letters. Parvus additionally identifies a similar passage in the Ignatian letters as a proto-Catholic interpolation.)
Manuscript Support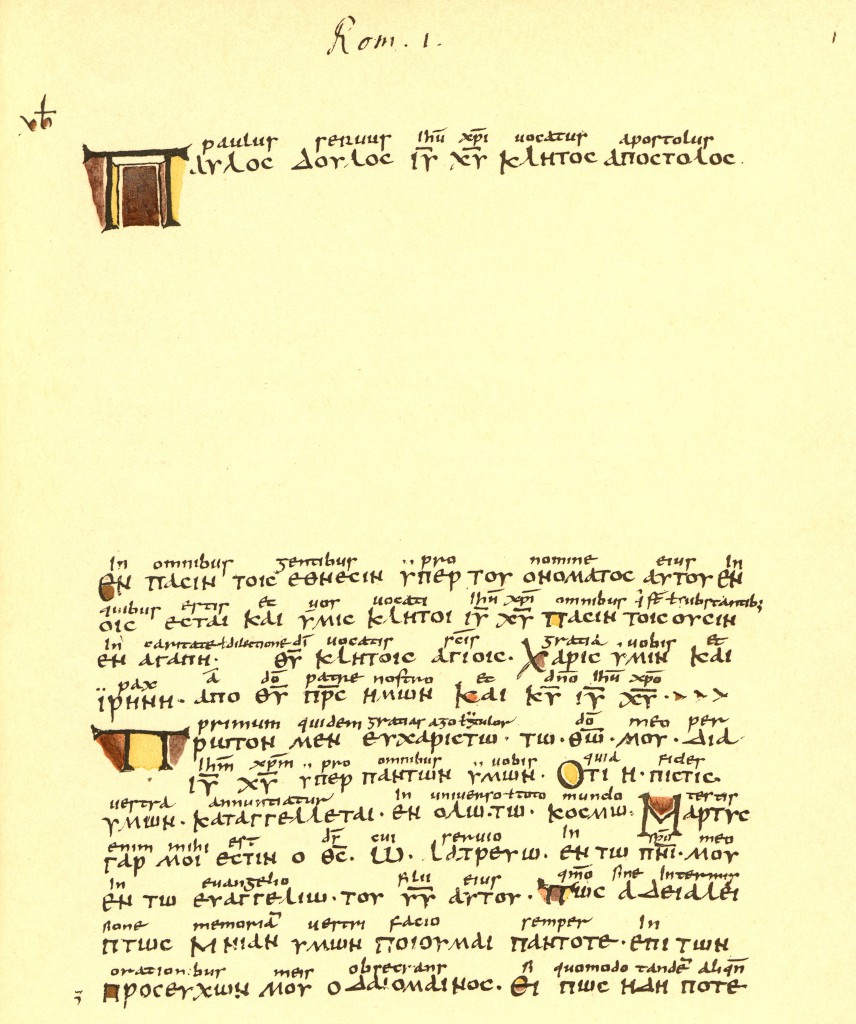 Fortunately we have a Greek manuscript (G) which does not contain the credal statement, and which reveals the proper connection of ideas in the salutation. This manuscript reads: 

Paul, servant of Jesus Christ, called an apostle among all the Gentiles on his behalf.

It is hard to imagine a scribe omitting such a long and important section, even by accident, and therefore I conclude that the long section was a marginal comment or interpolation, which was incorporated very early into the standard text of Romans. (p. 26)
Additions to the Creed
O'Neill further suggests that the original creed has been redacted in order to drive home a particular message about the nature of Jesus. If it seems most likely that the original creed contained a doublet, "of the seed of David according to the flesh//the son of God according to the Holy Spirit", then it appears that the line "by the rising from the dead" has been subsequently added to make an additional point.
Whoever added this passage to Romans wanted to inject the idea that Jesus was declared to be the Son of God at the moment he was resurrected (thus imputing to Paul a belief he did not hold), or by a scribe who could not understand why the resurrection had not been mentioned in the original. Compare the non-Pauline 2 Timothy 2:8.
O'Neill offers the following as a likely reconstruction of the original creed:
The Gospel of God is: 

That which he promised through his prophets in the Holy Scriptures,
Concerning his Son who was to be of the seed of David according to the flesh,
Designated Son of God in power according to the Holy Spirit,
Our Lord through whom we have received grace faithfully to obey. 
Without the Creed
The reference to "the apostleship" in the last line (verse 5) in our Bibles breaks the surrounding thought but was added to give the creed some direct connection to the introduction of this letter where the apostle is establishing his credentials according to O'Neill.
When this creed is set to one side, Paul's original salutation begins to shine out in all its clarity and simplicity. (p. 28)
Since this view is supported by outstanding (non-mythicist) lights such as Alfred Loisy and J. C. O'Neill as well as by (anti-mythicist) A. D. Howell Smith, we can focus on the question of the development of early Christian thought for its own sake (i.e. without reference to the mythicist debate). The original introduction thus removes Romans as a piece of evidence that as been used to support the view that Christianity was a product of Davidic messianic hopes. It strengthens the very early date of the letter to the Romans given that it was written before such a formal credal statement was part of Paul's vocabulary. The interpolation is further evidence of Paul's letters being used in theological battles after his passing.
As for the mythicism debate, removing the interpolation removes a point often used against mythicists (the belief that the passage indicates Jesus was physically descended from David — a point that has been covered at length in other posts here) and it may also remove a text that has been used in favour of mythicism (O'Neill would remove the reference to Paul's gospel being derived from Scripture but Loisy would retain that passage.)
The following two tabs change content below.
Neil Godfrey
Neil is the author of this post. To read more about Neil, see our
About page.
Latest posts by Neil Godfrey (see all)
---
If you enjoyed this post, please consider donating to Vridar. Thanks!
---