Here beginneth the lesson. The Gospel of Mark, chapter 10, verses 46 to 52, in the original King James English:
And as [Jesus] went out of Jericho with his disciples and a great number of people, blind Bartimaeus, the son of Timaeus, sat by the highway side begging.

And when he heard that it was Jesus of Nazareth, he began to cry out, and say, Jesus, thou Son of David, have mercy on me.

And many charged him that he should hold his peace: but he cried the more a great deal, Thou Son of David, have mercy on me.

And Jesus stood still, and commanded him to be called.

And they call the blind man, saying unto him, Be of good comfort, rise; he calleth thee.

And he, casting away his garment, rose, and came to Jesus.

And Jesus answered and said unto him, What wilt thou that I should do unto thee? The blind man said unto him, Lord, that I might receive my sight. And Jesus said unto him, Go thy way; thy faith hath made thee whole. And immediately he received his sight, and followed Jesus in the way.
The author of this passage appears to have inserted a couple of clues to alert the observant readers that they will miss the point entirely if they interpret this story literally. It is not about a real blind man who was literally healed by Jesus. But I'll save those clues for the end of this post. (As Paul would say, "Does God take care for oxen and blind beggars? Or saith he it altogether for our sakes? For our sakes, no doubt, this is written.")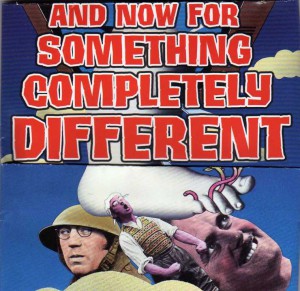 There are many commentaries on this passage and I have posted about Bartimaeus a few times now. But this time I've just read something completely different so here's another one. (Well at least the bit about why Jesus stood still will be different, yes?)
Seeing
Mark uses different words for "sight" and "seeing". Of the word used in "receive my sight" and "received his sight" is anablepo — "look up" — which Karel Hanhart says, the the Gospel of Mark (6:41; 7:34; 8:24; 16:4), "means to look at life with new eyes opened by faith".
Many scholars agree that this usage is related to the two "blind receiving sight" stories (8:22-26; 10:46-52) which offset the central section of the Gospel and highlight the need of conversion if one is to understand Jesus' "way to the cross" (cf. 8:34). (p. 124, The Open Tomb)
Hanhart, like a few other scholars who also identify Mark's theme of the Way or Second Exodus in Isaiah, believes Mark is evoking passages such as Isaiah 42:16
I will lead the blind by a road they do not know, by paths they have not known I will guide them.
Mark's two miracle stories of the healing of a blind man bracket the chapters narrating Jesus' journey from Galilee to Jerusalem — the "way to the cross". The first miracle happens at Bethsaida and in two stages; the man at first only sees people "walking like trees". This episode and its relationship with the Bartimaeus healing will have to be discussed in another post.
Bar-Timaeus
The name. Timaeus is Greek but "Bar" is Aramaic. What is unusual is that Mark repeats the name. He stresses the meaning of the name and "Bar" by repeating its Greek equivalent huios/son of Timaeus. (Actually the Greek form precedes the Aramaic-Greek name.)
The clue is in the name itself. Timaeus is not a Hebrew, but a Greek name; and his readers, by now used to Mark's ironic style, must have registered Mark's signal because this Greek name is prefaced by the Aramaic bar. In fact, Mark has the name twice, translating the word bar as meaning huios, to make sure his readers would have understood his signal. It would have dawned on them that Mark must have had in mind Timaeus which every student of Hellenic learning knew — Timaeus is the title of one of Plato's major works [dealing with cosmology (our world of appearances) and fate, physics and biology]. (p. 125, The Open Tomb)
So if Mark is here presenting a meaning drawn from Isaiah 42:16 ("leading the blind by a path they know not") and LXX Isa. 61:1 ("sight [or insight, anablepsin] for the blind").
But why the Aramaic bar?
If we know Mark by now we know that there is most likely some irony at work here. Recall the two brothers Simon and Andrew at the beginning of the gospel — one a Jewish name, the other Greek. Recall the two-stage healing at the beginning of the Way section that this Bartimaeus healing closes.
Karel Hanhart's explanation:
Bar-Timaeus represents "one of those Judeans" seeking in vain their salvation in Greek philosophy. Perhaps he is not even a Judean, but a Greek God-fearer. He is calling on Jesus for help, using the politically charged title "Son of David." But this Jesus is on the way to meet his death and no philosophy will help him then. Bar-Timaeus must learn that only God is able to raise the dead. (p. 125, The Open Tomb, my highlighting as in all quotations)
Why Did Jesus Stand Still?
(the different bit)
Hanhart points to something slightly odd, or at least left unexplained, in this passage:
It is noteworthy — another signal — that bystanders, not Jesus himself, urge this Bar-Timaeus to seek help from the healer. Jesus has stood still and could himself ask the blind man to come.
Yes, that is one of those little oddities I have momentarily wondered about but in the absence of anyone else offering to ask and answer why I've brushed it aside and continued to read on.
Hanhart's explanation is that Mark was foreshadowing a mission situation to the Diaspora. Jesus stands still and instead of calling the blind man himself he commands his followers to call him. In the Christian mission to follow this narrative sequence it is Jesus' followers who are commanded to go out and bring the converts to him.
You think that's a bit far-fetched? Hanhart read your mind:
If this interpretation seems farfetched, we do have a first-rate interpreter to confirm it; for John evidently understood the story in this manner.
So let's have a look at Hanhart's passage in John. It's 12:20-22
And there were certain Greeks among them that came up to worship at the feast:

The same came therefore to Philip, which was of Bethsaida of Galilee, and desired him, saying, Sir, we would see Jesus.

Philip cometh and telleth Andrew: and again Andrew and Philip tell Jesus.
Greeks (Hellenes) suddenly appear on the scene. Like Bartimaeus (or Bar-Timaeus) after he received his sight they are going up to worship at the Passover festival in Jerusalem.
They want to see Jesus. They express their wish to the Greek named Philip who is from Bethsaida — the same place where Jesus performed his first miracle of healing the blind, the healing that forms a couplet to the Bar-Timaeus one.
The Greek-named Philip then calls the Greek-named Andrew, and both go and tell Jesus.
Karel Hanhart is confident that "John" is here commenting on Mark's Bar-Timaeus episode. It happens at the same juncture in the gospel and echoes the same motifs. In both Jesus is the one who is stands aloof and the Greek seekers of Jesus are brought to Jesus by his followers.
In Mark's gospel this happens near Jericho, which is on the Jordan, and possibly evocative of baptism and rebirth.
The suggestion is confirmed in Jesus' words to him when his eyes are "opened," "Go, your faith [pistis] has made you well [sesoken]." (p. 126, The Open Tomb)
Hanhart further offers the observation that in this little story the words like "arise" (egeire), combined with "faith" (pistis) and "save", "make well" (sesoken) "were probably borrowed from Paul." (p. 650)
But Did It Really Happen?
Our suspicions have been raised by the ironically apt form of the unusual Aramaic-Greek name.
By the end of the narrative Mark as good as tells readers to accept the whole episode as a colourful, symbolic tale:
No blind man casts aside his garment (himation) and jumps up in order to go to a person (10:50). Blind people get up with caution, first grasping their canes. The casting aside of the garment was another signal that Mark had in mind a Hellenistic Judean's need for baptism. (p. 126, The Open Tomb)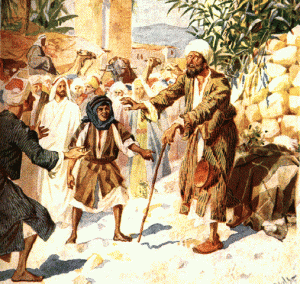 The following two tabs change content below.
Neil Godfrey
Neil is the author of this post. To read more about Neil, see our
About page.
Latest posts by Neil Godfrey (see all)
---
If you enjoyed this post, please consider donating to Vridar. Thanks!
---