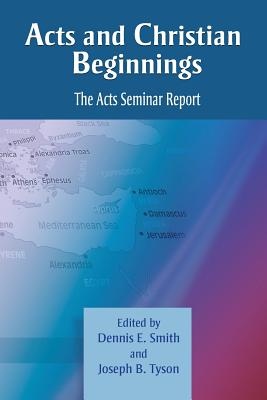 The Acts Seminar was a Westar Institute sequel to the Jesus Seminar. It met between March 2000 and March 2011. It was
charged with the task to develop methods for determining the reliability of Acts and produce a comprehensive guide to Acts as history. (Acts and Christian Beginnings: The Acts Seminar Report, p. 1)
The Acts Seminar Report has now been published and this post shares "the top ten accomplishments" as listed in its Introduction, pages one to four. I have decided to try to stick to these ten findings alone here and restrain myself from posting here several supporting findings that I have over the years shared from other perspectives on this blog. I am a little satisfied to see some of the views on Acts that I have been expressing here since 2006 now are backed up by this Seminar Report. That should not be too surprising, actually, since the bibliography of the Report includes several critical works that I found especially interesting and cogent and that I have addressed in various ways, sometimes as jumping boards to other conclusions, in the past. (One reason I find this particularly satisfying is that it does add some respectability to the posts I have taken the trouble to share on this blog while various scholars have cavalierly ridiculed the posts as some sort of "conspiratorial" or "hyper-sceptical" and "unscholarly" nonsense.)
In sum:
The Acts narrative is worthless as history of first century Christianity, but quite informative as history of second century Christianity;
it provides us no reason to believe that Christianity began in Jerusalem — the Jerusalem centre of the faith was a myth created for second century ideological reasons;
some of its characters are fictional and their names symbolic;
Acts was created as a type of Christian "epic" (coherent and literary throughout, not a patchwork quilt of diverse sources) and as such, we have reasons to believe, is no more historical than Homer's or Virgil's epics;
the author did, indeed, know of the letters of Paul;
and finally, one of its main reasons for being written was to counter Marcion's "heresy".
That last detail (re Marcion) is not explicitly included in the "top ten" list below. It comes from the supporting essays in the same Introduction chapter. I will expand on some of these in future posts.
So here we go. (By the way, I'll list the names of the scholars involved at the end of this post.)
1. The Author
The author did not simply stitch together a grab-bag of various collected sources and had no interest in preserving or conveying genuinely historical information. He was an accomplished storyteller (the editors add "theologian" as an alternative to "storyteller" — they write "storyteller/theologian" — but I wonder if that would be offensive to theologians today who insist that they be respected as genuine historians, not storytellers! 😉 ) who was in complete control of his material and could turn it to whatever ideological message he wished to convey.
2. The Date
Acts was written in the early decades of the second century. The significant point to note here is that the consensus had long held that the dual work of Luke-Acts was a product of the 80s. What overturned this view for the Seminar Fellows was the "foundational work of Richard Pervo and Joseph Tyler". Some readers will know I have discussed the works of both these scholars in depth across many posts on Vridar. (See the Index of Topics in the right margin of this blog to locate the relevant archives.)
Among the implications of this new date is that we can no longer think of the author as a companion of Paul and the work itself cannot be considered reliable testimony of the mid first century.
This conclusion has significantly undermined a vast segment of Acts scholarship that has relied on the 80s dating. (p. 2)
3. Letters of Paul were used by the author
"Groundbreaking studies by William O. Walker and others" (some of which have been referenced in posts here) have demonstrated the likelihood that the author of Acts did indeed know of the letters and theology of Paul even though they are not made explicit (sometimes even contradicted) in Acts. This is even more likely given the second century date since the letter collection of Paul was becoming known from around 100 CE.
4. Apart from Paul's letters, no other reliable historical source can be identified
Once Acts is dated in the second century, and is determined to have used the letters of Paul, then virtually all previous scholarship on the sources of Acts has to be rethought. (p. 2)
Here we come close to the methodological arguments of Thomas Brodie that I have been recently covering. We also come within bull's eye range of the methods I have discussed repeatedly on Vridar. Previous theories of the sources of Acts have been (in my view) convoluted and ideologically constrained. Those earlier theories have been
primarily based on the 'remarkable' correlation of the story of Acts with the letters of Paul.
This notion has been girded by assumption that the author was a companion of Paul and participated in some of the narrative's events. Once we move Acts to the second century many problems and questions are resolved. "Background material or literary models" were found by the author in Josephus, Homer, Vergil, the Septuagint (LXX). These were not sources of the story itself, however.
5. Jerusalem was not the birthplace of Christianity
The Acts Seminar has shown through multiple studies that the entire Acts narrative of Christian beginnings in Jerusalem (Acts 1-7) has little historical value. This is a significant challenge to most theories of Christian origins. (p. 3)
I look forward to the day when more scholars (for similar methodological reasons) will conclude that Christianity itself did not originate with a handful of followers of Jesus being persuaded that their "Gospel/historical Jesus" had been resurrected. Can we hope that some will take the studies of the Acts Seminar on this point and continue to follow through and apply the methodology to that next question?
6. Acts not an independent source for Paul's life and mission
Rather, the use of Paul's letters as a source for Acts is
sufficient to account for all details of the life and itinerary of Paul in Acts. (p. 3)
How simple and elegant. (A few older posts here have given examples of this, though I had not suspected that the letters could account for "all details" as stated here.)
Significance: Scholars must now rethink how they reconstruct the career of Paul without any reference at all to Acts. (I can imagine most conservative scholars simply dismissing these Westar Fellows as hyper sceptical radicals, unfortunately, and will draw upon the same old fatuous excuses to avoid grappling with their arguments in any depth.)
7. Acts is modeled on the epic and related literature
This is not a new idea, as pointed out in the Report. What is new to the Acts Seminar
was to make this model much more functional in making hard decisions about the historical reliability of the story told in this way. (p. 3)
I have not found such conclusions "hard" to reach, myself. But then I have not invested my career in this business. To my way of thinking, if details in a narrative have an obvious rhetorical rationale and are nowhere else attested, then the simplest conclusion is that the details are entirely literary. That does not mean they may not also be historical at some point, but it does mean we have no valid rationale for assuming their historicity — until further evidence turns up.
8. Character names are created as a story-telling device
This conclusion is contrary to the common scholarly idea that when names are "preserved" in a story then they are probably based on real persons. (I have always seen this as a naive idea, especially given the way so many names, both of persons and toponyms, are clearly puns related to the theological or narrative theme being relayed.)
However, we have found that names in ancient narrative literature often had symbolic meaning appropriate to the stories in which they were found. This means that the name would therefore have been created by the author to lend verisimilitude to the story. The same phenomenon is found in Acts. (p. 3)
Is this a slippery slope? Where will it end? What will we do those symbolic names like those of the disciples themselves, and other people and places in the gospels, not to mention (according to one classicist at least) the symbolic character of the very name of Jesus himself.
9. Acts is an ideological story
It has long been understood by many that Acts is composed to promote certain ideological agendas.
What is different is the rigor with which the Seminar applied this approach. We found that the ideological goals invariably emerged as the primary key to much of the content, form, and structure of the stories in Acts. (p. 4)
I find statements like this somewhat dismaying. One of the reasons for some of the conflict that exists between a few scholars and sceptical lay folk on the internet is that among the lay readers are intelligent and reasonably well educated people who are asking why scholars don't apply certain principles, findings and methods consistently. There seems to be so much "ad hocery" in the literature. Methodological rigour is too rarely applied consistently and consistency of argument is rare. There are always the convenient exceptions and departures that preserve the basic constructs of the overall (Acts-Eusebian) model of Christian origins. Ehrman has recently complained that critics seem to have endless time and energy to ague point after point after point after point. That to me sounds like he is tired of being asked to defend arguments against even lay readers who can identify the inconsistencies and convenient exceptions. Rather than have the courage to face up to their methodological inconsistencies too many seem to resort to appeals to their "extensive training and credentials" and to the lack thereof of those who pester them with inconvenient questions.
10. Acts must be presumed nonhistorical unless proven otherwise.
This is a reversal of the approach of many scholars in the past: that Acts can be assumed historical unless proven otherwise. This is the cumulative result of the above findings.
Surely such a conclusion ought to suggest something more. Surely it highlights that it is unsafe to simply assume a document that looks prima facie something like history can be assumed to be basically historical unless proven otherwise. That's nonsense for so many reasons that I have elaborated upon repeatedly in the past. Historicity requires an examination of provenance, genre, and independent supporting testimony. I know of no exceptions in any non-biblical field of historical studies and I do not believe Biblical studies has a valid claim to being exceptional.
So is Acts useless as an historical source?
If Acts is useless as a source of historical information of first-century Christianity it is not useless as an historical source per se, as the editors of the Report point out. Not at all. Once we can ascertain with some more certainty something of the provenance and genre of Acts we can then appreciate how it can most validly assist historians.
As a product of the second century, Acts is a primary resource for understanding second-century Christianity. (p. 4)
The editors rightly point out, in addition, that interpreting Acts as produced in the second century is not the same as interpreting it as it was read in the second century. And they are explicitly addressing their scholarly peers who sometimes are said to confuse these two.
The names of the scholars involved
Rubén Dupertuis
Julian V. Hills
Perry V. Kea
Nina E. Livesey
Gerd Lüdemann
Dennis R. MacDonald
Shelly Matthews
Milton Morehead
Todd Penner
Richard I. Pervo
Thomas E. Phillips
Robert M. Price
Alan F. Segal
Christine R. Shea
Dennis E. Smith
F. Scott Spencer
Hal Taussig
Joseph B. Tyson
William O. Walker, Jr.
L. Michael White
Stephen R. Wiest
Sara C. Winter
The following two tabs change content below.
Neil Godfrey
Neil is the author of this post. To read more about Neil, see our
About page.
Latest posts by Neil Godfrey (see all)
---
If you enjoyed this post, please consider donating to Vridar. Thanks!
---