Unlike other religions?
We noted last time that Thomas Madden in his course on early Christianity claimed, "Unlike any other ideologies at the time, Christianity also considered slavery — the institution of slavery — to be inherently wrong." He said that attitude stemmed from their belief that: "Unlike other religions, Christianity held that all people, men or women, free or slaves, were the same in God's eyes."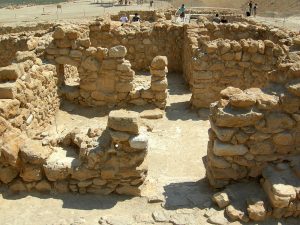 As we will see, and as you probably already know, most Christians until relatively recently did not see slavery as inherently wrong. Further, despite Madden's sweeping statement to the contrary, we do know of one Jewish sect that actually did condemn the practice. According to both Josephus and Philo, the Essenes did not keep slaves. As Philo wrote:
There is not a single slave among them, but they are all free, serving one another; they condemn masters, not only as representing a principle of unrighteousness in opposition to that of equality, but as personifications of wickedness in that they violate the law of nature which made us all brethren, created alike. (Quoted by the Jewish Encyclopedia from Philo, Vol. VI, Loeb Classical Library)
Granted, the Essenes set themselves apart from general society, dwelling in communes, keeping all things in common, and living as "free men." So one could argue that since they lived in their own little world, they didn't have to worry about letting loose a "frightful revolution" (in the words of the Catholic Encyclopedia).
However, the fact remains that the Essenes, not the Christians, were one of the few (if not the only) communities or sects in the ancient world who, it was believed, unequivocally condemned slavery. Moreover, they put their money where their mouths were.
[T]hey emancipated slaves and taught them the Law, which says: "They are My servants (Lev. xxv. 42), but should not be servants of servants, and should not wear the yoke of flesh and blood." (Jewish Encyclopedia)
They pooled their resources and purchased the freedom of enslaved Jews. That's pretty remarkable. Of course, we should temper our respect with the textual evidence that the Qumran community may have indeed kept slaves. Jennifer Glancy writes:
Doubts have arisen about whether the Essenes actually repudiated slaveholding. The Dead Sea Scrolls, widely believed to be the work of the Essenes, include a text known as the Damascus Document. The Damascus Document suggests that slaves labored in Essene communities, although those slaves were the property not of individuals but of the community itself. How to account for this discrepancy? Perhaps Philo and Josephus were mistaken in the details they report about Essene life. Perhaps, as some scholars hold, the Essenes did not author the Damascus Document. Perhaps Essene practice changed between the composition of the Damascus Document and the time when Philo and Josephus wrote. For our purposes how the Essenes treated slaves matters less than their reputation for eschewing slavery. (Slavery As Moral Problem, p. 107, emphasis mine)
At the risk of flogging a dead horse, we may wonder how a professor of history (and until recently the Chair of the History Department at Saint Louis University) who undertakes the task of teaching a course on the origins and development of early Christianity could be so unfamiliar with Josephus and Philo. That said, I think he's hardly unique. Do you seriously believe most NT scholars have actually read and studied Josephus beyond the Testimonium Flavianum?
With all fear
You may recognize the title of this series of posts from a verse in 1 Peter:
Servants, be subject to your masters with all fear; not only to the good and gentle, but also to the froward. (1 Peter 2:18, KJV)
I would translate the verse like this:
Household slaves, submit to your masters with all fear, not only to the good and gentle, but also to the morally twisted (σκολιός/skolios: bent, twisted, perverse).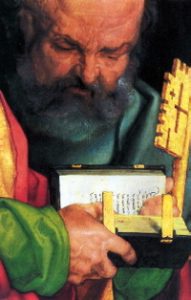 The NIV translates skolios as "harsh," while the ESV prefers "unjust." But I think it's important to convey the full meaning of "twisted." The writer pretending to be Peter isn't simply saying some masters are "cruel" (NLT) or "unreasonable" (NASB). If that were the case he could have written "unrighteous" or alluded to their cruel behavior as "persecution." The full meaning has to include perverse or "twisted" behavior.
Hence, no matter what a master may ask of you, no matter how morally degenerate he may be, "Peter" says if you are a slave you must submit with all fear. We could certainly render that as "with deference" or "with all respect," but the message could hardly be more obvious.
By the way, the NIV translates ἐν παντὶ φόβῳ (en panti phobō) as "in reverent fear of God," as if the author were implying that one shows reverence to God by obeying one's master. However, that's a gratuitous assumption. The text clearly means that fear and obedience are due to the slaveholder.
Compare Peter's admonition to the doctrine of the Essenes. Could they be any farther apart? But maybe I'm not being fair. Perhaps I am making too much of one verse.
Does the New Testament condemn slavery?
If you search the web you'll find many apologist sites that claim to know "what the Bible really says" about slavery. For example, Ben Smart writes that "it is clear the Bible is not pro-slavery." Ben first quotes from Ephesians 6:5-9 in which Paul tells slaves to obey their masters with fear and trembling (naturally, he uses the NIV's "respect and fear" instead), and asks: "Is Paul condoning slavery?" I realize that's a rhetorical question, but I must insist that the answer is "yes."
Ultimately, Mr. Smart does not ask what Paul thought about slavery versus what Peter or even Jesus thought; rather, he seeks to know what the Bible teaches about slavery. That's because in the mind of the evangelical apologist, the Bible represents the inspired word of God. So what does the Bible say?
He first points to 1 Timothy 1:9-11, and quotes from the NIV. That reminds me — back when I used to listen to the Bible Geek, I recall Robert M. Price saying that he'd like to write a tongue-in-cheek New Testament translation for evangelicals, rewriting all the questionable sections with what they really wanted it to say. That's a funny idea, but I keep thinking that we pretty much already have that with the NIV — e.g.:
9. We also know that the law is made not for the righteous but for lawbreakers and rebels, the ungodly and sinful, the unholy and irreligious, for those who kill their fathers or mothers, for murderers,

10. for the sexually immoral, for those practicing homosexuality, for slave traders and liars and perjurers — and for whatever else is contrary to the sound doctrine

11. that conforms to the gospel concerning the glory of the blessed God, which he entrusted to me.
Mr. Smart asks: "Condoning slavery?" He answers his own question: "Doesn't look like it."
Menstealers
But the Greek word the NIV translators rendered as "slave traders" is an interesting one. The deutero-Pauline writer used ἀνδραποδισταῖς (andrapodistais), which is more properly translated as "kidnapper," or "one who kidnaps people and sells them into slavery." The KJV succinctly (and quite nicely) calls them "menstealers." We know that this practice, this crime, did exist in ancient times. The word, then, does not refer to the normal buying and selling of slaves, but rather illegal slave trade.
I have no problem with admitting that ancient people often had sensibilities and a code of morality that cannot be reconciled with my own. But for those among us who need to hold up the Bible as the source of inerrant truth, things aren't so easy.
For more on the mistranslations and of 1 Timothy 1:10 and other slave-related verses, check out the essay by Michael Marlowe entitled, "Make Good Use of Your Servitude," in which he correctly concludes:
If the translators were not satisfied with "kidnappers" because this word does not indicate the connection with the illegal slave trade, they might have rendered it "slave-kidnappers," but "enslavers" [or slave traders] is not the meaning of this word.

We suspect an apologetic purpose for these mistranslations. All of these versions [referring to the NIV, NLV, and NIRV] were sponsored by evangelical publishers, and many evangelical apologists have used isolated misinterpretations of 1 Timothy 1:10 in support of their contention that the Bible does not really condone slavery after all. But however well-meaning this may be, and however expedient it may be for apologists, it prevents people from really coming to terms with the world-view of the Biblical authors—a world-view which is very remote from modern egalitarian values and agendas. (emphasis mine)
Many of today's Christians have a hard time coming to terms with the sad reality of the past. As an amateur historian and an avowed secularist, I have no problem with admitting that ancient people often had sensibilities and a code of morality that cannot be reconciled with my own. But for those among us who need to hold up the Bible as the source of inerrant truth, things aren't so easy. As Marlowe puts it:
[T]he Bible is domesticated in order to avoid scandalizing those who would be shocked to discover how utterly foreign it is to modern values. This tendency appears in many forms. Regarding slavery, some of our English translations remove the offense by using the word "servants" instead of "slaves," and many evangelical expositors have tried to distract attention from the foreignness of the Bible's teaching on slavery by dwelling upon things in the Bible which they allege to be part of some latent egalitarian "trajectory." (Marlowe's italics)
A difficult situation
Our apologist blogger, Mr. Smart, next draws our attention to 1 Corinthians 7:21, which he insists does not condone slavery (a "difficult situation"), but instead "seeks to minimise and avoid it."
Were you a slave when you were called? Don't let it trouble you — although if you can gain your freedom, do so. (NIV)
In this case, the NIV is not the only English version with a questionable translation. The actual wording in Greek is rather ambiguous — and that ambiguity can almost be seen in the Authorized Version.
Art thou called being a servant? care not for it: but if thou mayest be made free, use it rather. (KJV)
Use what? Your freedom or your slavery? As Ellingworth and Hatton put it:
The meaning of verse 21b is not clear. The alternatives given in (1) the TEV [Today's English Version] text, where "use it" means "use the chance to become a free man," and (2) the TEV footnote "but even if you have the chance to become a free man, choose rather to make the best of your condition as a slave." For convenience we will call (1) the "freedom translation" and (2) the "slavery translation." Scholars have long been divided between these two interpretations and still are. (A Translator's Handbook on Paul's First Letter to the Corinthians, p. 139, emphasis mine)
Naturally, most Christians remain insulated from such controversies. Nearly all English translations put option 1 in the main text, and either relegate option 2 to a footnote or omit it completely. For example, here's the RSV:
21 Were you a slave when called? Never mind. But if you can gain your freedom, avail yourself of the opportunity.[x]

x Or make use of your present condition instead
The original Greek is, in fact, so ambiguous commentators and translators must appeal to the surrounding text for clues. In other words, we can only understand what the author meant by examining the context of the verse. Ellingworth and Hatton ultimately come down on the side of option 1 (freedom), but since they represent the UBS party line, we shouldn't be surprised.
Given the clarity of the previous verse, I find it hard to understand why it's such a difficult translation. The struggle to make sense of it must arise from the fact that the obvious meaning of the text indicates that Paul's message to slaves was cold comfort: "No biggie; do the best you can in your current situation." Paul writes:
7:20  Each man must remain in that condition in which he was called. (NASB)
No harm, no foul
Returning again to Marlowe's article, we find that option 2 (slavery) was popular with some early church fathers. He quotes from John Chrysostom's commentary (homily):
As circumcision profits not, and uncircumcision does no harm, so neither doth slavery, nor yet liberty. And that he might point out this with surpassing clearness, he says, "But even (All eikai dunasai) if thou canst become free, use it rather:" that is, rather continue a slave. Now upon what possible ground does he tell the person who might be set free to remain a slave? He means to point out that slavery is no harm but rather an advantage.
Read the text of 1 Cor 7:17-24 and see if you don't agree. In whatever state you were called to Christ, Paul says that you should stay in that state. Chrysostom knew of other interpretations, but he argued that they made no sense.
Now we are not ignorant that some say the words, "use it rather," are spoken with regard to liberty: interpreting it, "if thou canst become free, become free." But the expression would be very contrary to Paul's manner if he intended this. For he would not, when consoling the slave and signifying that he was in no respect injured, have told him to get free. Since perhaps someone might say, "What then, if I am not able? I am an injured and degraded person." This then is not what he says: but as I said, meaning to point out that a man gets nothing by being made free, he says, "Though thou hast it in thy power to be made free, remain rather in slavery."

Melodrama?
I have to agree with Marlowe that the NT authors had no problem with the institution of slavery. However, I must strongly disagree with wrong-headed comments he makes early on in the discussion:
Part of the problem is that we have false ideas about what slavery was really like. The life of a slave was not easy, but we get an exaggerated idea of the hardships of slavery from watching movies or reading historical material that is written on a popular level. Here the purpose is usually to dramatize the plight of slaves or to make some point about the evils of slavery in general, (1) but the historical reality was less dramatic. In most cases the life of a slave was not much different from the life of any lower-class worker.
His footnote (1) cites Schaff's History of the Christian Church. He chastises the author:
Indeed, life was harsh for all working-class people in ancient Rome by modern standards. But it strains credulity when we are asked to believe (without any evidence presented for the sweeping assertion) that "the character of the master" was "as a rule . . . cruel." Such characterizations belong more to the realm of melodrama than to history.
It is unfortunate that Marlowe gives with one hand, but takes away with the other. He recognizes that the NT condones slavery, but then imagines that being a slave wasn't all that bad. Well, yes, it was that bad. In truth, it was far worse than we can imagine.
In the next post, we'll take a look at just how miserable the lot of the Greco-Roman slave really was.
The following two tabs change content below.
Tim Widowfield
Tim is a retired vagabond who lives with his wife and multiple cats in a 20-year-old motor home. To read more about Tim, see our
About page.
Latest posts by Tim Widowfield (see all)
---
If you enjoyed this post, please consider donating to Vridar. Thanks!
---