Updated about 20 minutes after original post -- detail added to the "So why I did not find. . ." paragraph.
The only detail so far unexplained in the deactivation of the Vridar.wordpress blog is why I apparently did not receive a warning notice from WordPress itself.
The times below are in Australian Central Standard Time, my local time. (Some images may be over-size for iPad viewing but to reduce them further would make them difficult to read.)
2:26 AM, Tuesday June 28th, WordPress/Automattic email me notice of their takedown of my post about Joel's nonsense.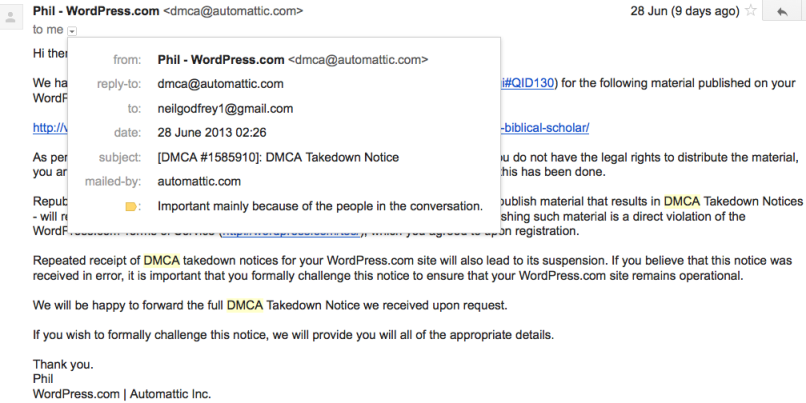 But being 2:26 AM I am, as usual for that time, asleep.
Around 3 AM I wake up (as I do from time to time) and check my iphone for current news and recent blog activity.

If I looked at my Gmail at that time (I don't recall if I did, but if I did then I would have ignored anything that did not look interesting — I would have ignored anything from "WordPress" since it's usually some notice of a new product, new theme, — I'm not interested) the subject header would have meant nothing to me (what's "DMCA"?, looks technical, some outage time?) and I would have ignored it.
The only thing I know for certain is that I did not take any notice of my email at that hour.
But I did see something odd: my post on Joel's history/science nonsense is in 'private' status. Maybe Tim is doing something with it. I decide to check with him later and go back to sleep.
Once awake I check the post in "private" status, see nothing wrong with it, so restore it to "public" status.
About 6 AM I see Tim is online and ask him about the private status of that post. I wonder if there had been a WordPress glitch. I conclude that Tim had accidentally put it in "private" status.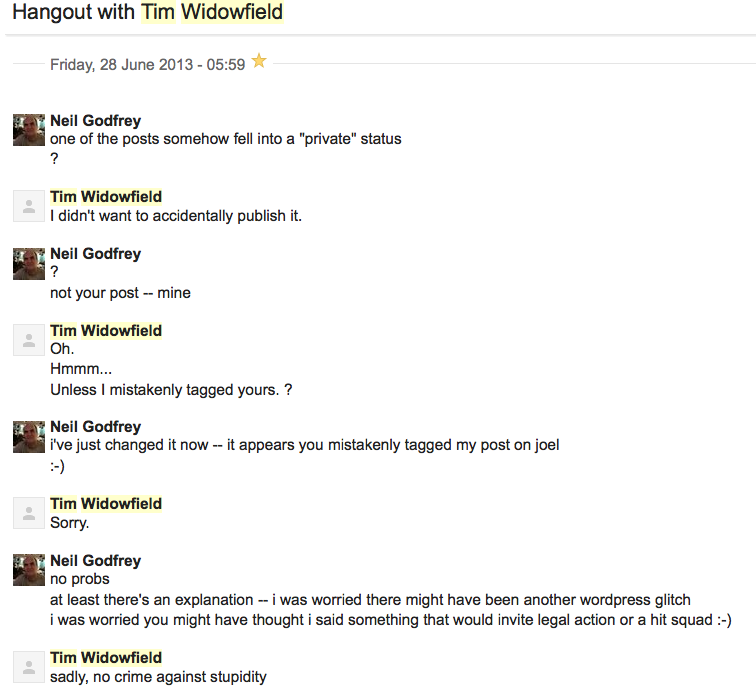 Later that day Tim informs me that Vridar is no longer online. I'm at work and have not touched my Gmail or blog since I left home – work preoccupies me but Tim sends me a message: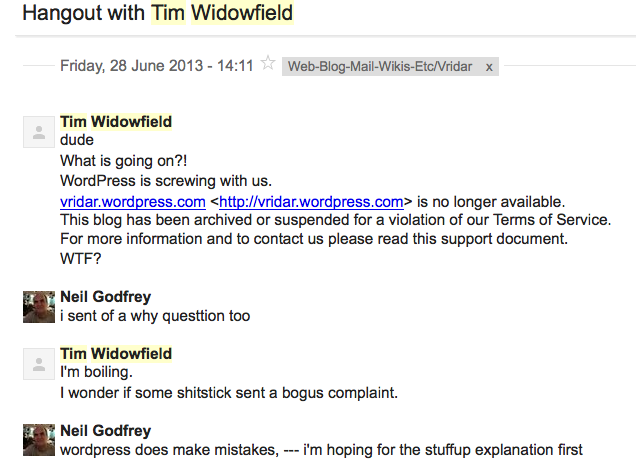 A few minutes later in the same conversation: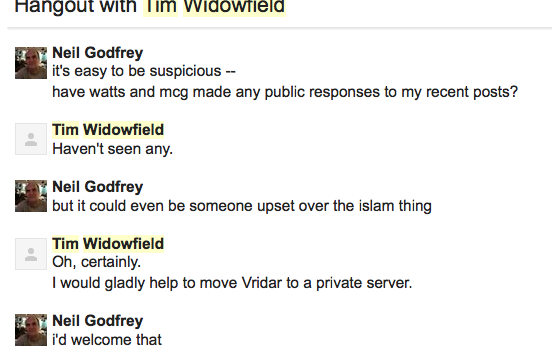 Around 2:29 pm my time we have this part of our conversation. I still cannot believe there was anything deliberate about the removal of Vridar: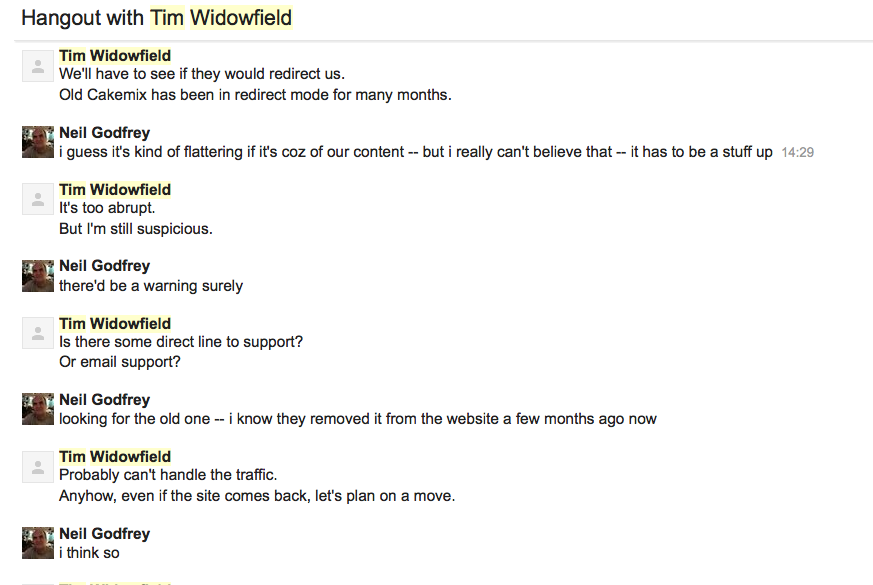 I do a bit of online checking, see that WordPress has made this sort of mistake before, so email Tim. I'm sure it is nothing more than a WordPress stuffup.

A clearer view of those links . . . .
I sent my initial query to WordPress through an online form.
Golly gosh! I see now from my conversation with Tim that I still had no idea of the seriousness of the takedown. I still believed it was just a technical stuff up by WordPress that would be sorted out sooner rather than later so I start to ask Tim something about a bird I had just seen earlier that evening!

After midnight my time I receive my first response from WordPress. I reply: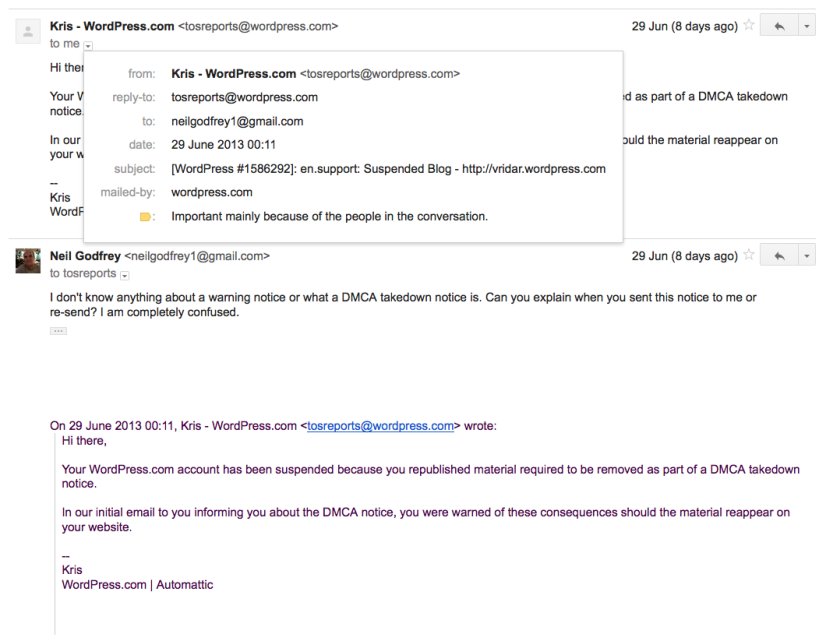 By now WordPress has told me enough for me to know that Joel Watts was behind the initial takedown notice. Stephan Huller had earlier told us that he was sure Joel was behind it all, but we had not wanted to believe him:

Finally at around 8:30 AM WordPress sends me a copy of the DMCA takedown notice as requested: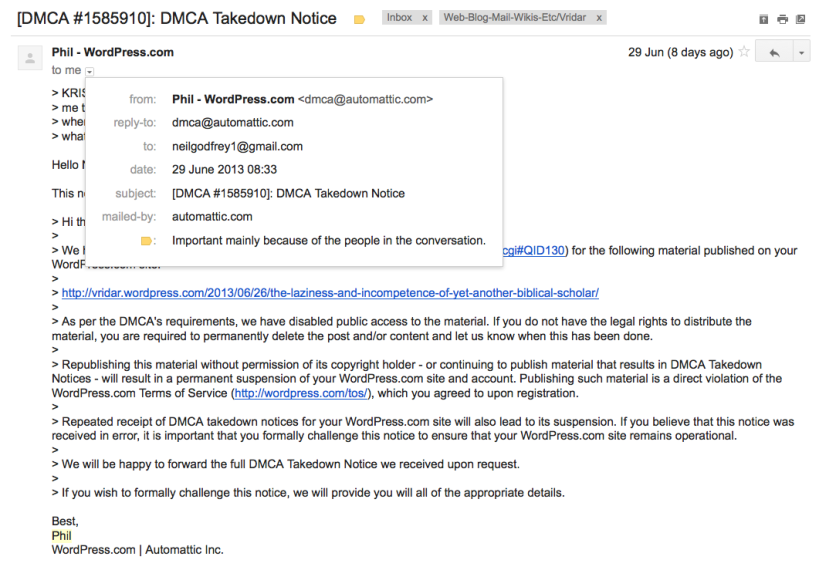 And without the date/time details . . . .
The notice came at 2:30 AM. It was around that time that I saw the blog post was in private, and a few hours later, seeing no reason for it to be in private, I reinstated it to public. I dashed off to work and never took any particular notice of my personal Gmail account until later that day.
So why did I not find the initial DMCA takedown notice?
Believe me, I searched for it! I did a wordsearch on DMCA across all folders in my Gmail account. When that drew a blank — all it showed me was the current conversation I was having with Phil of WordPress/Automattic — I searched through each email in my inbox, spam, bin and All Mail, by Date. There was nothing.
I sent my counter-claim swearing I knew nothing of any prior DMCA take-down warning notice.
What I failed to notice was that the current conversation I was having with Phil had gathered up the original DMCA notice from him and that was hidden behind the current few posts of our to and fro. Phil kept talking about his original notice so I kept leaving that conversation to go look for that notice — and never found it.
It was only some time later that I was reminded that my emails in Gmail are grouped by topic. I have since checked the settings and see they call it "conversation mode". I had been so used to that layout I had come to assume it was the default way Gmail worked. I had long forgotten I could even change settings for things like that. So each time I was searching for the original DMCA takedown notice I failed to realize it was somehow hidden behind our current conversation.
If I ever did stumble across the original DMCA take-down notice, by that time I assumed it was the notice as re-sent by Phil of WordPress. Notice above that I was beginning to lose sleep over trying to figure out what was going on, still engaged in conversations after 2 AM. I was tired, and also having to prepare for a flight interstate to take care of my house there, and having to prepare and submit my counter-claim before I left. Tiredness and stress did not make for the clearest head.
I've been caught out like that before — missing emails because of the way Gmail groups the earlier emails in the single-post front to a conversation thread.
I have since changed the settings on my Gmail to Conversation View Off. I will never turn it on again, ever!
So there you have it.
The sequence of events
So the complete sequence of events, from my perspective, is as follows:
My post on Joel's "history is science" rubbish is made private — around 2:30 AM
A few hours later, not being able to see any reason for it to be in "private" mode, I restore the post to "public" status
Later that day while at work I learn Vridar has been taken down
I assume it is a WordPress stuff-up
Meanwhile, Tim is flat-out re-establishing Vridar on a new server
When I learn what's gone on from WordPress I prepare my counter-claim
It is only after I lodge my counter-claim that it finally dawns on me why I never saw the original DMCA take-down notice.
Today I intend to prepare and forward an amended counter-claim to WordPress/Automattic.
The following two tabs change content below.
Neil Godfrey
Neil is the author of this post. To read more about Neil, see our
About page.
Latest posts by Neil Godfrey (see all)
---
If you enjoyed this post, please consider donating to Vridar. Thanks!
---