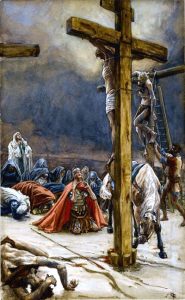 Nearly everything I learned in high school about early Roman emperor-worship was wrong. Luckily before I die I've since read The Son of God in the Roman World by Michael Peppard and I can now go to my grave with one more misconception eradicated from my mind.
I had once been taught that the people who participated in the forms of emperor-worship did not really believe their object of worship was a god (unless, perhaps, they lived in that more benighted oriental half of the empire). Living emperors, I was told, were not worshiped in those earlier years of Pax Romana. They had to die first. Hence Vespasian's quip on his death-bed: "Oh dear, I think I'm becoming a god!"
The gulf between the material world and gods was, at least in the West, absolute. Emperor-worship was little more than a game of empty flattery from below and political manipulations from above.
We know better now. That's not how it was at all. What misled us into the above notion of how things were was our reliance upon the writings of the philosophers like Cicero as the gateway to understanding how everyone else thought and acted. Archaeological and cultural studies research has since demonstrated that worship of the living Roman emperors was widespread from the earliest days of the empire. There was no sharp Platonic gulf between humans and gods among the general populace and imperial institutions.
So what does this have to do with the Gospel of Mark?
How to write about a Son of a Celibate God?
Michael Peppard opens with a little mind game of trying to imagine how an author who wanted to write down for others lots of the stories he had heard about a Jesus who supposedly lived a good generation ago and who was considered to be the Son of God. How would he start, especially given that the god in question was known not to procreate? The clue, Peppard says, lay in that author's cultural environment. All about you were images, symbols, reminders of your emperor.
I cannot accept Peppard's presuppositions in his mind-game. The Gospel of Mark is clearly not a collation of reminiscences that someone has collected and cherished over years and wishes to share with others in writing. Such authors have little reason to write anonymously or conceal their sources. Nor do they leave literary clues that their stories are for most part adaptations of other popular narratives such as those found in the Hebrew Bible. Nor do they write cryptically or metaphorically (with unexplained characters, behaviours, sayings and bizarre endings) to convey esoteric theological messages.
But I do believe Peppard asks a valid question. How would an author who knows the theological systems found in writings like those of the letters attributed to Paul begin to tackle a metaphorical narrative (a parable, if you like) to portray his beliefs about the Son of God? As Peppard writes:
[H]ow could he put this proclamation [the central Christian kerygma] into narrative form, especially if the God of Israel had no partner? Where would one begin? It is extremely difficult to imagine his situation as an author, writing before there existed other narratives of Jesus' life. Especially if one is a Christian or a scholar of early Christianity, this requires some disciplined forgetting: Chalcedonian christological orthodoxy, the philosophical foundations of Nicea, the emanations of neo-Platonism, the procreative cosmologies of the Gnostics, the logos Christologies of Justin or John, and the virgin birth narratives of Matthew and Luke. But then what remains? The resources available to Mark: his Jewish traditions and his Greco-Roman world. With these resources, how could Mark best narrate the kerygma about the divine sonship of Jesus Christ? (p. 86)
Don't Misunderstand Roman Imperial Adoption
Peppard warns readers not to jump to conclusions when he argues that the baptism of Jesus in Mark's Gospel is a declaration of God adopting Jesus as his son. That a word carries unfortunate connotations of heresy and an unworthy low christology for most modern readers. Mark was writing for readers in a culture of Roman ideology. That changes everything.
But Mark's Christology can be interpreted as "adoptionist," if by that term one means that Mark narratively characterizes Jesus in comparison with the adopted Roman emperor, the most powerful man-god in the universe. (p. 95)
I have highlighted the words "narratively characterizes". This is consistent with reading Mark's Gospel as a parable of sorts, or a metaphor. Difficulties arise only when we come to the story with assumptions of historicity. Let's just treat it for what it patently is for now — as literature. If there's anything historical behind the narrative that can be a question for another day.
What is critical to understand that adoption in the Roman world did not imply an inferior status within a family, in particular within the Roman imperial family. One who was adopted as a son of an emperor was thereby given a higher status with respect to imperial honours and inheritance than a biological son.
[A]doption was how the most powerful man in the world gained his power. (p. 95)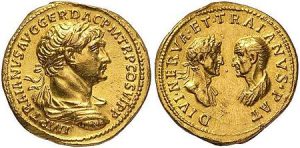 This practice of adoption did not start relatively late in Roman history when the aged emperor Nerva adopted Trajan to succeed him, as I had been taught at school. Julius Caesar adopted his nephew, Octavian (Augustus), to succeed him; Augustus adopted Tiberius; Claudius adopted Nero in preference to his natural son Britannicus; and then an unfortunate adoption that went wrong when Galba adopted Piso. When Trajan was adopted to succeed Nerva, Pliny wrote a panegyric praising the wisdom and goodness of the ideology that the most meritorious person of all should be adopted to become Caesar.
(Peppard works with the conventional date of the Gospel of Mark being composed around 70 CE. I believe his interpretation of this Gospel works best if it were in fact written no earlier than the time of Trajan. There are other reasons for dating it no earlier, one of which is external evidence for the persecutions of Christians that the Gospel clearly presupposes.)
Between the Dove and the Centurion
There is a lot to cover in Michael Peppard's book, too much to cover here. I hope in future posts to be able to return to his arguments on the meaning of God's words at Jesus' baptism that are most commonly translated into English as "This is my beloved son in whom I am well pleased". (That last clause can also mean "whom I have chosen".) Also of note are his reviews of previous literature. Roman beliefs and practices relating to genius, numen, "son of god" as opposed to "son of Zeus" or "son of Apollo"; Jewish evidence for similar concepts, second and third century literature tracing the evolution of our current concepts, and so forth.
So I'll focus here on just one more detail. What did an adopted son of a god (emperor) have to do to win acceptance and recognition as the rightful new emperor?
Many commentators have questioned the significance that it was a Roman centurion who declared, at the end of Jesus' life, "This was indeed god's son".
Peppard's thesis — that this Gospel is depicting Jesus as a son of God in opposition to the Roman emperor who was then worshiped as a son of god — throws interesting light on this declaration by the centurion.
First, recall my previous post, Jesus and the Dove – How a Roman Audience May Have Read the Gospel of Mark. (That post is itself an all too brief hint at Peppard's argument for the baptism of Jesus being compared to the "good news" of a Roman imperial succession.) That's the starting point for what follows.
Further, anyone who has read T. E. Schmidt's Jesus' Triumphal March to Crucifixion will appreciate much more what follows than those who haven't. I outlined some of Schmidt's key points in Recognizing the Triumphant Conqueror in Mark's Crucifixion Scene.
Let us recall that the charismatic authority of the Roman emperor was derived in part from military achievement and concomitant military acclamation. Before the emperor could be divi filius, he must first be regarded as a "commander" (or imperator, the source of the English word "emperor"). Even adopted imperial heirs needed to prove themselves in battle and gain the approval of (enough of) the army. An emperor could simply not accede to the principate without it.

Returning to Mark's characterization of Jesus, we can see some events with new eyes. Jesus' "battles" are mostly with unclean spirits, the exorcisms of which have been interpreted fruitfully through postcolonial criticism — the Roman colonizers being symbolized as the "spirits" convulsing the people of Palestine. Mark cues the reader toward this interpretation in the exorcism of the Geresane demoniac, in which Jesus purges and fantastically destroys the violent and indomitable "legion."

After his battles are completed, and after his status is announced above the site of imperial worship in Caesarea Philippi [the site of a Roman imperial temple where the other son of god was worshiped], Jesus marches into Jerusalem in a mock triumphal entry (11:1-11).

While there, he initiates a direct comparison between his father, the God of Israel, and the father-son gods imaged on the Roman coins (12:15-17). He declares himself to be the son of the God of Israel (14:61-62), but is mockingly clad in imperial purple by Roman soldiers of the praetorium (15:16-20).

The first and final public declaration of Jesus' divine sonship — the statement of the centurion, "Indeed, this man was God's son" — is perhaps explained best by colonial mimickry. Roman power, concentrated in the figure of the military, is at once both the challenge to and the legitimation of Jesus' divine sonship. Up to this point, Mark had narratively characterized Jesus as a counter-emperor, a "son of God" whose rise to power in the cosmos had mimicked imperial power on a kind of parallel cursus and triumphus. Now the course ends with a mockery and subversion of the triumph. But with the Roman centurion's cry, the parallel tracks of analogy and reality converge . . . : the acclamation of the army was in reality a necessary element of imperial power, and the death of an emperor was in fact the time when his exalted status was finally evaluated. (pp. 130-131, my formatting and emphasis)
Peppard extends the analogy by pointing out that the land of Israel was about to be usurped by the Roman legions and their divine father. (Most commentators, and Peppard himself, set this in the time of Vespasian. It fits even more neatly, I think, in the time of Hadrian, who was much more a venerated "son of god" at the time of his subjugation of the land. God gave a sign, however, that the inheritance was really about to be transferred to his son with the tearing of the curtain in the temple. It's not how Peppard expresses it, but I see this as an indication that God is leaving only the abandoned material possessions to the Romans while the real spiritual heirs and inheritance is transferred to his Son.
The following two tabs change content below.
Neil Godfrey
Neil is the author of this post. To read more about Neil, see our
About page.
Latest posts by Neil Godfrey (see all)
---
If you enjoyed this post, please consider donating to Vridar. Thanks!
---