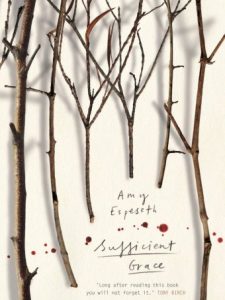 I happened to catch a fascinating interview with an American writer now living in Australia, Amy Espeseth, talking about her first novel, Sufficient Grace.
It captured my attention for two reasons:
One, I can't help but take notice when I hear anyone speaking of experiences similar to mine;
Two, the recent suggestion that I and anyone who questions the existence of Jesus and the arguments of "Jesus historicists" is necessarily driven by a need compensate for some past bad experiences with religion and is thus on a vendetta to attack and undermine religion by any means possible.
I have not read the book but I was captivated by, and definitely related to, Amy's sympathetic approach to the people who are bound to their cult. There is a beauty in their lives. The first half of the novel, I understand, explores this rewarding and charming existence. Then half way through a darkness appears. The child everyone in the community believes to be so wonderful and destined to be their new leader is seen by his cousin as he really is, and it is not pretty.
On the outside the lives of the members appear to be so beautiful. At the same time, however, they are cut off, cocooned from the rest of the world, and in that isolation every family seems to have a dark secret that must be hidden at all costs.
I was surprised by Amy Espeseth's response when asked if she had any regrets about writing the book. She said Yes, she did. She unavoidably caused pain to some people she loved.
I am reminded in some ways of Vardis Fisher's autobiographical novel in which he portrays his childhood life as a Mormon. The way he portrayed his parents, in particular his father, with such sympathy and understanding, along with the well-meaning costs and pain of life in such a religious bubble, moved me to feel once again for my own father and his own well-meaning faith. (His was not a fundamentalist faith, but most faiths are intended to protect members from "the world" nonetheless.)
That so much pain and loss can come from such innocent faith and hope is truly tragic.
The following two tabs change content below.
Neil Godfrey
Neil is the author of this post. To read more about Neil, see our
About page.
Latest posts by Neil Godfrey (see all)
---
If you enjoyed this post, please consider donating to Vridar. Thanks!
---