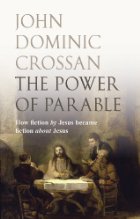 Let's conclude this series on John Dominic Crossan's new book, The Power of Parable. Last time we looked at the Gospels of Matthew and Mark; this time Luke-Acts and John.
Crossan argues that the Gospels are not histories or biographies of Jesus but are fictional parables and Jesus is their central character. Now Crossan does not doubt that there was a real, historical Jesus. But you won't find him in the Gospels, he says, at least not on a face-value reading of them. To see Crossan's arguments that Jesus was indeed historical (even though the most important evidence about him is fictional) see the first post in this series: Crossan's Proofs That Jesus Did Exist. (Did you "find it persuasive"? Nor did I.)
(For the uninitiated, "Find it persuasive" is a stock phrase used by biblical scholars to apply in the positive or negative to arguments they do or do not like. It replaces the tedious need to find an evidence-based and logically valid argument to address a view that supports or contradicts one's personal beliefs and tastes.)
Question:
If the authors of the Gospels wrote fiction about Jesus, is it necessary to postulate an historical Jesus to explain the Gospels?
Now this question is more than just a "mythicist" question. Of course it has implications for the question of whether or not there ever was an historical Jesus. But can't we ask that same question without any of the mythicist-historicist invective we have come to expect of it? Forget the mythical-historical Jesus debate. Let's address the evidence, the Gospels, without fear or favour. First things first.
So let's start with Crossan's discussion of Luke-Acts.
In what sense is Luke-Acts a parable about Jesus and not a biography or history of Jesus?
Firstly, Crossan insists on the necessity of discussing Luke and Acts as two halves of one book. The reason, he says, is that he can see a beautiful and meaningful symmetry when the two books are placed together.
(Crossan does not explain how he knows that the author intended to create just the aesthetic appeal that he sees or how he can be sure he is not projecting his wishful thinking into the works. But no doubt the detail required to establish the validity of such a conclusion would require a scholarly tome rather than an easy 250 page popular read. So let's continue.)
Why Crossan believes Luke and Acts are one book
Crossan infers that the only reason Luke and Acts are separated into separate works because of the practical limitations of ancient scrolls:
Matthew, Mark, and John needed only one scroll, or volume, for their gospels. But Luke's gospel was so much longer that he required two scrolls, or volumes. His gospel included [Luke and Acts]. (p. 201)
Crossan does not address the scholarly arguments of a proto-Luke, or the late date of Acts, or otherwise give readers any indication that what he is writing is a personal opinion and not "scholarly fact". I see this in the writings of NT scholars a lot when addressing the public. They often mislead their less well-informed readers by implying that what is in reality a minority view or personal opinion is simply unqualified fact.
So how does he know they were originally composed as a single work? By seeing patterns.
Both Luke and Acts "start" with the outpouring of the Holy Spirit: first upon Jesus and then upon the disciples. In between the two events, at the end of the Gospel, Jesus told his disciples to wait in Jerusalem for that spirit to come upon them.
The Gospel of Luke ends in Jerusalem, but if we don't have Acts then readers would think that Christianity was a Jerusalem or Jewish sect. It is important, says Crossan, to understand that the Jerusalem setting at the end of the Gospel is "a hinge" opening up the door to the second phase of the Gospel that ends in Rome. So by this pattern the author is teaching us that Rome is the new Jerusalem. All the old Jewish religious privileges are now bestowed upon Rome.
Jesus made a "long, slow journey" from Galilee to Jerusalem, and Paul made a "long, slow journey" from Jerusalem to Rome. Jesus encountered a pattern when he entered a synagogue that was repeated when Paul entered synagogues:

Enter synagogue
Announce scriptural fulfilment
Initial acceptance
Eventual rejection
Lethal attack

Given these patterns, the author must not suggest that Paul was the equal of Jesus. So he overcomes this risk by the first point above — making the theme in both Gospel and Acts the work of the Holy Spirit. The Holy Spirit is the main actor in both, not Jesus or Paul.
We will all have our different views of the strength of Crossan's argument or the quality of its scholarly foundations.
My point here is to explain what Crossan understands by the parabolic message of the work of Luke-Acts. Crossan must treat the two works as one from their inception in order for his parable-argument to work.
The Parable of Luke-Acts: Rome as the New Jerusalem

Luke-Acts is a parabolic narrative teaching readers its author's belief that Christianity is not a Jewish faith, but a Roman one. Christianity has always opposed Judaism from the beginning. That's its message. Christianity has replaced Judaism completely. Christianity is a Gentile religion and Judaism has been absorbed into it.
So Jesus is set up as a central character to teach the message the evangelist wants to teach.
For this reason Luke sets up Jesus in the synagogue in his home town where the religious Jews take offence and attempt to kill him (Luke 4). The pattern is repeated in the life of Paul in Acts. But for Crossan, Luke is not writing about a real Jesus in the synagogue. Luke's Jesus is quite "unChristian" (in Crossan's view) because he "initiates the overt attack" against the Jews. Luke's Jesus is deliberately provocative!
Jesus enters the synagogue, reads the scriptures, then attacks the Jewish audience by saying they will reject him just the way their ancestors rejected Elijah (Luke 4:23-27).
That is, to put it bluntly, an unprovoked provocation from Jesus. (p. 205)
It's a little humorous to see NT scholars so often averring that the Gospels present an unrealistically idealistic portrait of Jesus, but to see Crossan claiming that the Gospels present an all-too-human Jesus and that "the real Jesus" would have been much more saintly!
So unlike Matthew, Luke does not pit Christian Judaism against Pharisaic Judaism. He pits Christianity per se against Judaism. The base of the new faith is not to be in Jerusalem. The Holy Spirit removes it from Jerusalem to Rome.
But never let it be said that Crossan would think of Christianity as in league with an oppressive State. So he also says Luke-Acts is a parable to challenge Rome, too. He creates many stories to show how Rome did the right thing by tolerating Christianity. There are lots of riots in Acts, but Luke makes sure that through them all the Christians are shown as the peaceful ones and their enemies are also the enemies of the Roman "Peace".
The murderous enemies of Rome, Luke teaches through his parable, are the Jews. The Christians are the friends of Rome and its ideals of law and order.
Luke singles out the story of the Roman centurion, Cornelius, being praised for generous alms-giving. All of this is a parabolic challenge to Rome, Crossan writes, to admonish Rome to be kind to Christians and give to the poor.
.
The Parable of the Gospel of John: The Visionary Dream of God
Happily Crossan's fourth Gospel is the most challenging parable of all. Its stories and words of Jesus are crafted
to teach a message that the other three gospels got it all wrong about Jesus;
to teach readers that Judaism is all wrong (the author of the Gospel of John was "possibly" a Samaritan);
to teach Rome that violence is wrong.
The parable against the Pharisees and the Jews
The earlier evangelists had critical words for the Pharisees but none of them suggested the Pharisees were involved in the final demise of Jesus. The Gospel of John attacks the Pharisees even more than Matthew had done and is the only canonical story in which the Pharisees are directly involved in Jesus death (7:32, 45; 11:57; 18:3). Crossan is implying that this is not history; it is parable.
Where the Gospel of Mark composed a narrative of Pharisees and/or scribes plotting against (3:6) or accusing Jesus of being demon-possessed (3:22), John extends the blame to all the Jews. It was the Jews who sought for a way to kill Jesus (5:18) and it was the Jews who accused him of having a demon (8:48) and it was the Jews who eventually were responsible for killing Jesus (19:6-7).
Crossan presumably cringes to read in the Gospel of John the character of Jesus engaging in worse name-calling than Matthew imputed to him. In John 8:44 Jesus accuses the Jews of being children of the Devil himself.
The parable of the heavenly dream and the logjam
Crossan explains the Gospel of John's famous Prologue (In the beginning was the Word, and the Word was with God and the Word was God . . . etc.) as a parable what was in reality a visionary dream filling God's mind in heaven. It's all poetry attempting to capture the reality of what was on God's mind in heaven from eternity. What does this overture about The Word dwelling with God etc mean?
It means that God did not come up with a bright new idea called Jesus around 4 BCE. The eternal and generative dream of God was for a world of justice and peace, for an earth unsullied by oppression and injustice, by violence, bloodshed, and war. That hope, vision, dream for the earth was always with God and was God. But, John claims, it became embodied, incarnated, revealed humanly in Jesus . . . . (p. 225)
So we still have mediums on earth who can tell us the deep mysteries of the mind of God before the world began.
So Crossan explains how God's dream ended up being embodied in Jesus with a parable of his own:
Think of it this way. A mighty river pushes steadily against a logjam, but cannot break through except in trickles and rivulets. Then, one day, it breaks through fully and floods forward on its way. It broke through at a specific moment in time, but it was not created at that moment. It was always there, pressing, pressing, pressing. . . . (p. 225)
The parable against the three dunces
The author of the Gospel of John also wrote to explain that the three preceding Gospels, the Synoptics, Mark, Matthew and Luke, got everything wrong about the life, death, resurrection and return of Jesus. So John sets up his Jesus to speak and act against them.
So when the Synoptic Gospels depict the miracle of Jesus using five loaves to feed 5,000 people, they are telling the story to show that Jesus is the messiah and that he takes care of the physical and (symbolically) the spiritual needs of people.
The difference between Mark and John is not simply between Jesus giving actual or physical bread and Jesus being symbolic or spiritual bread. . . . John interprets all the physical and restorative miracles of Jesus as symbolic of what God is in Jesus rather than of what God does in Jesus (p. 229).
In John, Jesus himself is the bread (of life). Nor is the miracle of turning water into wine about wine at all.
When it comes to the death of Jesus, the Synoptics also got that all wrong, too.
So in Mark, for example, Jesus threw himself on the ground and begged God to allow him to escape the crucifixion; and the disciples also fled in fear. Jesus is "almost out of control" (p. 230).
John corrected all of that. When the mob came to arrest Jesus, it was they who all fell to the ground in dismay when Jesus spoke to them; when Peter attempted to save Jesus from the cross by cutting off someone's ear, Jesus reminded him that he had to suffer death; and rather than Jesus allowing his disciples to run away in fear, he instructs the arresting party to let his disciples go. Jesus is "totally in control" (p. 231).
In Mark, Jesus screams out on the cross and asks why God has forsaken him. Sour wine is put to his lips to mock him.
In John, Jesus is offered the sour wine in obedient response to his statement that he was thirsty. That's when he died, not with a shout or complaint, but with a dignified, "It is finished."
Likewise with the burial of Jesus. John places Jesus' tomb in a garden and introduces about a hundred pound of spices to anoint the body. The burial is on a royal or divine scale.
When it comes to the resurrection John finds more to criticize in the previous gospels. The empty tomb, for starters, is not a foolproof reason to believe in the resurrection. So when Peter sees the empty tomb he doesn't know what to make of it, but when John sees, he believes. Likewise with Mary. She, too, does not believe when she sees the empty tomb but assumes "they have taken away my Lord" (20:2, 13-15).
But Mary does not even believe when she sees the resurrected Jesus talking to her. It is only when he says her name that she recognizes him (20:16).
An empty tomb and "a risen vision" are not enough. Seeing is not the way to faith, says John.
I find here another standard bit of blatant misreading of the Gospels in the way Crossan cannot acknowledge the Gospel narrative as it really is. Just as scholars usually speak of Jesus' "vision" at his baptism, so they speak of a "vision" of the resurrected Jesus. This is no doubt an attempt to salvage from the mythical tale something more appropriate for a document that is supposed to be about an historical figure. But it is not an honest reading of the text. There is no vision reported in any of the Gospels at the baptism or resurrection of Jesus. They are all narrated as literal, objective events.
The return of Jesus is also turned by John into something none of the Synoptic authors would have recognized.
When Jesus had (only) risen from the grave he told Mary not to touch him, but to go and tell his other disciples he had risen. Meanwhile, Jesus said, he was going to ascend to heaven (20:17). It is after his ascension that he appears again. That is, it is the appearances of Jesus that are experienced after Jesus' return to earth that are the ones that count.
The Synoptic Gospels had Jesus speak often of his future return to earth — some time well after his resurrection. Many have understood the original meaning of such passages was to apply to the time of the fall of Jerusalem forty years after the supposed death of Jesus. But John overturns all of this, too. For John, Jesus returns from heaven the same day he ascended to heaven.
And when he returns, he breathes the Holy Spirit into the disciples (20:22). This is the entrance of the second ("other") advocate Jesus had promised his followers.
In other words, John's challenge to the synoptic tradition is that the return of Jesus has already happened in the heavenly gift of the Holy Spirit (p. 239).
Finally, John's Gospel is a parable against Rome, writes Crossan. When Jesus is facing Pilate and Pilate asks him if he is a king, Jesus responds by affirming his kingdom is not of this world — "or else my servants would fight!" Crossan interprets this to mean that the author was opposing the empire of Rome with the Kingdom of God, and highlighting what he sees as the primary difference between the two: God is nonviolent. This makes John's Gospel "subversive" in Crossan's view.
.
So we have four different gospels, each in their own way a "parable" about Jesus. Jesus becomes in the Gospels a literary figure to argue a point of view of each of the authors.
The following two tabs change content below.
Neil Godfrey
Neil is the author of this post. To read more about Neil, see our
About page.
Latest posts by Neil Godfrey (see all)
---
If you enjoyed this post, please consider donating to Vridar. Thanks!
---