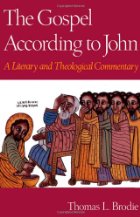 Read almost any commentary on the Gospel of John and one learns that the conventional wisdom is that this Gospel is littered with sure signs that it has been pieced together over time by several authors, revisers or editors. One of the most obvious indicators of this strikes most readers when they read the speeches of Jesus at the Last Supper. He interrupts himself to say, "Arise, let us go from here", but instead of going anywhere he merely continues with another lengthy monologue. "No doubt" we are reading the results of clumsy editing.
Look at the exchange between Nicodemus and Jesus. Surely here we see another indication of an editor clumsily stitching a speech about being born again into pre-existing scene between Jesus and the Pharisee. Nicodemus starts the conversation easily enough but then Jesus appears rudely to ignore his words and launches immediately into a jarring proclamation about his need to be born again.
And what are readers to make of that apparently meaningless reference to the time of day — "it was about the tenth hour" — when the first disciples of Jesus are said to go to the place where Jesus was staying?
One moment Jesus is in Jerusalem, and the next, without any explanation, he is suddenly in Galilee again.
Surely only a committee of editors working independently over time could have produced such a disjointed work.
Not so, says Thomas L. Brodie in his 625 page volume, The Gospel According to John: A Literary and Theological Commentary.
This Gospel is well known for its portrayal of Jesus speaking in ambiguities and symbolism that confuse his literary characters, such as Nicodemus and the Samaritan woman at the well. We know his characters utter words whose deeper meanings are hidden from them, such as when Caiaphas announces that it is better for one man to die than risk the overthrow of the entire nation.
What Brodie asks and explores in depth is this: What if the author was playing with his readers in the same way, and that the apparent contradictions, sudden breaks and confused and sometimes apparently meaningless references are signs of him doing just this? Is the uninitiated reader going to find the Gospel as meaningless, disjointed and confused as did Nicodemus and the Samaritan woman when they first encountered Jesus?
It's an intriguing thought. It reminds me of critics who suggest the Gospel of Mark is itself a parable for the initiated reader to decipher.
I have often pointed out that I cannot buy the common reason used to claim that the final chapter (21) was a later addition to a Gospel that originally concluded at chapter 20. My reasoning has been based on the quite common ancient literary practice of adding an epilogue or a "second" ending to various works, histories included. But Brodie goes much farther than any of that. He shows that without chapter 21 there would be several loose ends left dangling in the preceding chapters. One of these is the rehabilitation of Peter. In this Gospel there is no other indication that Peter is ever restored: he does not weep as he does in the Synoptics.
But most startling of all is Brodie's observation that in this last chapter there are no verbs or nouns to indicate that any of the disciples saw Jesus! This opens up a whole new possibility for interpretation. The message is operating at an entirely spiritual level, and there is no conflict with Jesus' earlier admonitions that seeing him was not necessary for faith. When the disciples say they are going fishing, there is no need to interpret that as a mood of dejected failure. It is a symbolic act, with a force that can only be fully grasped when one realizes that in this Gospel there was no previous indicator that any of the disciples had been fishermen before their calling.
As for the tenth hour, Brodie points out the evidently symbolic meaning of that number and its appropriate association with the disciples finding completion by entering into the home of Jesus.
And when Jesus says, "Arise, let us move on from here", he is not speaking of a literal motion any more than he is speaking of a literal rebirth to Nicodemus. He is moving to a higher level of spiritual comprehension in his discourse.
I have about 600 more pages to read, however. And a few more posts to do before I do that. Can't wait.
The following two tabs change content below.
Neil Godfrey
Neil is the author of this post. To read more about Neil, see our
About page.
Latest posts by Neil Godfrey (see all)
---
If you enjoyed this post, please consider donating to Vridar. Thanks!
---