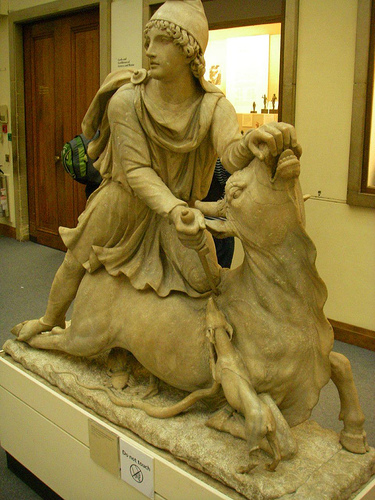 The pity is that Bart Ehrman did not know (or perhaps he did!) the argument he was thus evaluating — his own, in fact — just happened also to be the same one Earl Doherty covered in Jesus: Neither God Nor Man. For some reason psychologists no doubt can explain, when Ehrman read the same points he himself had written being elaborated upon by Doherty he saw red and declared everything to be false, not true, rubbish. But take a peak at what Ehrman himself wrote about the mystery religions and see if you can spot the difference from Doherty's argument. How are we to explain Ehrman's contradictory evaluations?
In his attack on the very idea that Jesus may not have been an historical person Ehrman blasted away at any suggestion by "mythicists" that the pagan mystery cults had any influence at all upon the emergence of the Christian religion:
One thing that we do know about them [i.e. the mystery cults], however, is where they were located and thus, to some extent, where they exerted significant influence. We know this from the archaeological record they have left behind. Among all our archaeological findings, there is none that suggests that pagan mystery cults exerted any influence on Aramaic-speaking rural Palestinian Judaism in the 20s and 30s of the first century. And this is the milieu out of which faith in Jesus the crucified messiah, as persecuted and then embraced by Paul, emerged. . . . (p. 256, Did Jesus Exist?, my emphasis)

The question-begging core of this assertion is even comical. Ehrman is supposedly attacking an argument that posits mystery religions in the wider Greek-speaking world influenced the shape of emerging Christianity, particularly as taught by Paul, so he protests that the mystery religions did not influence the teachings of Jesus wandering around in Galilee!
But then Ehrman becomes even less logically relevant as his desperation grows:
[Paul was] raised a highly religious Jew, and he was a Pharisee. Were Pharisaic Jews influenced by the mystery cults? Did they spend their days plumbing the depths of the myths about Attis and Osiris? Did they look deeply into the mysteries of Isis and Mithras? It is an easy question to answer. These mystery cults are never mentioned by Paul or by any other Christian author of the first hundred years of the church. There is not a stitch of evidence to suggest that mystery cults played any role whatever in the views of the Pharisees or, for that matter, in the views of any Jewish group of the first century: . . . . (p. 256, Did Jesus Exist?, my emphasis)

Of course no-one is arguing that the mystery cults had any influence upon the Pharisees! Nor is anyone arguing that Paul explicitly mentions the mystery cults. Ehrman appears to be conceding that he has no defence against Doherty's arguments except to play childish straw-man games with both words and logic. The real problem is that Doherty has taken the historical facts that Ehrman knows very well and has shown that they are best explained by the proposition that Paul's faith did not rest upon — or even need — a historical Jesus.
Ehrman descends to illogical panic:
This is true as well of some of our Christian sources who claim that there were similarities between their own religion and the mystery religions. These later authors, such as the church father Tertullian, started making such claims for very specific reasons. It was not that they had done research and interviewed followers of these religions. It was because they wanted pagans to realize that Christianity was not all that different from what other pagans said and did in their religions so that there would be no grounds for singling out Christians and persecuting them. The Christian sources that claim to know something about these mysteries, in other words, had a vested interest in making others think that the pagan religions were in many ways like Christianity. For that reason—plus the fact that they would not have had reliable sources of information—they generally cannot be trusted. . . . (pp. 213-214, DJE?, my emphasis)

Er, so Ehrman is arguing that Tertullian fabricated an argument that everyone in his day who knew anything about the mysteries would laugh at? The church fathers were simply dreaming in another world when they acknowledged the similarities between Christianity and its rival religions about them?
So . . . there is not a shred of evidence to suggest that these [mystery] cults played the least role in the development of early views of Jesus. (p. 181, DJE?)

Ehrman's dexterity with words-games is something to behold. "Early views of Jesus" is a straw-man stand-in for Doherty's argument.
The point is that in his attack on Doherty Ehrman leaves readers no room to think that the mystery religions had any influence upon Christian origins. He may have been playing with his choice of words, but his audience is a general lay readership and the message of his rhetoric is clear.
But Ehrman himself has pointed out the very obvious similarities between the mystery cults and early Christianity and even said that they are "intriguing and worthy of reflection".
Ehrman and Doherty agree on what we know about ancient mystery cults and their parallels to Christianity
When, in his second edition, Doherty admits that we do not know what the followers of the mystery cults thought, he is absolutely correct. We do not know. . . .
But we do know some things. Ehrman not many years ago told us what we do know:
The mystery cults were relatively distinct in focusing chiefly on the well-being of the individual. Moreover, whereas almost all other religions were centered on life in the here and now, mystery cults appear to have placed some emphasis (older scholarship believed it was exclusive emphasis) on providing a happy existence in the life after death. . . .

The mysteries, it appears, met personal, individual needs and resonated with many persons in the Greco-Roman world who did not find existential fulfillment (to use a modern phrase) in the local and state cults in which they participated. Each of the mystery cults was different; each had its special location and its own customs and rituals. Many of them evidently centered around a mythology of the death and resurrection of a god or goddess, a mythology ultimately rooted in ancient fertility religion, in which the death of winter gives way to the new life of spring. Moreover, the periodic ritual of these cults apparently celebrated this mythology in a way that enabled the participants to become part of the entire transformative process of new life. That is to say, the enacted myth about the gods was transmuted into reality for the devotees, who believed those who had been found worthy to be a follower of the mystery's god or goddess, there was promised not only a more satisfying existence now but also a more blissful afterlife.

Not just anyone could walk in off the streets to join one of these mystery cults. Each of them appears to have emphasized rituals of initiation for membership. Those who wished to join were typically put through a period of ceremonial cleansing (involving fastings, prayers, and sometimes ritual washings) and instruction prior to being admitted to the ranks of the devotees. We have evidence to suggest that those who had experienced the initiation, who could then join in the ceremonies when they were periodically celebrated, felt at greater peace with themselves and the world. (My emphasis. Excerpted from 'The New Testament: A Historical Introduction To The Early Christian Writings' by Bart D. Ehrman, Oxford University Press, 2000, pp. 28-31; p. 33 of the 2004 3rd edition — and thanks again to the reader who alerted me to this publication of Ehrman's)
So it looks like Ehrman is somewhat in concord with Doherty's own coverage of the mystery cults:
Their rites, which included various types of baptism, were looked upon as conferring a new birth on the initiate . . . and the promise of a happy afterlife. . . .


The roots of the mysteries are obscure. It was thought that the primitive common denominator behind these diverse cults was the yearly agricultural cycle, the dying and renewing of vegetation and food crops. People's experience of nature's round led to the concept that the gods who inhabited these plants or the earth they grew from regularly underwent a representative dying and rising themselves (thus the term "dying and rising gods"), or had once done so, perhaps as a sacrifice to guarantee the annual return to fertility. Mythical stories grew up to embody such divine experiences.

. . . . scholars have recently been looking as well at male "rites of passage" in prehistoric societies . . . Another suggested source was the cult of dead kings . . . .

While much speculation has been possible, frustratingly little is known about the cults. . . .

The rite itself, which varied from cult to cult, involved experience, usually in a group and conducted by one or more priests of the cult, constituting "things seen/shown" . . . "things heard/said" . . . and "things staged". . . . All of which provoked a feeling or insight on the part of the initiate . . . . Preparation for the rite could involve fasting or meditation, even isolation. The total experience gave the initiate an understanding of reality in terms of mystical experiences of the god . . . along with the conviction that his or her new relationship with the god would bring a better fate in this world and a fortunate afterlife.

. . . the individual mysteries . . . show considerable diversity. They were anything but carbon copies of each other. And the nature of what constituted 'resurrection' for these gods is particularly diverse. . . . Unfortunately, it is because of these differences and uncertainties that many scholars, whether apologetically motivated or not, will make the claim that we cannot speak of a general category of "dying and rising gods," much less that Christianity can be compared with them as a group.  (pp. 127-9, JNGM)
But the significant point is what follows.
Ehrman even once asked his readers to seriously think about the similarities between mystery cults and Christianity. The broad parallels, he wrote, are "intriguing and worthy of reflection":
Christianity as a Mystery Cult

Scholars in the earlier part of this century were struck by how similar the ancient descriptions of the mysteries were to what we know about Christianity; for it too was a secretive society whose members worshiped a divine being who died and was raised from the dead, and who could bring peace on earth and eternal life after death. Initiates into the society went through a period of ritual purification (baptism) and instruction, and members, according to this view, periodically celebrated the myths of the cults beginning (in the Lord's Supper).
Recent scholarship, however, has been less inclined to call Christianity a  mystery cult, or to claim that it simply borrowed its characteristic ideas and practices from previously existing religions. In part this is because we do not know very much about what happened during the mystery rituals., especially in the period when Christianity began. For example, did they typically partake of a meal, commemorating the death of their savior god? We simply don't know.
All the same, the broad parallels between Christianity and these other religions do remain intriguing and worthy of reflection. Maybe the question scholars have asked should be posed differently: would non-Christian outsiders have looked upon Christianity as a kind of mystery cult, analogous to others that they knew?
 (p. 34 of the 3rd edition, 2004, my emphasis)
Presumably, then, he must consider Doherty's discussion an intriguing and worthy reflection!
After discussing specific mystery cults, the Eleusinian mysteries, the mysteries of Dionysos and Orphism, those of Isis and Osiris, Cybele and Attis, and the mysteries of Mithras, Doherty explores in some detail certain apparent similarities with early Christian rituals and teachings: various resurrection concepts, initiation through washings, the concept of a rebirth and assorted sacred communal meals.
Now we can approach the question of common features between the mysteries and Christianity, first by way of the most critical one: were the cultic savior gods — those said to have undergone death — "resurrected"? The question can be answered both Yes and No. . . . .

In point of fact, if we compare the mysteries to the Pauline system, there is even less of a difference. Nothing in the New Testament epistles points to a resurrection for Jesus to earth in flesh. Quite the contrary. . . .

Regardless of the definition brought to "resurrection," the concept itself is inherent in the mystery cult philosophy and ritual. Without it, any understanding of the significance of the god's death . . . would be incomprehensible. . . . no religion celebrates death as a finality . . . .

One consideration is overriding. No epistle writer, nor any apologist of the earlier centuries, ever claimed that Christianity was the only salvation cult to posit a resurrection of some kind for its god. . . .

[After a discussion of the various scholarly views of Christian baptism vis-a-vis ritual cleansings in the mysteries, Doherty writes;] It is also ironic that scholars will have no hesitation in accusing the mysteries of borrowing from Christianity in the 4th century in the face of the latter's growing influence and power, and yet have no sympathy for the idea that early Christianity may have done exactly the same in its seminal days, with it was trying to carve out its share of the market and could well have borrowed ideas from popular rivals. . . .

There can be no question that the mystery cults had, as part of their ritual package, a sacred communal meal. . . .

Claiming any degree of originality or uniqueness for the tradition known in the Gospels as the Last Supper, or for the Lord's Supper as presented by Paul, cannot be supported. . . .

[A]n influx of pagan converts would have been a natural channel of absorption of mystery cult ideas, or an additional influence from them operating within the group. The degree to which Paul could have been in contact with the mysteries, or the extent to which he might have absorbed their ideas, has been hotly debated for a century. Not only was he a Jew of the Diaspora who would have been exposed to cross-cultural influences, he is said to have been from Tarsus (though Paul himself never identifies his home town) which had been the center of the Hellenistic Mithras cult . . . . (pp. 129-141, JNGM)

One should also not overlook the limits or relevance of the place of the mystery cults in Doherty's thesis, either. When it comes to his argument (addressed in my previous post) that philosophical thinking about certain types of myths being transferred to a spiritual realm, he does not imply any direct influence upon Christianity:
This is not to say that such an interpretation of Christian myth is dependent on establishing the same thing in regard to the mystery cults. Rather, the latter will provide corroboration and a wider context in which to understand and set the conclusions which can be drawn from the early Christian writings themselves. It is that early Christian record which reveals the nature of the original Christian belief in a heavenly Christ. (p. 101, JNGM)
So with all of the above I am sure Ehrman would, if not haunted by spectres of all his scholarly endeavours being found to be founded on an unsupportable assumption, fully agree that Doherty's discussion of the mystery cults is indeed intriguing and worthy of reflection.
The following two tabs change content below.
Neil Godfrey
Neil is the author of this post. To read more about Neil, see our
About page.
Latest posts by Neil Godfrey (see all)
---
If you enjoyed this post, please consider donating to Vridar. Thanks!
---