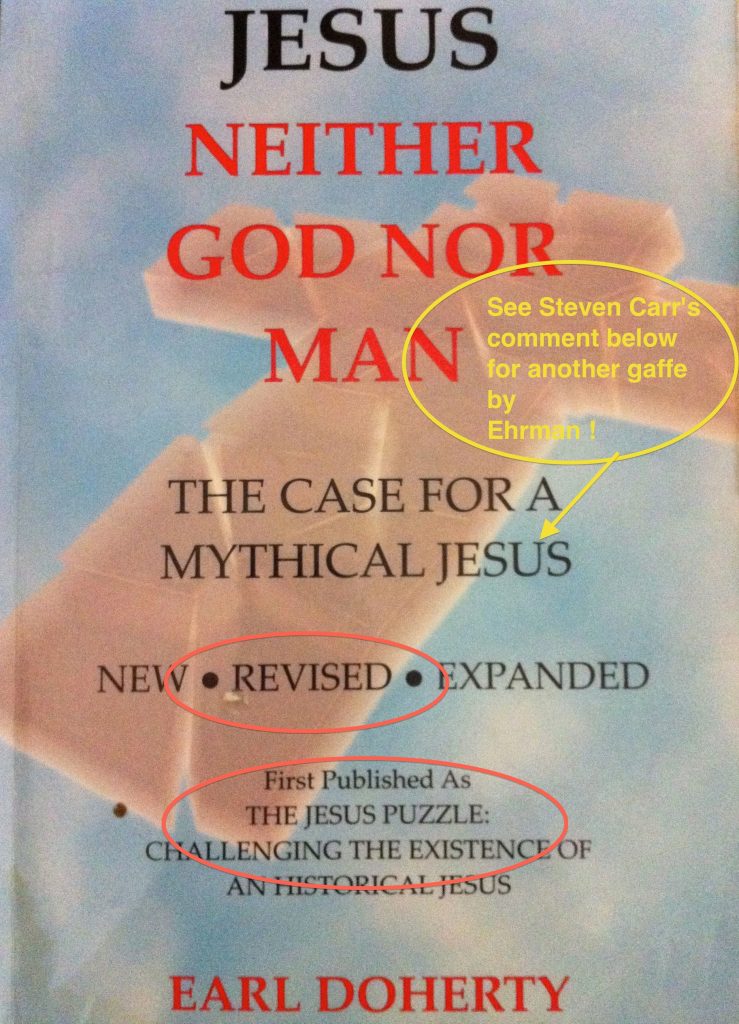 In my previous posts on Bart Ehrman's assertions about the argument of Earl Doherty's Jesus: Neither God Nor Man, I think I have uncovered enough evidence to demonstrate that Ehrman at best only very patchily skimmed a few pages of the book. Was he perhaps merely attempting to grasp directions from some of Doherty's critics rather than reading the book for himself? He has made a complete fool of himself, or worse, by building a recurring criticism upon a blatant misquotation from the book and accusing Doherty of arguing the very opposite of what he in fact writes.
I return here to Ehrman's opening words about Doherty's book. It looks like Ehrman never even bothered to read its cover!
He writes:
[Doherty's] now-classic statement is The Jesus Puzzle: Did Christianity Begin with a Mythical Christ? This has recently been expanded in a second edition, published not as a revision (which it is) but rather as its own book, Jesus: Neither God nor Man: The Case for a Mythical Christ.
This is only a tiny thing, but it is a curiosity.
The cover of Jesus: Neither God Nor Man twice says it IS indeed published as a revision of The Jesus Puzzle.
The front cover says:
NEW – REVISED – EXPANDED
and on the same cover beneath those words we read:
First Published As THE JESUS PUZZLE
Turn now to the verso of the title page where one normally reads the publication data:
A revised and expanded version of The Jesus Puzzle
The cataloguing in publication information says the book is published as a
New edition, Revised and Expanded, of The Jesus Puzzle.
It tells us a third time:
Originally publ. under the title: The Jesus puzzle.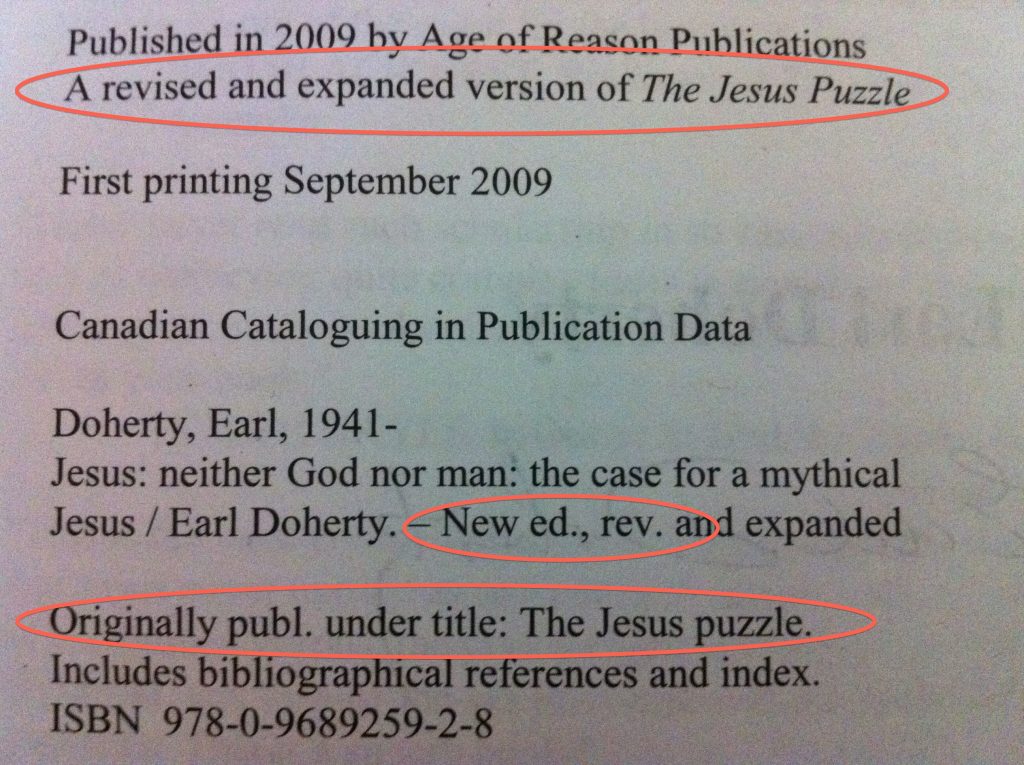 So why does our good doctor and reviewer say of the book that it was not published as a revision of The Jesus Puzzle even though the cover and title page verso inform us five times that it is such a revision?
Why did he even think to make such a point that is clearly wrong?
Is Ehrman tyring to make some suggestion that Doherty has not been strictly above board about the nature of this publication?
I don't know. But it's a strange little detail.
For those interested here is what Doherty himself says about this new book and why he published it as a revision of his first:
The original The Jesus Puzzle book has had a substantial impact, and is generally regarded as the leading and most persuasive publication in recent years in support of the mythical Jesus theory. It is regularly being cited, supported and attacked. This impact has been achieved in conjunction with The Jesus Puzzle website which predated the book by a few years. The primary purpose of both site and book was to reach the open-minded 'lay' audience and only secondarily to invite consideration or challenge by established academia— something that has so far not been offered. With this new and expanded edition of my work, I hope to appeal to an audience in both mainstream academia and the general public. Partly because I intend to keep the original book in circulation as a simpler version of the case, I have given this expanded offering a new title. . . .
The following two tabs change content below.
Neil Godfrey
Neil is the author of this post. To read more about Neil, see our
About page.
Latest posts by Neil Godfrey (see all)
---
If you enjoyed this post, please consider donating to Vridar. Thanks!
---