"Step right up and win a plush toy for the little lady. Step right up!"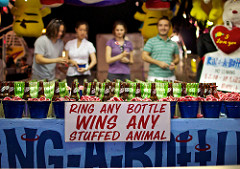 Have you ever gone to the carnival and tried your hand at the ring toss? Ever tried to pop the balloons with a dart, or knock over the milk bottles with a ball? And did you come away suspecting the game was rigged?
Well, odds are the game was rigged. In some cases, the game operator can tinker with the target, give you a sharper dart or a larger ring – he can let you win whenever it suits him. However, in other cases, you're never going to win. It looks as if you could win, but it's impossible. It's rigged.
Sometimes real life is like that. It appears as if you could win the argument, or at least get a fair hearing, as long as you could just tick the right number of boxes, develop that airtight case, build on the most relevant scholarship, use the most felicitous language. But you can't win. The game is "gaffed."
If you visit McGrath's carnival, "Exploring Our Matrix," don't expect to bring home a teddy bear. The rules won't allow it. Step right up and read Creationists, Mythicists, and the Schroedinger's Scholar Fallacy, and you'll see what I mean. Do you question the validity of the historical Jesus consensus? Then you're already wrong. What's that you say? You say you've read a whole lot, and while you respect the mainstream scholars, you disagree? Well, you see, that's not your prerogative. That's off the table. Continue reading "Dr. McGrath's Carnival Game"