"Step right up and win a plush toy for the little lady. Step right up!"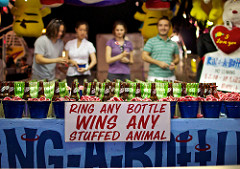 Have you ever gone to the carnival and tried your hand at the ring toss? Ever tried to pop the balloons with a dart, or knock over the milk bottles with a ball? And did you come away suspecting the game was rigged?
Well, odds are the game was rigged. In some cases, the game operator can tinker with the target, give you a sharper dart or a larger ring – he can let you win whenever it suits him. However, in other cases, you're never going to win. It looks as if you could win, but it's impossible. It's rigged.
Sometimes real life is like that. It appears as if you could win the argument, or at least get a fair hearing, as long as you could just tick the right number of boxes, develop that airtight case, build on the most relevant scholarship, use the most felicitous language. But you can't win. The game is "gaffed."
If you visit McGrath's carnival, "Exploring Our Matrix," don't expect to bring home a teddy bear. The rules won't allow it. Step right up and read Creationists, Mythicists, and the Schroedinger's Scholar Fallacy, and you'll see what I mean. Do you question the validity of the historical Jesus consensus? Then you're already wrong. What's that you say? You say you've read a whole lot, and while you respect the mainstream scholars, you disagree? Well, you see, that's not your prerogative. That's off the table.
McGrath frowns on the very notion that someone (especially an amateur like you or me) could read works written by subject-matter experts, but then "write about them [the experts] in relation to that particular matter as if they were completely incompetent ignoramuses who cannot be trusted to draw logical, reasoned conclusions." So you see, if you quote scholarship, but then have the audacity to come to a different conclusion, then you are wrong. You have lost the game.
Yes, you read that right. You are obliged to agree with the experts; otherwise, why the hell were you quoting them? McGrath says you're committing a logical fallacy if you do otherwise. He writes, "I think we should call this the 'Schroedinger's Scholar Fallacy.' Clearly both characterizations of experts in a field cannot be right simultaneously."
He's serious. I'm not making this stuff up. He continues:
Either they are capable of doing valid work in their discipline, in which case their acceptance of evolution, or the existence of a historical Jesus, or whatever else, cannot be chalked up to stupidity; or they are indeed incompetent, in which case they cannot serve as authorities to appeal to in order to bolster one's own case, since they are just as likely to have botched those points as any others if they really are as gullible and illogical as is claimed.
Let's consider the implications of McGrath's Carnival Game Rule. You can quote scholars, but if you disagree with them, you're committing a logical fallacy. (As an aside, I would note that McG's mistake is asserting that the sole purpose for quoting scholars is to appeal to authority.)
Imagine the burden McGrath's curious new rule places on people with new ideas. Suppose you have this crazy idea that stomach ulcers are caused by a microorganism. The problem is nobody else in the field believes it. You have a hunch that you can prove it, if you could just get some funding for research. So you try to write up a defense of the idea. According to common practice, you need to start out by talking about the present state of treatment and pathology with respect to stomach ulcers.
However, according to McGrath's Carnival Game Rule, you may not quote from current scholarship, you may not cite current research, and you dare not quote current experts. Why?  Because according to Dr. McGrath, those experts are "either authorities who can be cited as providing a perspective with genuine expertise that carries legitimate weight, or people whose expertise cannot be relied upon and should not be taken seriously."
It's Kafkaesque. "You must defend yourself, Herr K.  Naturally, in order to win your case, you must bring witnesses on your behalf. However, you cannot call on the testimony of others, because they think you are guilty."
The only way out I can see is to take the appeal to authority to its extreme and suspend McGrath's Carnival Game Rule for anyone McGrath deems to be an expert. So perhaps an expert can cite another expert and disagree with that expert. That is, only authority can challenge authority.
"Here, sir, is your sharpened dart. Have as many tosses as you like at the balloon. And here's your teddy bear, sir. Congratulations."
The following two tabs change content below.
Tim Widowfield
Tim is a retired vagabond who lives with his wife and multiple cats in a 20-year-old motor home. To read more about Tim, see our
About page.
Latest posts by Tim Widowfield (see all)
---
If you enjoyed this post, please consider donating to Vridar. Thanks!
---