Until its proved otherwise, why not assume that consciousness does not play a significant role in human behavior? Although the idea might seem radical at first, it is actually the conservative position, the one that makes the fewest assumptions. The null position is an antidote to philosophers' disease — the inappropriate attribution of rational, conscious control over processes that may be irrational and unconscious. The argument is not that we lack consciousness but that we overestimate the conscious control of behavior. — Robert R. Provine, p. 147 in What We Believe But Cannot Prove: Today's Leading Thinkers On Science in the Age of Uncertainty, 2006.
Robert R. Provine is a professor of psychology and neuroscience at the University of Maryland, Baltimore County. He is the author of Laughter: A Scientific Investigation. And I am sharing his little spiel in the book What We Believe But Cannot Prove because he expresses an idea that I have toyed with ever since I learned of those experiments testing half-brain functions that show that people really do quite sincerely and unknowingly fabricate false reasons for why thy make certain decisions. But needless to say, I'm sure, not a few people are quite disturbed whenever I even raise the possibility. So I have learned to keep my suspicions closer to my chest but here in this post I bare all with the encouragement of a leading thinker under the title "things we believe but cannot prove."
Provine continues:
We are misled by an inner voice that generates a reasonable but often fallacious narrative and explanation of our actions. That the beam of conscious awareness illuminating our actions is on only part of the time further complicates our task. Since we are not conscious of our state of unconsciousness, we vastly overestimate the amount of time that we are aware of our actions, whatever their cause.
Robert Provine's thoughts about unconscious control, unlike my amateur cogitations, were shaped by his field studies of "the primitive play-vocalization of laughter." He found that when he asked people why they laughed in certain situations the answers they gave, he could demonstrate through careful observations, were wrong. They merely concocted rationalizations for their behaviour.
RP also notes that many of his subjects incorrectly presumed that laughter was something that was done by choice, that it was something that was governed by conscious control. They were always absolutely confident of the explanations they gave for their behaviour. But laughter is not like that at all. When challenged on command most people cannot utter a genuine laugh. Laughter also happens in synch with those places in speech where there would be normal written punctuation (a natural pause, for example).
This punctuation effect is highly reliable and requires the coordination of laughing with the linguistic structure of speech, yet it is performed without the conscious awareness of the speaker. Other airway maneuvers, such as breathing and coughing, also punctuate speech (i.e. the break in where there would normally be a full stop, a comma, etc.) and are performed without speaker awareness. (p. 148)
From laughter to all our other behaviours
The discovery of structured but unconsciously controlled laughter produced by people who could not accurately explain their actions led me to consider generalizing this situation to other kinds of behavior. Do we go through life listening to an inner voice that provides similar confabulations about the causes or our actions? Are essential details of the neurological process that governs human behavior inaccessible to introspection? Can the question of animal consciousness be stood on its head and treated in a more parsimonious manner? Instead of wondering whether other animals are conscious, or have a different, or lesser consciousness than ours, should we be wondering whether our behavior is under no more conscious control than theirs? (my emphasis, pp. 148-49)
Provine reminds us that other social animals can achieve quite a lot materially without having conscious control of their actions, or at least very little apparent control: bees, ants, termites.
Is intelligent behavior a sign of conscious control? What kinds of tasks require consciousness? Answering these questions requires an often counterintuitive approach to the role, evolution, and development of consciousness.
I would go one or two tiny steps further, or at least lean to other facets of this (currently) unprovable thought, and ask: What function did the evolution of consciousness serve? What implications would a conscious awareness of this, if it were provably true, this have for legal systems and social functioning and ethics generally? There are also many other moments when I look back on my actions and those with whom I engage and I cannot help but sometimes raise that abductive query — are we really only rationalizing ad hoc what we do and say?
Maybe this is a question that is asked too soon to attract research grants. Let's see where we are in another generation or two.
Now if you asked these cheetahs why they ran down this impala only to realize they weren't hungry after all and took time to marvel how cute it was before letting it go . . . . how would they have explained their actions?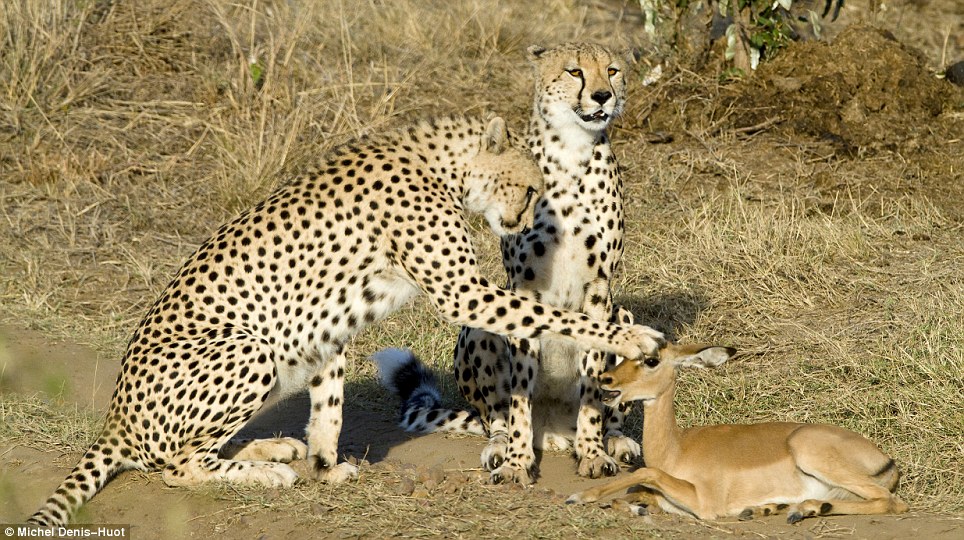 The following two tabs change content below.
Neil Godfrey
Neil is the author of this post. To read more about Neil, see our
About page.
Latest posts by Neil Godfrey (see all)
---
If you enjoyed this post, please consider donating to Vridar. Thanks!
---