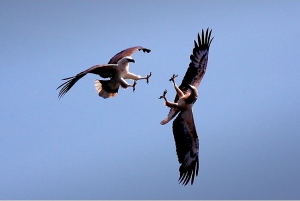 Another interesting observation in Bruce Louden's Homer's Odyssey and the Near East is his drawing a possible link between John the Baptist and Halitherses in the Odyssey. Louden explains that Halitherses is an aged prophet, close to the hero Odysseus, who warns the nobles in Odysseus' absence to stop their evil plans or they will suffer the judgment of Odysseus upon his return.
That was enough to send me back to reading the Odyssey and I think the following passage that depicts Halitherses'  "preaching" worth quoting in full. I conclude with another in which Louden shows us that the message of the return of the king to his kingdom in the Odyssey is in a sense called "good news", a word very similar to "gospel".
In Book 2 of the Odyssey the son of Odysseus calls an assembly of nobles and begins to berate them for outwearing their welcome at his palace in his father's absence.
As he spoke Zeus, who is said to speak from heaven to those afar off on earth, sent down two eagles from Mount Olympus as a sign to all. At this point an elderly prophet, one who surpassed all others with his gift, Halitherses (a name that means Sea-Bold), stood up and explained what this omen meant in a prophecy.
The passage is interesting for the echoes we hear of the message of John the Baptist at the outset of the Jesus story. I've hinted at a few in the preceding paragraph. There is also the message that the king is about to return — very soon — and bring judgment with him. One cannot imagine a starker contrast to the image of a dove, however, than two eagles coming down and threatening death to all the onlookers. Transvaluation?
So spoke Telemachus, and in answer Zeus, whose voice is borne afar, sent forth two eagles, flying from on high, from a mountain peak. For a time they flew swift as the blasts of the wind side by side with wings outspread; but when they reached the middle of the many-voiced assembly, then they wheeled about, flapping their wings rapidly, and down on the heads of all they looked, and death was in their glare. Then they tore with their talons one another's cheeks and necks on either side, and darted away to the right across the houses and the city of the men.

But they were seized with wonder at the birds when their eyes beheld them, and pondered in their hearts on what was to come to pass.

Then among them spoke the old lord Halitherses, son of Mastor, for he surpassed all men of his day in knowledge of birds and in uttering words of fate. He with good intent addressed their assembly, and spoke among them:

"Hearken now to me, men of Ithaca, to the word that I shall say; and to the wooers especially do I declare and announce these things, since on them a great woe is rolling. For Odysseus shall not long be away from his friends, but even now, methinks, he is near, and is sowing death and fate for these men, one and all. Aye, and to many others of us also who dwell in clear-seen Ithaca will he be a bane. But long ere that let us take thought how we may make an end of this—or rather let them of themselves make an end, for this is straightway the better course for them. Not as one untried do I prophesy, but with sure knowledge. For unto Odysseus I declare that all things are fulfilled even as I told him, when the Argives embarked for Ilios and with them went Odysseus of many wiles. I declared that after suffering many ills and losing all his comrades he would come home in the twentieth year unknown to all; and lo, all this is now being brought to pass."
This return of the king to his kingdom is later prophesied again by the king Odysseus while he is still unrecognized. Bruce Louden (Homer's Odyssey and the Near East, p. 270) points out that after doing so he asks for a "reward for this good news", euangelion, ευαγγέλιον, which is a word very similar to the word for "gospel" in the New Testament. Louden writes:
In the Odyssey, as in some respects in the gospels, the good news is the return of the king to his kingdom.
The disguised Odysseus is speaking in the opening paragraph:
"Odysseus shall return. And let me have a reward for bearing good tidings (ευαγγέλιον), as soon as he shall come, and reach his home; clothe me in a cloak and tunic, goodly raiment. . . . . verily all these things shall be brought to pass even as I tell thee. In the course of this self-same day Odysseus shall come hither, as the old moon wanes, and the new appears. He shall return, and take vengeance on all those who here dishonor his wife and his glorious son."

To him then, swineherd Eumaeus, didst thou make answer, and say: "Old man, neither shall I, meseems, pay thee this reward for bearing good tidings (ευαγγέλιον) . . . .
The following two tabs change content below.
Neil Godfrey
Neil is the author of this post. To read more about Neil, see our
About page.
Latest posts by Neil Godfrey (see all)
---
If you enjoyed this post, please consider donating to Vridar. Thanks!
---