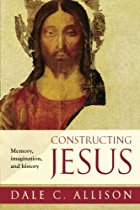 Having just read the first chapter of Constructing Jesus: Memory, Imagination, and History by Dale C. Allison I can finally comment on what surely strikes most people as a curious statement to come from someone who claims to be a historian. In reviewing Allison's opening chapter McGrath claimed that Allison was contending that
Even fabricated material may provide a true sense of the gist of what Jesus was about, however inauthentic it may be as far as the specific details are concerned.
This certainly does capture what Allison writes of his approach to finding "the historical Jesus" in the Gospels.
Allison considers the results of a wide range of studies on human memory and considers what these must mean for the accuracy of the Gospels, given the assumption that the Gospels are records of what was passed down about Jesus via fallible memories of those who had met him.
Allison even writes:
All this is why fictions may contain facts; an accurate impression can take any number of forms. Even a work as full of make-believe as the Alexander Romance sometimes catches the character of the historical Alexander of Macedon. Similarly, tales about an absentminded professor may be apocryphal and yet spot-on because they capture the teacher's personality. The letter can be false, the spirit true. (pp. 13-14)
While I can understand what Allison says about memory, I do not understand what this statement has to do with a discussion about approaching evidence in an historical inquiry. Surely no historian takes anything in the Alexander Romance as containing anything of value for a serious attempt to learn about the historical Alexander himself. The Romance was not written from memories of eyewitnesses. Apocryphal tales may be footnoted in a work of history if they contain something humorous, say. But surely no historian uses them as historical evidence. Maybe legends and fiction that arise in later generations are the subject of a study about what a historical memory meant for a new generation or particular culture, but that's not the same thing as using them to study the original historical person or event.
Maybe I am missing something in what Allison meant after all. But if he did not mean to apply his comparison with the Alexander Romance to a study of the Gospels, then why did he refer to it at all?
Allison's flaw? Individual memories versus group eyewitness memory
There is surely another disconnect in Allison's discussion of the relevance of memory for the historical value of the Gospels.
We all know the frailties of individual memories, but did not the eyewitnesses of Jesus talk with one another about what they had witnessed? Did not their audiences compare what one witness said with what they heard from elsewhere and interrogate their informants to get a clear idea of what happened?
In other words, surely if the Gospels are records of what their authors learned from the memories of others, those memories had been checked and held to account in the process of sharing them with fellow witnesses and community dialogue. I don't think anyone has proposed a model that suggests that the Gospels vary in their accounts because each author had access to a different eyewitness whose personal memories dug their own channels without any sharing of any kind with fellow witnesses.
I am not saying that every detail would be constant across multiple witnesses, but when a number of witnesses talk about what they had seen, they tend to come away with a shared view of the basics of what they had just witnessed. Some gospels say Jesus was anointed in the house of Simon the leper on the eve of his arrest and execution; another says the anointing took place in a Pharisee's house midway through Jesus' ministry. Mark says Jesus exorcised a single man living among tombs; Matthew says it was not a single man there but two. Mark names Bartimaeus as one healed by Jesus of blindness, but Matthew forgets the name and says there were two men in this incident who were cured of blindness. I find it difficult to attribute such differences to idiosyncracies of variable eyewitness memories. Eyewitnesses of such events would talk about what they had witnessed, and there is no way some would walk off thinking maybe they saw two people there, and others thinking there was only one and recalling his distinctively unusual name even.
Then when we go a little further and see that at least one of our texts clearly and unambiguously uses healings of blindness to metaphorically declare Jesus to be a healer of spiritual blindness, and another text clearly has an interest in containing a certain number of people healed so as to convey a special message through a spiritually significant number, then surely the judicious historian is warned that he or she is not dealing with recorded memories at all. He or she is reading metaphors and symbolical tales fabricated by the authors.
Allison's superior awareness of the flaws in his approach
But Dale C. Allison is an honest scholar who is aware of the weaknesses of his approach to the Gospels. He writes:
I can think of no line of reasoning that is not, in the end, strictly circular. (p. 23)
Why do some biblical scholars seem to react so defensively and with such hostility when I attempt to point out what Dale Allison himself can see and admit?
One way to avoid circularity
I think there is a line of reasoning that does avoid circularity, but I can understand why most biblical scholars cannot bring themselves to "think of it". It means to stop putting the cart before the horse. Stop seeking first the historical Jesus and seek first instead a justifiable historical inquiry into the origin and nature of the Gospels. It just might mean that there is no historical Jesus to seek.
The line of reasoning I am thinking of involves addressing the literary nature of the Gospels and assessing whether they are really likely to be records of memories or symbolic and theological constructions. That is, the historian needs first of all to evaluate the nature of the source material before knowing what questions to ask of it. It is "strictly circular" to bring to it the assumption that it must be the record of orally transmitted memories and then subsequently claim that the text we have so conceived demonstrates the existence of those earlier memories.
Let's make no assumptions about the historicity or oral sources of the narratives in the texts. Let's begin by evaluating the nature of the narratives. Are they symbolic and theological tales? If so, can we find objective sources for these tales? If so (e.g. in the Old Testament) then do we need to look any further or do we have a sufficient explanation already? Are their narrative details that cannot be explained this way? When do we find these texts and narratives registering an impact in the wider literary world? What sort of impact? Who are the stakeholders?
This way the historian seeks to explain the narratives in accord with the available internal and external evidence. The historian does not begin with assumptions of the historicity of the narrative itself. That would be a "strictly circular" approach. Maybe the narratives can be explained simply and in accordance with the evidence quite apart from any need to imagine that they drew on historical memories or real events.
Keep in mind the rationale for the Gospels
One thing to keep in mind is that the only reason for the Gospel narratives as we have them is to explain the centrality of the resurrection of Jesus and what this means for the people of faith.
All of the life of Jesus prior to his resurrection only has relevance because of the resurrection — and the assumption that the same person is still with us or about to return to us.
And the resurrection also explains the interest in the Gospel focus on eschatology. The resurrection has relevance because it brings with it the message that these are the "last days" and the one resurrected is to judge all and wrap up human history once and for all.
The reason for the Gospels would seem to me to be to explain and sustain belief in a supernatural event that has meaning for the faithful now and in the future. They were not written to record "history" in the same sense as any other ancient biography or history was written.
(This last thought — the raison d'être of the Gospels being to narrate the meaning of the resurrection — was something I read only recently. Unfortunately I have been reading several books at once and cannot at the moment recall which one it was from. Will return to this post to make amends and identify the source as soon as I recover it.)
The following two tabs change content below.
Neil Godfrey
Neil is the author of this post. To read more about Neil, see our
About page.
Latest posts by Neil Godfrey (see all)
---
If you enjoyed this post, please consider donating to Vridar. Thanks!
---