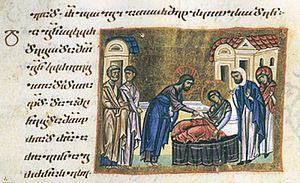 If the Gospels were written as "biographies" of Jesus, or were meant to be read as "history", does this mean that we can expect to find only factual details in them? Or if not entirely factual, must we give the benefit of the doubt that beneath a certain amount of exaggeration there must have been some kernel of literal truth?
It ain't necessarily so.
Dale C. Allison M. Grable Professor of New Testament Exegesis and Early Christianity at Pittsburgh Theological Seminary. In his recent book, Constructing Jesus: Memory, Imagination, and History, he includes a discussion of recent scholarship on the genre of the gospels and what genre means for the question of whether we can expect to find fictional tales in the gospels.
The question has force, says Allison, because the gospel authors appear to have been "far more interested in the practical and theological meanings of their stories than in literal facticity." (p. 442)
Pervo and MacDonald on Acts
Allison begins by noting that some scholars have "recently decided that the guild has long misconstrued the genre of Acts, and that the book contains features more typical of light fiction than ancient historiography." He is referring specifically to the work of Richard Pervo, "Profit with Delight", which I have covered in detail in a series of posts here. Here also points to Dennis MacDonald's "Does the New Testament Imitate Homer? Four Cases from the Acts of the Apostles".
Allison concedes "perhaps they might be right" but he personally doubts it. Nonetheless, he does cite Thomas E. Phillips who wrote: "In the eyes of most scholars, it [Acts] is history — but not the kind that precludes fiction."
If Acts, what of the Gospels?
"In recent years, several scholars have called attention to possible affiliations between the canonical Gospels and Hellenistic romance, or between the Gospels and Homer."
Again Allison cites Pervo and MacDonald.Pervo argues that the activity of shaping various independent stories into a coherent narrative involved the same compositional strategies we find in the Alexander Romance, the Life of Aesop or Philostratus's novel about Apollonius of Tyana. (The Novel in the Ancient World, ed. by Schmeling.)
Many are more aware of MacDonald's The Homeric Epics and the Gospel of Mark. Allison repeats the common criticism that Mark's narrative is set in recent times, unlike the stories found in ancient epics. I personally think this criticism is questionable if we apply rely primarily on external controls for dating Mark, in which case it becomes possibly a mid-second century work. Further, the point of the Jesus narrative is to depict a hero at the end of the age, not at the beginning.
The state of play with respect to these studies?
It is perhaps too early to know whether this recent take on the Gospels will lead to a dead end to or a new world of profitable discourse. In the latter case, we will have to rethink much, and perhaps the proposition that the Gospels contain in part or in whole "purely metaphorical narratives" will become not just credible but blindingly obvious. (pp. 442-3)
Biography
One will sometimes read a scholar proclaiming dogmatically to lay readers that the Gospels are "biographies" and will be referred to Richard Burridge's "What Are the Gospels? A Comparison with Graeco-Roman Biography". The intent of this dogmatic assertion is to convince others that the Gospels do not contain fiction but genuine "biographical" information.
Any scholar who declares this as a "fact" is abusing his status as a scholar and betraying his lay audience. It is more intellectually honest to say, as does Allison,
In the meantime, many scholars remain persuaded that the Gospels are a subspecies of Greco-Roman biography. What would acceptance of that classification imply for the thesis about "purely metaphorical narratives?
But even if we were to think of the Gospels as belonging to the biography genre, we are no closer to establishing the 'literal truth' of their contents.
Greek and Roman biographers and historians were quite capable of handing on stories that they did not consider factual or about which they had doubts. Often, however, they made this clear. Plutarch told one version of the conception of Alexander the Great, after which he added: "There is another version of this story." Having then related that second account, he added that Alexander's mother, Olympia, repudiated it (Alex. 2-3). In this way, Plutarch signaled to his readers that they were not on firm historical ground. The Gospels, however, offer nothing remotely similar. No evangelist confronts us with differing versions of the same story that push us to ask which is true.
Is that last section of what Allison says true? I hardly think so. It is only true to the extent that within their own gospels they presented the reader with but one viewpoint. But the evangelists were clearly aware of different versions of a number of stories, and they clearly had to choose between them. Most scholars see Matthew and Luke using Mark as a source, and they sometimes make significant changes to Mark's story. Mark spoke of a demon possessed man possessed with "Legion". Matthew spoke of two such men in the same episode. Examples abound.
One is reminded of Origin of the History of Israel by Wesselius. Wesselius compares Primary History (Genesis to 2 Kings) with Herodotus's Histories. He remarks on the habit of Herodotus to often place varying stories side by side and briefly comment on which one he favoured as the more likely. Wesselius compares this with the habit of the author/s of Primary History to also place contradictory stories side by side, with the difference that the authors did not intrude to make their own comments, but left it to readers to decide. Examples are the two accounts of the creation of man and the rise of King David.
By the time we reach the Gospels, we find authors reading one version of a story (say in Mark) and replacing it with another, without comment. Later Christians were comfortable enough with collating these contradictory narratives into a single canon.
History
Allison then refers to Ulrich Luz's commentary on Matthew 1-7 to illustrate the idea of some scholars that the Gospel authors modeled their compositions on the historical books of the Hebrew Bible.
But Allison reminds us that Jews were often sceptical about the pure historical authenticity of the Bible. Talmudic writings suggested that Job was a parable and never historically existed. Philo sometimes discarded the literal meaning of the Bible. Origen and Gregory of Nyssa spoke of "apostate Jews" who considered Genesis contained myths, "which raises the possibility that some who thought of themselves as faithful Jews did likewise." Allison is focussing on what the ancients themselves believed, but it is also goes without saying that much of Genesis and Exodus is plainly nonhistorical, as is the first book of Histories by Herodotus. Herodotus opened up his history with tales of Io and Europa, Jason and Paris.
Allison argues that the Gospel authors believed that they were writing genuine history or biography. Clearly he rejects the view of John Shelby Spong that I have addressed in recent posts. So in future posts I hope to cover some of the criticisms of Spong's views.
Meanwhile, we see from Allison's discussion that genre alone cannot be a sure measure of whether or not a narrative contains outright fiction or not.
The following two tabs change content below.
Neil Godfrey
Neil is the author of this post. To read more about Neil, see our
About page.
Latest posts by Neil Godfrey (see all)
---
If you enjoyed this post, please consider donating to Vridar. Thanks!
---