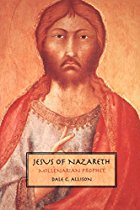 James McGrath has given Dale C. Allison's latest book, Constructing Jesus: Memory, Imagination and History, a bit of a bad press in his recent review of it. He famously wrote that Allison explains how a historian can learn the true sense of what a historical person was about through studying fictional material about that person. (See Games Historical Jesus Scholars Play.)
I have not yet read Dale Allison's latest book so I am unable to comment on what McGrath attributed to him, but I have been catching up with his 1998 book Jesus of Nazareth: Millenarian Prophet. I had earlier read Dale Allison's book on the question of Matthew' "mimesis" of Moses for his portrayal of Jesus, The New Moses: A Matthean Typology, and was impressed with his caution and his thoroughness and consistency of methodological application to exploring how much of Matthew's Gospel can be attributed to a conscious effort to re-write stories of Moses into the life of Jesus.
I can understand why Dale Allison has one of the more honoured reputations among biblical scholars. He does demonstrate a clarity of thought and understanding of what he is doing when he writes about Jesus that is not always evident among historical Jesus scholars, their peers, or their students.
I have often attempted to point out the circularity of arguments of Historical Jesus scholars in their efforts to "discover" or authenticate any of his words or deeds as historically true. (The circularity extends even to the very idea of the existence of Jesus.)
Dale C. Allison recognizes and admits to this circularity at the heart of historical Jesus studies. He can acknowledge that conclusions are reached because they are inherent in the premise behind the questions asked.
So it is regrettable that fewer of his peers seem to be able to bring themselves to admit this much when engaged in discussions with those who question the very existence of Jesus, or with those outside the guild who notice and question this circularity of method.
Here is what Dale Allison writes on page 60:
Jesus turns out to have been a proponent of an apocalyptic eschatology. This result is of course contained in the methodological premise, according to which Jesus was an eschatological prophet. But in this regard history is not different from hermeneutics: circularity we will always have with us.
Allison calls in Hahn as a supporting witness:
Compare Hahn, "Methodologische Überlegungen," pp. 37-38, who observes the problem of interpreting the individual pieces of the Jesus tradition without first having a total picture of Jesus and the problem of having a total picture of Jesus without first interpreting the individual pieces. His method is similar to my own in that he enters the circle from generalizations about Jesus and the Jesus tradition.
Now that I can accept. There is no self-deception or inadvertent deception of readers in the process.
He admits and accepts that the method is circular, and that his history is "not different from hermeneutics".
To be fair, Allison does not argue that all sayings and deeds of Jesus that are deemed historical are the simple direct product of such question-begging. Some sayings cohere with a number of assumptions or suppositions about Jesus, not just the one contained in the question at hand.
To continue the argument that Jesus had an apocalyptic worldview. He cites Q 12:51-53 (=Luke 12:51-53). This passage (about Jesus not coming to bring peace, but that families will be divided)
is not just consistent with an eschatological outlook but further harmonizes with a biographical fact about Jesus — his own familial conflict — and contains several of the formal features characteristic of Jesus. So the conclusion that certain apocalyptic sayings go back to Jesus is not just a product of the premise: the final conclusion also fortifies the opening supposition. (p. 61)
Of course, the narrative account of Jesus' conflict with his own family is itself a familiar literary trope — the prophet being rejected by his own family — that places Jesus squarely in the literary tradition of Joseph and David. How could any author fail to pen the ultimate prophet who was not rejected by his own family?
Dale Allison also acknowledges the inadequacy of the various criteria. The arguments about their weaknesses and even mutually contradictory effects have been well covered many times. Allison concludes:
Appeals to shared criteria may, we can pray, assist us in being self-critical, but when all is said and done we look for the historical Jesus with our imaginations — and there too is where we find him, if we find him at all. (p. 7)
One may begin to wonder why any biblical scholar would ignore any argument that really does show the way out of all of this circularity and anchors Christian origins in something more substantial than imagination or hermeneutics. Embracing the normative standards found among other historical disciplines, such as reliance on external controls and literary analysis to guide in deciding what persons and events in a written record can claim historicity, should be noncontroversial. So should the descriptor "sceptic" be coveted by academics and scholars, but its very meaning is misconstrued by many biblical students and teachers.
At least the reader knows where he or she stands, and the status of the conclusions, when reading Dale Allison's Jesus of Nazareth.
The following two tabs change content below.
Neil Godfrey
Neil is the author of this post. To read more about Neil, see our
About page.
Latest posts by Neil Godfrey (see all)
---
If you enjoyed this post, please consider donating to Vridar. Thanks!
---