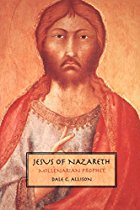 James McGrath has given Dale C. Allison's latest book, Constructing Jesus: Memory, Imagination and History, a bit of a bad press in his recent review of it. He famously wrote that Allison explains how a historian can learn the true sense of what a historical person was about through studying fictional material about that person. (See Games Historical Jesus Scholars Play.)
I have not yet read Dale Allison's latest book so I am unable to comment on what McGrath attributed to him, but I have been catching up with his 1998 book Jesus of Nazareth: Millenarian Prophet. I had earlier read Dale Allison's book on the question of Matthew' "mimesis" of Moses for his portrayal of Jesus, The New Moses: A Matthean Typology, and was impressed with his caution and his thoroughness and consistency of methodological application to exploring how much of Matthew's Gospel can be attributed to a conscious effort to re-write stories of Moses into the life of Jesus.
I can understand why Dale Allison has one of the more honoured reputations among biblical scholars. He does demonstrate a clarity of thought and understanding of what he is doing when he writes about Jesus that is not always evident among historical Jesus scholars, their peers, or their students.
I have often attempted to point out the circularity of arguments of Historical Jesus scholars in their efforts to "discover" or authenticate any of his words or deeds as historically true. (The circularity extends even to the very idea of the existence of Jesus.)
Dale C. Allison recognizes and admits to this circularity at the heart of historical Jesus studies. He can acknowledge that conclusions are reached because they are inherent in the premise behind the questions asked. Continue reading "Clarity about Circularity from Historical Jesus Scholar Dale Allison"