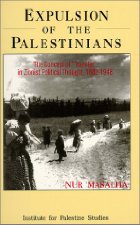 The following quotations by early Zionist leaders are from Expulsion of the Palestinians: The Concept of "Transfer" in Zionist Political Thought, 1882-1948 by Nur Masalha, published by the Institute for Palestinian Studies.
Nur Masalha opens his book with
When in the late nineteenth century Zionism arose as a political force calling for the colonization of Palestine and the "gathering of all Jews," little attention was paid to the fact that Palestine was already populated. Indeed, the Basle Program adopted at the First Zionist Congress, which launched political Zionism in 1897, made no mention of a Palestinian population when it spelled out the movement's objective: "the establishment of a publicly and legally secured home in Palestine for the Jewish people." (p.5)
It was in order to secure support for their enterprise that "the Zionists propagated in the West the idea of 'a land without a people for a people without a land,' a slogan coined by Israel Zangwill" (who is quoted a number of times in this post).
Even as late as 1914 Chaim Weizmann (one of the founding fathers of political Zionism) stated:
Image via Wikipedia

In its initial stage, Zionism was conceived by its pioneers as a movement wholly depending on mechanical factors: there is a country which happens to be called Palestine, a country without a people, and, on the other hand, there exists the Jewish people, and it has no country. What else is necessary, then, than to fit the gem into the ring to unite this people with this country?
But "neither Zangwell nor Weizmann intended these demographic assessments in a literal fashion. They did not mean that there were no people in Palestine, but that there were no people worth considering within the framework of the notions of European supremacy that then held sway." (p.6)
20 May 1936, according to Arthur Ruppin, head of the colonizing department of the Jewish Agency, Chaim Weizman (to become the first president of Israel) replied, when asked about the Palestinian Arabs
"The British told us that there are there some hundred thousands negroes [Kushim] and for those there is no value."
Zangwell made the meaning of his slogan clear in 1920:
Image via Wikipedia

If Lord Shaftesbury was literally inexact in describing Palestine as a country without a people, he was essentially correct , for there is no Arab people living in intimate fusion with the country, utilising its resources and stamping it with a characteristic impress: there is at best an Arab encampment.
But Zangwell and other Zionists also were very well aware that far from being an empty land, the Palestinians were there in very large numbers. Zangwell had visited Palestine in 1897 and in a speech in 1905 said:
Palestine proper has already its inhabitants. The pashalik of Jerusalem is already twice as thickly populated as the United States, having fifty-two souls to the square mile, and not 25 per cent of them Jews.
Early Zionist texts do indeed show that its leaders were concerned about what to do with the "Arab problem" or "Arab question."
As an example of the attitudes of Zionist groups and settlers concerning the indigenous Palestinian population, Zionist author and Labor leader who immigrated to Palestine in 1890, Moshe Smilansky, wrote:
"Let us not be too familiar with the Arab fellahin lest our children adopt their ways and learn from their ugly deeds. Let all those who are loyal to the Torah avoid ugliness and that which resembles it and keep their distance from the fellahin and their base attributes."
Minority Jewish voices against racist attitudes
Some Jews spoke out against these attitudes. One was Ahad Ha'Am (Asher Zvi Ginzberg), a liberal Russian thinker who visited Palestine in 1891. He published a series of articles criticizing the "ethnocentricity of political Zionism as well as the exploitation of Palestinian peasantry by Zionist colonists." He wrote that Zionist "pioneers" believed that
"the only language that the Arabs understand is that of force…. [They] behave towards the Arabs with hostility and cruelty, trespass unjustly upon their boundaries, beat them shamefully without reason and even brag about it, and nobody stands to check this contemptible and dangerous tendency."
He suggested that this aggressive attitude of the colonists stemmed from their anger
"towards those who reminded them that there is still another people in the land of Israel that have been living there and does not intend to leave."
Another early settler (he arrived from Russia in 1886) who spoke out against such attitudes, Yitzhaq Epstein, warned that the methods of Zionist land purchases and dispossession of Arabs in the Galilee were stirring up resentment such that a future political confrontation was inevitable.
Early Transfer Proposals of the Founding Fathers
Theodor Herzl, founder of the Zionist movement, recorded in his diary in 1895:
When we occupy the land, we shall bring immediate benefits to the state that receives us. We must expropriate gently the private property on the estates assigned to us.

Herzl

We shall try to spirit the penniless population across the border by procuring employment for it in the transit countries, while denying it any employment in our own country.The property owners will come over to our side. Both the process of expropriation and the removal of the poor must be carried out discreetly and circumspectly.

Let the owners of immovable property believe that they are cheating  us, selling us something far more than they are worth.
But we are not going to sell them anything back.
"Another early example of the transfer idea's deep roots among the early Zionists is found in a story by Moshe Smilansky in which he recounts a dialogue that took place in 1891 between two pioneers of Houeuie Tzion (Lovers of Zion)":
"We should go east, into Transjordan. That would be a test for our movement."
"Nonsense … isn't there enough land in Judea and Galilee?"
"The land in Judea and Galilee is occupied by the Arabs."
"Well, we'll take it from them."
"How?" (Silence.)
"A revolutionary doesn't ask naive questions."
"Well then, 'revolutionary,' tell us how."
"It is very simple. We'll harrass them until they get out … Let them go to Transjordan."
"And are we going to abandon all of Transjordan?" asks an anxious voice.
"As soon as we have a big settlement here we'll seize the land, we'll become strong, and then we'll take care of the Left Bank [of the Jordan River].We'll expell them from there, too. Let them go back to the Arab countries."
Anglo-Jewish writer Israel Zangwill in an April 1905 talk in Manchester, proclaimed what needed to be done, given that Palestine "was already twice as thickly populated as the United States," and given that "not 25 per cent of them [are] Jews,"
"[We] must be prepared either to drive out by the sword the [Arab] tribes in possession as our forefathers did or to grapple with the problem of a large alien population, mostly Mohammedan and accustomed for centuries to despise us."
In a discussion with Vladimir Jabotinsky (who later founded Revisionist Zionism, the forerunner of present-day Likud), Zangwill stated that
the Zionist enterprise should be part of a new world order in which there could be no place for sentimental argument (p. 10 description by Masalha cited from Jabotinsky's records)
Zangwell another time argued that
"If we wish to give a country to a people without a country, it is utter foolishness to allow it to be the country of two peoples. This can only cause trouble. The Jews will suffer and so will their neighbours. One of the two: a different place must be found either for the Jews of for their neighbours."
Another pivotal Zionist leader, Arthur Ruppin, in his diary in 1930 wrote that dispossession of the Arabs was inevitable because
"land is the most vital condition of our settlement in Palestine. But since there is hardly any land which is worth cultivating that is not already being cultivated, it is found that wherever we purchase land and settle it, by necessity its present cultivators are turned away …. In the future it will be much more difficult to purchase land, as sparsely populated land hardly exists. What remains is densely [Arab] populated land."
(Ruppin, ironically, founded the Brit Shalom movement advocating a binational Arab-Jewish state.)
Ideological founder of Socialist Zionism, Nahman Syrkin, proposed in an 1898 pamphlet entitled "The Jewish Question and the Socialist Jewish State":
"Palestine, thinly populated, in which the Jews constitute today 10 per cent of the population, must be evacuated for the Jews."
More pragmatic, less visionary, proposals after the Balfour Declaration of 1917
At the Paris Peace Conference in 1919, Chaim Weizmann (leading the Zionist Commission) called for a British Mandate over Palestine extending north to the Litani River (now in Lebanon), east to the Hijaz railway line (well west of the Jordan River). At this conference Weizmann also called for a Palestine
"as Jewish as England is English."
The removal of the native population implicit in such claims was never made explicit at the Conference. It was, however, spoken of in the corridors. Another member of the Zionist Commission, Aaron Aaronsohn, had during the war written in secret intelligence for the British of the need to "remove forcibly" Arab farmers from the lands. Aaronsohn's friend William K. Bullitt, a member of the U.S mission at the Conference, later wrote:
"Many times during the Peace Conference in Paris I joined him [i.e., Aaronsohn] and Dr. Weizmann at a time while both were considering and assessing policies and plans. Aaronsohn's proposal was the following: While Palestine must be made a Jewish state, the vast valley of Iraq, which is irrigated by the Euphrates and Tigris, should be restored, through the use of planned irrigation, to be the paradise of the world … and furthermore the Arabs of Palestine should be offered lands there … to which as many Arabs as possible should be persuaded to emigrate."
Israel Zangwill, after 1917, began to campaign openly for the transfer of the Arab population from Palestine. After several publications advocating population removal, in his 1920 book, The Voice of Jerusalem, he called for
an "Arab exodus" that would be based on "race distribution" or a "trek like that of the Boers from Cape Colony," which he advocated as "literally the only 'way out' of the difficulty of creating a Jewish State in Palestine."
He continued:
"We cannot allow the Arabs to block so valuable a piece of historic reconstruction….And therefore we much gently persuade them to 'trek.' After all, they have all Arabia with its million square miles….There is no particular reason for the Arabs to cling to these few kilometres. 'To fold their tents' and 'silently steal away' is their proverbial habit: let them exemplify it now."
Zangwill's public campaign — including his pronouncements during the 1919 Peace Conference — caused considerable embarrassment and diplomatic tensions. Emir Faisal who led the Arab revolt against the Ottoman Turks and who was the focus of British plans for the Arab world, was angered when Zangwell remarked at a public meeting of the Arabs of Palestine —
"many are semi nomad, they have given nothing to Palestine and are not entitled to the rules of democracy"
Faisal in response emphasized that Palestine had a deeply-rooted Arab population and could not be transformed into a Jewish state.
Zangwill's remarks also embarrassed Chaim Weizmann who was at the time involved in sensitive negotiations with the Sharifian Emir aimed at a Zionist-Arab deal.
And this is 1920. The story of the transfer plans has only just begun.
The following two tabs change content below.
Neil Godfrey
Neil is the author of this post. To read more about Neil, see our
About page.
Latest posts by Neil Godfrey (see all)
---
If you enjoyed this post, please consider donating to Vridar. Thanks!
---