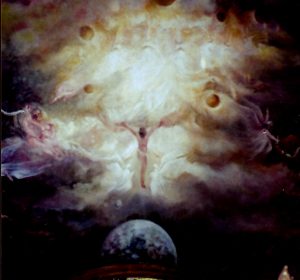 I believe that few "serious scholars" (as they say) see any reason to attribute the first couple of chapters of the Book of Genesis to historical reality. Few actually see any reason to attribute its claims that God fashioned the world in 6 days and created Adam from dust and Eve from his baculum.
But I do observe that many "serious biblical scholars" do attribute historical reality to a New Testament book that claims the heavens split apart and that both God and Satan spoke to a man who was baptized by John in the Jordan River.
Both books reference geographical and human facts on the ground. There really is a sky above, land below and a sea teeming with fish. Human males really do exist, lack a baculum, and generally enjoy the companionship of womenfolk, especially when they serve as dutiful helpmates. There really is a Jordan River, an ancient Jerusalem and Judea, and if we can believe that the received text of Josephus is an honest indicator of what he originally wrote, a John the Baptist.
So why do biblical historians reject the historicity of one yet embrace the historicity of the other?
We don't want to open ourselves as sceptical inquirers who reject miracles on principle.
(I am amazed at the lengths to which quite a few scholars seem to go to prove they are not somehow biased against the supernatural or the miraculous. They do have very logical arguments — analogy etc — but hell, let's just cut the crap and say "No way! Miracles are an absurd notion and are not allowed into the discussion!" Anti-supernatural bias? Sure! Why not? I'm also biased against the notion that pixies live under toadstools or that teacups orbit Saturn.)
Okay, so maybe we don't care about opening ourselves to accusations of such bias. But let's play the game anyway.
Are the Gospels taken as evidence of a(n) historical person because we have evidence external to the gospels that the story they narrate has some historical reality? When it comes to ancient histories that speak of the life of Julius Caesar we do have an abundance of such evidence. But let's be fair. Julius Caesar was a famous leader, warrior and politician. We can't expect the same sort — or extent — of primary evidence extant for Jesus. I don't mean we can actually prove Julius Caesar existed in the same sense we can prove Hitler was Chancellor of Germany in the 1930s and 40's. But we can certainly conclude a very high level of probability for his historicity.
What about another ancient figure generally assumed to have been historical yet who did not leave behind any primary evidence? Take Socrates. In this case we have what certainly appear quite independent references to him, even though they are not primary evidence. (Primary evidence as I use it refers to evidence physically located at the time and area of the person/event.) We have Plato, Aristophanes and Xenophon to begin with. That is, the sources are as independent as reverential philosophers are independent from bawdy and mocking playwrights. And golly gosh, when we examine the philosopher's account of Socrates in the light of other ancient literature, or even through literary critical analysis of only his own works, we end up being faced with the possibility that Plato merely used the name or character of Socrates as a foil for his own views. Some few scholars really have opined that Socrates was nothing more than a literary creation, but the question does not matter to a historian. I know of no major scholarly quest to explore who was the real "historical Socrates". Historians are interested in exploring the answers to questions that the evidence can actually yield. In the case of Socrates the evidence only allows historians to explore the nature and origins of Greek philosophy. The existence or nonexistence of Socrates himself is really a non-issue. Try suggesting anything similar to historians of early Christianity!
Okay, so what about getting a bit closer to the Bible. What about David, or Abraham, or Noah, or Adam?
Where does one draw the line? I accept evolution so Adam is out of the equation. What about Noah? Well, I have enough confidence in geologists, and the published records that demonstrated a continuity of human cultures right across the boundaries where the Flood was supposed to have happened, so I do not accept Noah as historical, either. Besides, one sees too many similar stories analogous to Noah to think that I am entitled to believe that my western version of the myth has to be THE one from which all others derived. I actually secretly believe Deucalion and Phyrrha were historical and that Noah popped up from one of the stones they threw around after the Flood and in some sort of parent-hate thing claimed credit for being the saviour of the human race as compensation for being done over by his son Ham.
So should Abraham be the dividing line? Well, Thomas L. Thompson pretty much demolished the possibility of his historicity way back with a thesis that was later published as The Historicity of the Patriarchal Narratives: The Quest for the Historical Abraham. Little details like being able to establish that Abraham's camels were not domesticated till around six centuries after he was supposed to have lived sort of knocked him out of the annals of history.
Okay, David then? Okay, you can have David as historical. But on one condition. Your historical David is so insignificant and unlike any David we read about in the Bible that he is classified as an entity totally unlike anything found in 2 Samuel and 1 Kings. Oh, and one more condition. You have to acknowledge that your historical David is just as possible as Robin Hood, and with as much historical evidence.
But Jesus Christ, what about Jesus?
Now this is where things get tricky. There actually happens to be as much reliably independent evidence for Jesus Christ outside the Gospels as there is for Adam.
If I am wrong in making that claim, then I am sure someone will politely correct me. But I feel I am entitled to some confidence in making it when I read Albert Schweitzer saying exactly the same thing:
More than once in the writings directed against [a mythicist] it is stated that even what is self-evident can nevertheless be made clear only if the will is there to be swayed by the evidence available. The writers call on 'sound judgment', a 'sense of reality', or even on the 'aesthetic feeling' of the man whose views they are opposing, that is, if they do not console themselves with the idea that nothing can be revealed to him who will not see. In reality, however, these writers are faced with the enormous problem that strictly speaking absolutely nothing can be proved by evidence from the past, but can only be shown to be more or less probable. Moreover, in the case of Jesus, the theoretical reservations are even greater because all the reports about him go back to the one source of tradition, early Christianity itself, and there are no data available in Jewish or Gentile secular history which could be used as controls. Thus the degree of certainty cannot even be raised so high as positive probability.

So nothing is achieved by calling on sound judgment or on whatever else one likes to ask for in an opponent. Seen from a purely logical viewpoint, whether Jesus existed or did not exist must always remain hypothetical. (p.402 of the recent publication of his Quest.)
Only hypothetical? But wait on, Schweitzer is speaking of pure logic here. So we have an out, don't we? Surely Jesus is one in whom we are called to have faith. Not logical assurance. Faith.
I mean, I can have logical assurance in the existence of Julius Caesar. Not 100% proof but something not too far off that in terms of probability. As for Socrates, I have a lower threshold of probability. But no matter. I am a free agent and if I like to think he exists then I can find good reasons in the testimony of Plato and Aristophanes that he quite probably did. But no one is going to insult or kill me over the question. But Jesus? We don't even have the same quantitative or qualitative evidence (i.e. reliable multiple independent external controls) for Jesus as we do for Socrates, let alone Julius Caesar.
We have about as much evidence for Jesus as we do for David, or Abraham.
I add Abraham in here, because just as Thompson demolished his historicity largely through detailing the anachronisms in his tale (recall the camels appearing around 600 years ahead of cue), we find similar anachronisms in the tales of Jesus (e.g. Pharisees and synagogues and villages called  Nazareth all through Galilee in the early first century).
But but but, wait on. How can you explain Christianity if there was no Robin Hood to start it all rolling?
Good point. Let's take it seriously.
Christianity is true, and we know that because many people today are said to have the same spiritual experiences they suspect led to it all in the first place. Besides, even if it's not true, even non-believers get attached to cultural icons as useful as Santa Claus and Elvis. And Jesus has been the iconic mouthpiece for every high and noble ideal from class struggle to the war on scaring people.
So how could Christianity or the Earth and humankind possibly have started in any way at odds with the Gospels or Genesis?
That is, there can be only one conceivable origin for this faith that has any degree of "positive probability" — Schweitzer, go eat your hat.
And that is this: a failed prophet who was rejected by the bulk of his nation was crucified as a criminal and insurrectionist against Rome; those who had once rejected him in his lifetime turned around after his death and believed the teaching of a small band of his followers that he was the messianic mediator between them and God, and was worthy of worship as a divinity alongside God himself. Shortly thereafter, many gentiles also believed, and pretty soon he was declared to have been the very agent through whom God made, and sustained, the world as per Genesis.
Wow. Now I understand Tertullian! I have no choice but to believe when I am confronted with a narrative so bizarre!
I hope no NT scholar can detect any sarcasm in my explanation. If any did, they may well wonder what alternative I could possibly propose in its place, and must surely assume that any alternative must be less plausible than "The Gospel Truth" (TM). Well, several alternative plausible scenarios have been offered for some time now. But if you want to understand them, I suggest you read them in the words of their authors. Relying on reviews like those of McGrath will confuse the issue because such scholars seem to have a compulsion of avoiding the arguments and twisting the words and meanings of whatever they cannot answer. And if a novice ever notices this unpleasant trait of theirs and points it out publicly, and does not humbly submit to their distortions and avoidance, they will respond that such a novice is thinking just like someone who has the naivety and ignorance to believe that Genesis is a document from which real history can be gleaned — if one uses the right criteriology!
One day, maybe, even NT scholars will wake up to the difference between "claims" and "evidence", and embrace the same approach to documents that we find among most historians in nonbiblical studies.
The following two tabs change content below.
Neil Godfrey
Neil is the author of this post. To read more about Neil, see our
About page.
Latest posts by Neil Godfrey (see all)
---
If you enjoyed this post, please consider donating to Vridar. Thanks!
---