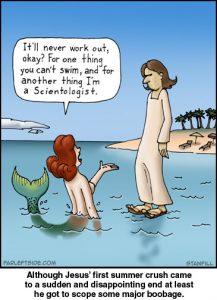 I suspect [ETA: strongly suspect] Jesus originated as a theological and allegorical creation, that he was "a myth" if you like. I do not know it. I cannot prove it. But I can see some very good arguments in favour of this proposition. I can also see some very good reasons to question the standard methodology of mainstream scholars based on the assumption that Jesus was a historical figure. And the same questions I raise about this methodology also open up questions about the standard mainstream arguments for the historicity of Jesus.
But I have never thought of myself as "a mythicist" because that sounds to me like I am entrenching myself in a position that I will defend at all costs.
I have posted this sort of remark before, but given that James McGrath and others continually label me "a mythicist", I will repeat it once more. I do not see the point of "defending" a "mythical Jesus" position.
That is not what historical inquiry is about.
Would any scholar bother to spend a career arguing for or against a historical or mythical Socrates? Some mainstream scholars really do question the historical existence of Socrates, but no-one calls them "Socrates mythicists". It is a ludicrous proposition when we see it in the context of nonbiblical studies. The existence of Socrates has been occasionally raised as a minor side-point that is really quite irrelevant to the real historical questions about the origins and nature of early Greek philosophy.
My interest is, to repeat, in exploring the origins and nature of early Christianity.
I think that this historical inquiry has been held captive by mainstream NT historical methods that begin with the presumption that the narrative of Gospels-Acts is in some sense related to real events. What I have questioned is the rationale for this assumption. I have offered as an alternative approach to the sources for early Christianity the same methodology and logical consistencies that have been at the vanguard of the "minimalist" enterprise in Old Testament studies. That means understanding how historical inquiry works in nonbiblical studies (and now in OT studies thanks to the so-called "minimalists"), and applying the same standards in NT historical studies.
In practice, this, I suspect, will mean a greater focus on studying the texts with a view to investigating the various conditions that might have given rise to their various narratives. It will rely primarily on external controls for both dating and provenance. It will, yes, as part of the package "take seriously" (as they say) the historical research that questions the presence of Pharisees, synagogues and Nazareth in early first-century Galilee. It will be more rigorous in its review of how evidence from one era is often extrapolated to cover another period.
So I am a tentative mythicist by suspicion, but that is saying nothing. Any honest historical inquiry will mean holding any and all positions tentatively while the exploration continues.
I will certainly defend any arguments for a mythical Jesus if I see them challenged by flawed or misinformed reasoning. And I will argue a point or two for a mythical Jesus if I see it is strong or suggestive and worth serious consideration.
If others call me "a mythicist" in this context, I will normally let it go and not deflect the argument over labels if it's not necessary. I certainly think the arguments that Jesus was nonhistorical are far stronger than those that say he was historical. But I also maintain a constant questioning in the back of my mind: "What if I am wrong on all of this? What might I be overlooking or misunderstanding?"
I would have thought any honest scholar would, by profession, think the same way.
So if one day I discover my arguments are based on some fallacy or lack of information that renders them all invalid, or that there is something to historical Jesus arguments that I have failed to grasp, or that we really do have evidence for the historicity of the core of the Gospel narrative, then that will be great. It will mean I have an exciting chance to correct errors and learn new things.
So others can call me a "mythicist" if they like, but they must not expect me to dig in and defend or promote some particular argument that does not interest me as some sort of "article of faith" about "the mythicist position".
But when scholars tell outright lies about what I write and what I argue, and slander and ridicule me, and respond by swearing at me, they are not exactly being at their most intellectually persuasive, IMHO.
The following two tabs change content below.
Neil Godfrey
Neil is the author of this post. To read more about Neil, see our
About page.
Latest posts by Neil Godfrey (see all)
---
If you enjoyed this post, please consider donating to Vridar. Thanks!
---