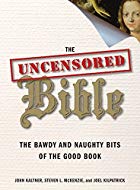 The creation and Adam and Eve narratives are often said to be nice moral tales that convey spiritual truths. Being myth does not disqualify them from containing meaningful messages for modern readers.
So at wedding ceremonies and in Sunday school classes bible-believers are regaled with the "beautiful story" of the God practising a bit of psychic surgery as his hand penetrates Adam's side to pull out a rib which he used to create Eve. And since this story is not something that has been uncovered in modern times among cuneiform tablets alongside myths of sea-monsters and sky-gods, but is one we have been as familiar with as our soft pillows and teddy bear toys since childhood, we call it a "beautiful metaphor" of the marriage relationship.
And I suspect many theologians would prefer to keep it that way. Meaningful myth or symbol is sophisticated. Literal images of God taking the penis bone from Adam and using it to create Eve, thus explaining both marriage and the reason males of humans alone (almost) lack this bit of anatomy would probably go a long way to discrediting not only a "beautiful and meaningful story", but opening up a few more people's minds to the irrelevance of the Bible in an enlightened age.
I'm probably the last to know this little tidbit of trivia, but thanks to chance I recently discovered in a bookshop The Uncensored Bible: The Bawdy and Naughty Bits of the Good Book by John Kaltner, Stephen L. McKenzie and Joel Kilpatrick. John Shelby Spong calls it "a terrific book!"; Jonathan Kirsch, "smart, savvy, scholarly, and funny, all at once"; and Jonathan Reed, "Based on the best contemporary scholarship of the Bible — but funny as hell!" How could I resist it?
Which "Bone" Was Eve Made From?
So what's wrong with the rib meaning the rib?
First, the Hebrew word used for rib is tsela (צְלָעֹת), but this word never means 'rib' anywhere else in the Bible
It usually means 'side'. In architecture, it is used of a side-room or cell, or of rafters or ceiling beams. "The common idea in all these different meanings seems to be that of a tangent or branch extending out from a central structure or body. Given this basic sense, Adam's tsela would seem to refer to a "limb" or "appendage" — something that jutted out from his body."
Second, the image of a rib does not fit with the etiological agenda of the larger story. This is a narrative chock full of origin-myths — tales explaining how things began: where humans came from, why snakes crawl, why people wear clothes, why women have labor pains, why marriage. But removing a rib from Adam and using it to create Eve explains nothing like this. Men don't have one less rib than women.
Third, the story is full of allusions to human sexuality (being naked and unashamed; recognizing they are naked; covering their genitals), but the rib detail does not relate to any of the sexual differences between men and women. It stands out as something of an anomaly for this reason, too.
Fourth, the rib story does not leave us with being able to make very much of what is meant by God "closing up" the flesh afterwards. Genesis 2:21:
And the LORD God caused a deep sleep to fall upon Adam, and he slept: and he took one of his ribs, and closed up the flesh instead thereof
"Again, considering the etiological (explanatory) nature of the story, this statement seems intended to explain the existence of some suture- or scar-like mark on the torsos of human males that is not found on females. But there is no such mark on males – at least not near their ribs." (p.5)
Hebrew Bible scholar, Ziony Zevit, suggests that the Hebrew tsela might really refer to the baculum. From that Wikipedia article:
In another, non scientific, context, it has been speculated that Adam's "rib" mentioned in the Eden narrative of Creation really refers to the baculum. The Hebrew term translated as "rib" (tsela`) can also mean "side", "chamber", as well as any strut-like supporting structure, e.g. a beam or a tree trunk. The existence of the baculum is unlikely to escape the notice of pastoralisthunter-gatherer cultures . . . . , but there is no specific term for it – nor for the penis itself – in Biblical Hebrew.
The benefit of this explanation is that it matches the etiological nature of the Genesis story. We have an explanation for why humans, unlike just about all other male animals, lack a penis bone. It was removed by God in order to make Eve from it.
And the Genesis account says God "built" Eve. "The image seems to be that of piecing together bones and other body parts to create Eve rather than forming her out of clay, as in the creation of the man and the animals." (p.8)
Further, the penis bone is taken from the generative organ, and thus, unlike the rib, suits the idea of the production of a new being.
If God removed the penis bone from Adam then we also see an explanation for God "closing over" the flesh afterwards. This detail explains the "surgery scar" or raphe, the seam joining the two parts of the organ.
Zevit also thinks that the "bone of my bones and flesh of my flesh" is another clue.
And Adam said, This is now bone of my bones, and flesh of my flesh: she shall be called Woman, because she was taken out of Man. (Gen. 2:23)
There is no single word for penis in biblical Hebrew. Various euphemisms are used instead. Tsela may be one of these; bone another (the bone would have been observed in other animals and its absence in human males noted); and flesh yet another. Elsewhere the Bible uses "flesh" to refer to the penis: Ezekiel 44:7, 9 speaks of "uncircumcised in flesh"; Exodus 28:42, of undergarments required to cover the naked "flesh" of priests; Leviticus 15:2-3 refers to "the running issue" of "flesh". Ezekiel 16:26 and 23:20 are famous for describing the penises ("flesh") of Egyptians as very large, as large as those of asses and horses.
So, the advantages of translating tsela as baculum instead of as rib are:
it conforms to the basic meaning of the word ("side")
it is based on obvious differences between men and women
and between human males and those of other species
Zevit's interpretation therefore fits both the sexual content and the etiological nature of the story perfectly. Moreover, it explains the "place closed up with flesh," which other interpretations ignore. And it affords a fuller and more practical sense to the reference to the woman as "bone of my bones, flesh of my flesh.

Whether you find Zevit's proposal convincing or merely provocative, it is hard to deny its interpretive advantages . . . . His explanation is not bizarre, outrageous, or unreasonable. To the contrary, it solves  long-standing problems with the text and its interpretations and fits the etiological context. (pp.10-11)
But will Sunday Schools dare to teach something so "reasonable"?
צְלָעֹת
The following two tabs change content below.
Neil Godfrey
Neil is the author of this post. To read more about Neil, see our
About page.
Latest posts by Neil Godfrey (see all)
---
If you enjoyed this post, please consider donating to Vridar. Thanks!
---