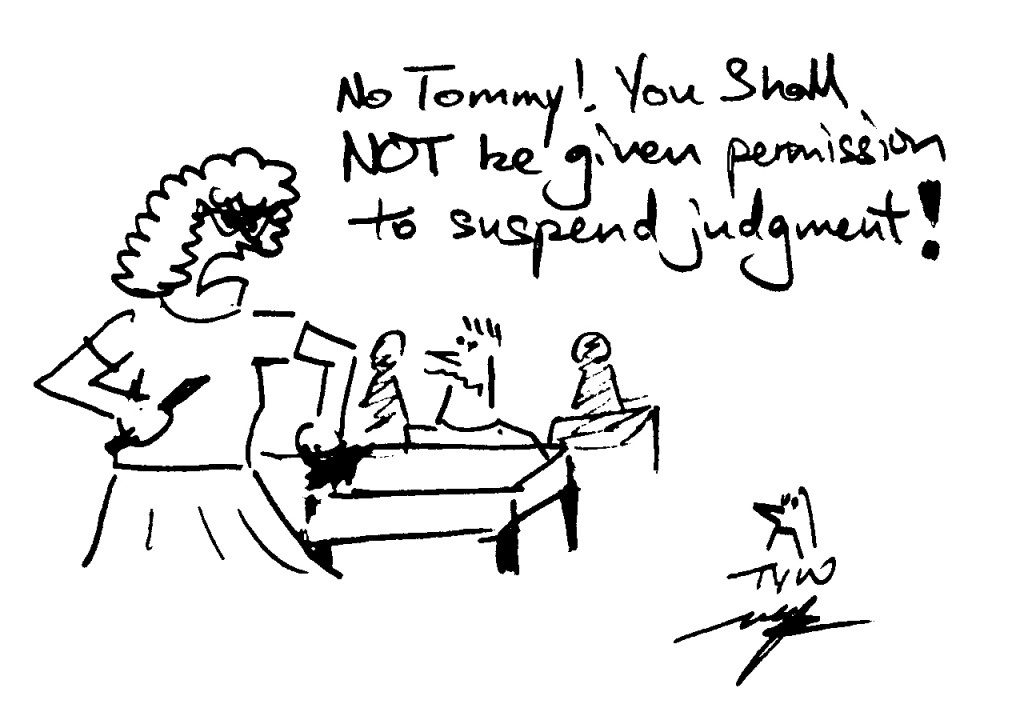 Mantra #1 (from 17+ mantras of biblical scholarship)
Any narrative which purports, on the face of it, to be telling about events that actually happened deserves to be treated as true unless it can be demonstrated not to be.
Rational alternative
Withhold judgement about the truth of any narrative until one has evidence to decide either way.
Discussion
This reminds me of Dieter Georgi's observation that I noted in How Jesus has been re-imaged:
The reversal of the principle of burden of proof in favor of those who claimed authenticity of material that was obviously and thoroughly shaped by faith in the continued presence of Jesus after his death did not happen by way of methodological argument but by way of decree.
It is not a sin to say "I don't know" pending evidence that allows one to decide either way. I suspect that biblical scholars who mouth this mantra are really only interested in applying it to the certain selected biblical literature.
When the Hitler diaries appeared, the scholarly response was to suspend judgment on their authenticity until they could be tested. One renowned scholar who was quick to jump in with a claim to their authenticity, Hugh Trevor-Roper, was left with a seriously tarnished reputation when the contrary was eventually established.
The Book of Genesis purports, on the face of it, to be telling about events that actually happened. Does it really "deserve" to be treated as true when it talks about the creation of the world and Adam and Eve?
The hermeneutics of charity and the hermeneutics of suspicion have been much discussed by certain biblical scholars, and I addressed this when reviewing in detail Richard Bauckham's curious methodologies in Jesus and the Eyewitnesses. It is one thing to charitably trust the testimony of my neighbour if he warns me of an adverse weather report, so that I accordingly take precautions.  It is quite another to naively trust a narrative in the course of historical enquiry. Here an approach more akin to what we might expect of a judge or jury evaluating evidence in a courtroom would be more appropriate.
Charity and suspicion are qualities that pertain to human relationships. Biblical historians, or certainly quite a number of them, quaintly seek to apply the divine command to demonstrate "charity" by "believing all things" or "giving the benefit of the doubt" not only towards their fellow brothers and sisters, but to bits of paper, to stories. The justification is that we can assume that the author of a story appears to have wished to be believed, and as good Christians we should do just that when we read his narrative.
This is bizarre. They do not even know who the author was, let alone what he was thinking when he wrote the narrative. In reality they only have a story they are seeking to find excuses to believe. Try introducing their Christian ethic as a replacement to the methods of historical enquiry into the halls of secular historians and classicists!
In historical investigation and research into inanimate documents and texts one needs to suspend judgment until there is sufficient evidence to lean either way. It's called something like attempting to make an "objective" evaluation.
Objectivity is about "truth", intellectual honesty. Charity is about bias. Of course complete objectivity is rarely possible, but good scholars know the importance of recognizing their biases and making allowances for them. Some biblical scholars seem to be making a virtue of their biases and declaring that they have more validity than suspension of judgement — something they associate with a negative moral attribute, "suspicion".
This tendency of a number of biblical scholars to embrace a "hermeneutic of charity" (selectively, to certain New Testament texts only) and to shun a "hermeneutic of suspicion" is nothing other than a rejection of rationalism and scientific methods of enquiry. What they are shunning, and implicitly accusing of a god-rejecting ethic, is the healthy scepticism and suspension of judgment that has been at the heart of intellectual honesty since the Enlightenment at least.
It is simply not true that suspending judgment on the historicity of a text is behaving "suspiciously". That's stuff and nonsense.
If scientists are concerned to keep Creationism or Intelligent Design out of secular classrooms because it is really nothing more than faith masquerading as science, then genuine historians and intellectually honest scholars ought to disclaim at every opportunity the pseudo-scholarship that accuses suspension of judgement of being a moral defect. Healthy scepticism pending sufficient evidence to decide either way is neither "uncharitable" or "suspicious". It is, rather, intellectual honesty.
As Georgi has observed in his lengthy article on the history of scholarly interpretations of Jesus, it is a mantra that has been introduced not by argument but by decree. Bauckham's attempt to rationalize it by appeal to Ricoeur is a gross distortion of what Ricoeur himself was arguing about "testimony" and "trust", as I discuss in Bauckham's use of Paul Ricoeur.
Even their own good book warns them against this pseudo-scholarly mantra:
The simple believes every word, but the prudent considers well his steps. (Proverbs 14:15)
The following two tabs change content below.
Neil Godfrey
Neil is the author of this post. To read more about Neil, see our
About page.
Latest posts by Neil Godfrey (see all)
---
If you enjoyed this post, please consider donating to Vridar. Thanks!
---