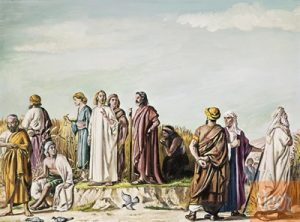 Little details, such as Matthew turning a Pharisee's statement in Mark into a question, and Luke adding the little word "some" to Mark's account, on closer inspection turn out not to be haphazard variations, but evidence that the gospel authors were more focused on creative story telling than passing on "traditions".
The example of this that I noticed most recently is the slightly variant accounts of Jesus' dispute with the Pharisees over his disciples' corn-plucking on the sabbath. (I was thinking through James Crossley's argument for these different accounts revealing evidence that Mark was written before "the church" experienced any controversy over sabbath observance. In his efforts to uncover "assumptions" being made by Mark, and reliance on a presumed Aramaic source text, he misses much of what actually is there to be seen on the surface.)
Here are some of the differences:
| | | |
| --- | --- | --- |
| Mark 2:23-28 | Matthew 12:1-8 | Luke 6:1-5 |
| On the sabbath, the disciples began to pluck ears of corn | On the sabbath the disciples were hungry so they began to pluck corn to eat | On the sabbath the disciples plucked ears of corn, ate them, rubbing them in their hands |
| The Pharisees ask Jesus why the disciples are doing what is not lawful on the sabbath | The Pharisees accuse Jesus' disciples of doing what is not lawful on the sabbath | Some of the Pharisees ask Jesus why he is doing what is not lawful on the sabbath |
| Jesus replies that David also acted unlawfully by eating the sacred shewbread when he was hungry | Jesus replies that David also acted unlawfully by eating the sacred shewbread when he was hungry | Jesus replies that David also acted unlawfully by eating the sacred shewbread when he was hungry |
| | Jesus adds that on the Sabbath the priests work in the temple but are guiltless | |
| | Jesus makes it clear that he is greater than the temple | |
| | Jesus quotes the prophets to say that mercy is greater than sacrifice, and accuses the Pharisees of not understanding this, and of wrongly accusing his disciples who are innocent. | |
| Jesus concludes that the sabbath was made for man and not man for the sabbath | | |
| And says that therefore the Son of Man is also Lord of the Sabbath | And says that therefore the Son of Man is also Lord of the Sabbath | And says that therefore the Son of Man is also Lord of the Sabbath |
Matthew's changes
Matthew's changes certainly do not point to any historical sayings of Jesus. Jesus is hardly likely to have got away with saying that he was greater than the temple without provoking a little bit of noticeable response. His preaching mercy to the Pharisees is also a caricature (and an early anti-semitism?) of the Pharisees who, as far as we understand historically, had popular support because they did indeed preach mercy rather than sacrifice.
So if Matthew is not bothering to pass on another tradition about the historical Jesus, why is he reshaping Mark's material? He clearly does not think Mark's story is something to be preserved as a historical memory of Jesus. If he did, why not repeat (not change) the story and then add his own commentary if he felt certain details needed explaining for his audience?
What Matthew seems to me to be doing is extending his Sermon on the Mount message that followers of Jesus must be more righteous than the Pharisees themselves. In that Sermon he stresses the superiority of Jesus over Moses, not by kicking Moses out, but by going even further than Moses. Moses said murder and adultery were wrong, Jesus says even hate and sexual feelings are wrong, etc.
For I say to you, that unless your righteousness exceeds the righteousness of the scribes and Pharisees, you will by no means enter the kingdom of heaven. . . . Therefore you shall be perfect, just as your Father in heaven is perfect. (Matt 5:20, 48)
So continuing this theme (of messing up with converts minds and making them intolerant and mental wrecks in the end as they strive to deny their humanity with all sorts of thought-tourniquets to become "perfect") Matthew in part turns Mark's cornfield story into an illustration of how unrighteous the Pharisees are compared with Jesus and his disciples.
Firstly, he does not give the Pharisees a chance to ask questions as they did in Mark. He shoots them before they do. He has them make an unjust and merciless accusation. The poor disciples are hungry and need to eat! They don't need Pharisees coming along and finding fault with them for that!
Mark's original was not really about hunger or a desperate need to eat to stave off a hypoglycemic low. But Matthew introduces this in order to have a reason to bring in the punch line:
But if you had known what this means, 'I desire mercy and not sacrifice,' you would not have condemned the guiltless.
The hunger, the accusation and the mercy outweighing sacrifice are all part of Matthew's interest in asserting the moral superiority of Christians while at the same time denigrating Jewish righteousness as legalistic and hypocritical. (Remember that this was the same Matthew who had the Jews call out for the blood of Jesus to be on them and on their children.) At the same time he reminded his readers that Jesus was greater than Moses by being even greater than the temple whose purpose was to carry out the laws of Moses.
Luke's changes
Luke has more modest plans for his change to Mark.
Firstly, only "some" of the Pharisees are involved. Naturally, if we are right in thinking that the author of this was also responsible for Acts in which many Pharisees did become Christians. Elsewhere in this gospel we read of Jesus visiting a Pharisee's house for dinner.
Luke also sees the desirability of making Jesus assume direct responsibility for his disciples' behaviour. So the Pharisees blame him for what his disciples are doing. This, also, would cohere with the theme of Acts in which Jesus carries on his work through his disciples — all in perfect harmony with their Head.
Mark's "original" written out?
Mark has a number of curious details that indicate his "christology" was quite different from that of other evangelists. I sometimes wonder if he also contains little hints that his theology has more in common with less orthodox ones that, to mention just example, taught that Jesus was attempting to restore his disciples back to an "original" ideal condition before "the Fall" of Adam.
If so, would this explain why Mark has Jesus appear to repudiate Moses' allowance for divorce. Mark first has the explanation of Moses' teaching on divorce, and then follows with a BUT:
BUT from the beginning of the creation, God made them male and female . . . Therefore what God has joined together, let not man separate. (Mark 10:1-12)
Matthew reverses the order of Mark's narrative so that the creation story is told first, and it is this ideal story that is then butted out of real life, and the Moses exception (although necessarily tightened — Christians have to be more righteous than Pharisees, remember) is allowed to stand:
Therefore what God has joined together, let not man separate . . .

Moses, because of the hardness of your hearts, permitted you to divorce . . .  And I say unto you, whoever divorces his wife, except for . . . (Matt. 19:1-9)
I wonder if Mark is rightly seen by Matthew as some sort "good old days", pre-Flood, pre-Fall theologian who saw Jesus as attempting to restore how things were at the beginning.
Does Mark's reference to the sabbath being made for man also point to some sort of "origin" or pre-Fall theology? If so, this might explain why it was omitted by Matthew and Luke.
The following two tabs change content below.
Neil Godfrey
Neil is the author of this post. To read more about Neil, see our
About page.
Latest posts by Neil Godfrey (see all)
---
If you enjoyed this post, please consider donating to Vridar. Thanks!
---